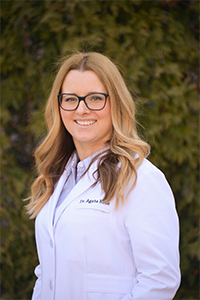 At Westgate Dental Care, prevention is a priority. "It's always about prevention," said Dr. Agata Kluz of Westgate Dental Care. "It's important to properly care for your teeth at home so we don't need to treat any problems."
Kluz's interest in dentistry started at a young age. "When my friends wanted to be princesses, I wanted to pull teeth," she said. "I always dreamed of being a dentist."
Kluz advises people to see the dentist every six months for an exam and X-rays to catch early problems. The earlier the better, as with any health problems. A benefit of prevention is that it helps promote good hygiene and habits and minimizes dental problems, treatment and costs. When a filling is necessary, this is no longer prevention but restorative treatment because the cavity is already there.
It's important to properly care for your teeth at home—an aspect of prevention, Kluz said. She recommends thoroughly brushing your teeth with fluoride toothpaste after breakfast and before bed. A manual toothbrush is effective, but an electric brush may work well for children, people with disabilities, older adults, and people who have arthritis or other conditions that make it difficult to brush well. An electric toothbrush's bristle movement might help to remove more plaque or food from your teeth and improve your gum health.
People should floss their teeth at least once a day to remove plaque. If left untreated, plaque can progress into tartar and can only be removed by professional tools used at the dental office. Those who use a water pick should use it at night.
Kluz recommends not using mouth wash after brushing because it rinses fluoride from the toothpaste into the sink. Use mouth wash before brushing at night and/or during the day. Mouthwash kills bacteria by using antiseptic ingredients such as alcohol, menthol and eucalyptol. These ingredients get into the crevices between your teeth and hard-to-reach places such as the back of your mouth, killing the filmy bacteria that can collect there.
For adults who are prone to cavities, a preventive sealant protects the tooth surface from cavities by sealing the grooves of fissures on teeth so they collect less food and plaque– making it less likely for a cavity to form. This of course does not eliminate the need to brush and floss teeth, but adds to your preventive care.
Some dental problems are related to chronic medical conditions such as cancer, stroke, and eating disorders. For example, diabetes reduces a person's oxygen and results in the person being more prone to cavities and periodontal disease. Diabetics should work to maintain control of the disease to minimize the risk for complications and gum disease. It's also important to drink plenty of water.
Research shows that there is an association between the health of a person's mouth and their overall health. Without treatment, tooth decay or gum problems can lead to pain, problems with self-confidence, and tooth loss. These issues may lead to malnutrition, speech problems, and other challenges in a person's work, school, or personal life.
On a personal note, Kluz encourages people in the new year to never stop dreaming. "Even though I wasn't a good student, I always dreamed of being a dentist," Kluz said. "If there's something in your heart, don't let it go.
"I went to dental school for five years in Poland, graduated with honors and taught at the university there. Only five percent of American students and two percent of foreign students are accepted into the dental program," she said. "It was like winning the lottery."