DENTIST NEAR ROLLING MEADOWS, IL
A Team Obsessed with Quality Dentistry
Why Patients in Rolling Meadows Choose Us
All About Our Phenomenal Dentists Near Rolling Meadows
Dr. Kics
Before becoming the founder and owner of Westgate Dental Care, Dr. Kics graduated with honors from Northwestern University Dental School. From there, he completed a residency program at Westside VA Medical Center, which is where he underwent training in oral surgery, pain management, dental implants, and more. To this day, he hones his craft and expands his knowledge with continuing education and active memberships with notable organizations, like the American Dental Association and the Academy of General Dentistry.
For Dr. Kics, making each patient feel welcomed and respected at each and every appointment is crucial. With a genuine love for helping others, there's nothing better than helping patients smile or overcome their dental fear. When he isn't at the office, you'll most likely find him spending time with his wife of more than 25 years, Teja. They have two college-age daughters and a Labradoodle, Charlie. As a family, they love traveling, especially to Steamboat, Colorado for their annual ski trip!
Dr. Hart
When Dr. Hart realized that dentistry combined her love for science, art, and helping others, she knew what she wanted to do for the rest of her life! After graduating with honors from the University of Michigan, she attended the University of Illinois at Chicago. A lifelong learner, her pursuit of education and training did not end there. To provide those in her treatment chair with the absolute best care possible, she maintains memberships with the American Dental Association, the American Association of Women Dentists, the Illinois State Dental Society, and more.
When Dr. Hart isn't at the office or pursuing continuing education, she's probably with her husband, Mike, and their three children. She also thoroughly enjoys running and even completed the Chicago half-marathon in 2019!
Dr. Rosenblatt
Dr. Rosenblatt loves coming into work each day because it provides him with the opportunity to serve others. Changing how a person feels about themselves is unlike anything else, and he loves being a small part of that. Before becoming one of our talented dentists near Rolling Meadows, he earned his DMD from the Southern Illinois University School of Dental Medicine. Committed to providing his patients with only the best, he stays abreast of the latest techniques and technology through active memberships with the American Dental Association, the Chicago Dental Society, and the Illinois State Dental Society.
Dr. Rosenblatt is a dedicated husband and father as well! He loves spending his time outside the office with his family. As for hobbies, he enjoys watching Chicago sports, going on road trips, and picking up new cooking skills.
Dr. Christian
– An Illinois native, Dr. Christian completed his undergraduate degree at Howard University. Next, he attended the University of Michigan School of Dentistry, graduating with his dental doctorate in 2000. Since then, he has used extensive education and sharp eye for detail to create smiles that are both fashionable and functional.
Outside the office, Dr. Christian likes spending time with his family, traveling, cooking, and mentoring. He also dedicates his time outside the office to continuing education, including active memberships with the Chicago Dental Society, the Illinois State Dental Society, and the American Dental Association.
Dr. Dev
– Dr. Dev is originally from Kathmandu, Nepal, which is dentally underserved. Determined to help others, she shadowed numerous professionals in the medical field. Ultimately, her talents (i.e., manual dexterity, organization, steady hands, and a love for helping others) drew her to dentistry. The rest, as they say, is history! Her studies began at Loras College in Dubuque, IA and Case Western School of Dental Medicine in Cleveland, OH. Of course, she continues to expand her knowledge by maintaining memberships with the American Dental Association and the Illinois State Dental Society.
Outside the office, Dr. Dev enjoys spending time with her husband and their baby girl. She also enjoys dancing, reading, and traveling to Nepal to see family when she can. Here's something you may not know about her: she's an AMC A-list Movie Member and an avid Harry Potter fan!
Dr. Brady
– The University of Buffalo is where Dr. Brady earned both his bachelor's degree and DDS. Since graduating, he has completed an oral surgery internship at Cook County Hospital and become certified in IV sedation. Since dental anxiety is a very real concern for many patients, he's dedicated his career to providing comfortable, efficient, and compassionate dentistry. It's one of his favorite aspects of his job!
Dr. Brady is a dentist near Rolling Meadows who has dedicated his time and used his training to work with several charity organizations outside the office too. He even traveled to Senegal to provide free dental care for those in need! You can also find him pursuing continuing education, skiing, biking, and relaxing with his two pets, Charlie and Carl.
Kind Words from Other Nearby Patients

I love this dental practice. They run it very well and their dentists and staff members are so kind and personable…and they listen. No matter how many questions I have, they take all the time I need to be sure I understand what's happening. My most recent visit with Dr. Christian and Sidori could not have gone better. And the heated massage chair is a wonderful bonus!
Kathy V.
How Can We Help You?
Our skilled dentists and talented team members want to make Westgate Dental Care your dental home. So, whether it's time for your six-month checkup, you want to transform your smile, or you need your wisdom teeth extracted near Rolling Meadows, we're here to provide you with the high-quality and comfortable dental care you deserve. If you'd like to learn more about how we can help you smile, then click on the images below!
4 Ways We Make Your Care Affordable
At Westgate Dental Care, our team goes above and beyond to provide you with the phenomenal dental experience you deserve. That starts with a warm greeting when you arrive for your appointment and extends to straightforward, affordable prices. To accomplish the latter, we offer four ways to save on preventive, restorative, cosmetic, and emergency dentistry near Rolling Meadows. Want to learn more? Then click on the icons below!
Finding Our Dental Office Near Rolling Meadows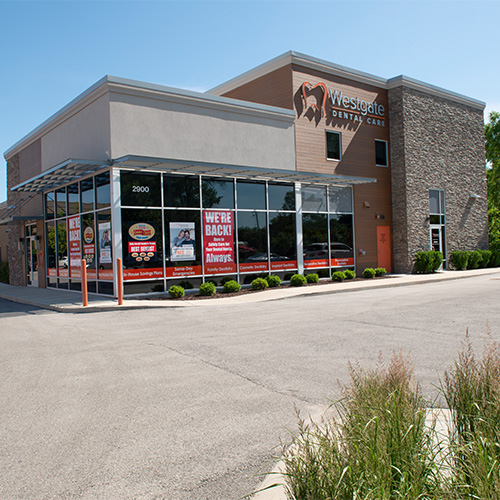 Whether you're overdue for your biannual dental checkup or you're looking for an emergency dentist near Rolling Meadows, our office is only six minutes away! You'll find us in Arlington Heights at 2900 W Euclid Avenue. We're straight down US-14, next to Starbucks and Honey-Jam Café. If you have any trouble finding us, don't hesitate to get in touch. Our team would be more than happy to assist.
Frequently Asked Questions, Answered!
Reading through the above information can provide you with insight into everything from the services we provide to how we help make your dental care more affordable. Of course, you may still have a few questions on your mind – that's okay! To make finding the answers you're searching for as easy as possible, we've responded to several frequently asked questions right here.
How do I get emergency dental care?
Are you struggling with a dental injury, like a knocked-out tooth or loose restoration? Then priority number one is giving our team a call. Over the phone, we can get a better understanding of your situation, provide you with step-by-step instructions on what to do next, and pencil you in for treatment as soon as possible. Since we offer early morning, late evening, and weekend hours throughout the week, there is a good chance we'll be able to see you the very same day.
Note: if your dental injury has resulted in broken bones, difficulty swallowing, the inability to breathe, or another potentially life-threatening condition, then you should call 911 or head to your nearest ER right away.
How do I find the best place to get dental work done?
Finding the best place to get dental work done starts with one question: what's important to me? Maybe you're looking for a MetLife dentist in your area so you can utilize your benefits to the fullest. Maybe you're searching for a practice that has convenient hours so you don't have to miss work or school. Maybe you're interested in a specialty service, like veneers. Whatever the case may be, start there. From there, you can search around on Google, read reviews of practices in your area, and get a better idea of what you're looking for.
How much does a dental checkup & cleaning cost in Rolling Meadows?
The cost of a dental checkup and cleaning will depend on several factors. With that being said, the average cost in the US is between $200 and $350. If you have dental insurance, there is a good chance these routine visits will be covered entirely. Of course, benefits vary from patient to patient, which is why it's a good idea to double-check before your appointment.
Remember, these routine visits are so much more than a quick check for cavities. They give your dental team a chance to screen for oral cancer, check on the condition of any existing restorations, and remove stubborn plaque and tartar. Plus, they can help save you from costly restorative and cosmetic dental treatments in the future.
How can I make a same-day appointment with a dentist?
Interested in scheduling a same-day appointment? Then the best course of action is to call. That way, a knowledgeable team member can get a better idea of your dental needs and provide immediate assistance. Of course, you can also reach out via the contact form on the website, but the response likely won't be as immediate.