Restorative Dentistry – Arlington Heights, IL
Restorative Dentistry To Repair Smiles
If dental damage or decay occurs, Dr. Kics, Dr. Rosenblatt, Dr. Hart, Dr. Christian, Dr. Dev, Dr. Brady, Dr. Jacobs and the team at Westgate Dental Care are here to help repair your teeth and restore your full, healthy smile. Our Arlington Heights, IL dental office is focused on prevention, but we still have the necessary training and experience to provide even the most advanced smile repair options whenever necessary. Contact our team to find out more about restorative dentistry in Arlington Heights, IL or schedule an appointment.
Why Choose Westgate Dental Care for

Restorative Dentistry?
Precise, Putty-Free
Digital Impressions
Strong, Natural-Looking
Cavity Fillings
Convenient Appointment
Hours
Tooth-Colored Fillings
We are dedicated to offering the most conservative dental restoration options, and tooth-colored, composite resin fillings allow us to do just that. Traditionally, dentists used metal amalgam fillings to repair minor decay or damage. In addition to their immediately noticeable appearance within the smile, amalgams also have a number of disadvantages for patients' overall oral health. The metal amalgam is held in place with wedges placed into the healthy tooth structure, and they expand and contract at a higher rate than tooth enamel. Both of these concerns can lead to unnecessary loss of tooth structure. Instead, we recommend tooth colored fillings. They can be shaded to blend seamlessly into the natural colors of tooth structures, and the putty-like resins are applied directly to the surfaces of damaged teeth. The resin seeps into small crevices in teeth, and creates a stronger, more natural bond preserving the remaining healthy tooth structure.
Learn More About Tooth-Colored Fillings
Dental Crowns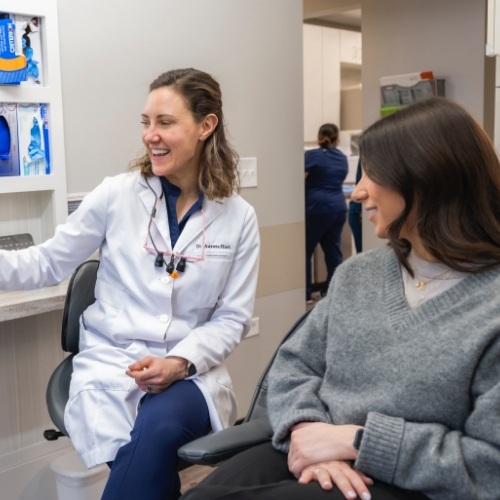 Dental crowns are most often used to repair a damaged or decayed tooth when more conservative options like fillings prove ineffective. Crowns can also be used in a number of other situations including:
To protect root canal treated teeth
To improve the cosmetic appearance of teeth
To support one or more consecutive replacement teeth forming a fixed bridge
To replace one to four consecutive teeth when attached to one or more dental implants
We provide dental crowns in a variety of materials, and the process typically takes two visits to our dental office. During the initial appointment, we'll prepare the damaged teeth, capture impressions, and place a temporary. The impressions are sent to a lab where your crown is crafted. Once the custom crown is received from our lab, you'll return to exchange the temporary for a custom solution. Bridges are commonly crafted and placed in two appointments. For those patients who choose dental implant supported tooth replacement, the process may take longer and require additional visits.