Porcelain Veneers – Arlington Heights, IL
Putting Your Dream
Smile Within Reach
Porcelain veneers are designed to correct numerous dental concerns, including discoloration, worn down teeth, chipped or broken teeth, misaligned or uneven teeth and gaps between existing teeth. This non-invasive, cosmetic dental procedure can correct your teeth without having to undergo complex and painful restorative procedures.
While veneers are typically thought of as being purely a cosmetic procedure, they can actually contribute to your overall health. Veneers can straighten teeth and cover gaps, preventing food particles and other types of bacteria from entering your mouth, which will keep your teeth and gums healthier. Veneers are also frequently used to cover chips or cracks in your teeth, further protecting them against bacteria. Come into Westgate Dental Care today to get a free exam and see if porcelain veneers from our Arlington Heights, IL cosmetic dentist are the right solution for you!
Why Choose Westgate Dental Care for

Porcelain Veneers?
Stain-Resistant
Porcelain Veneers
Putty-Free
Digital Impressions
Customized Cosmetic
Treatment
What Are Dental Veneers?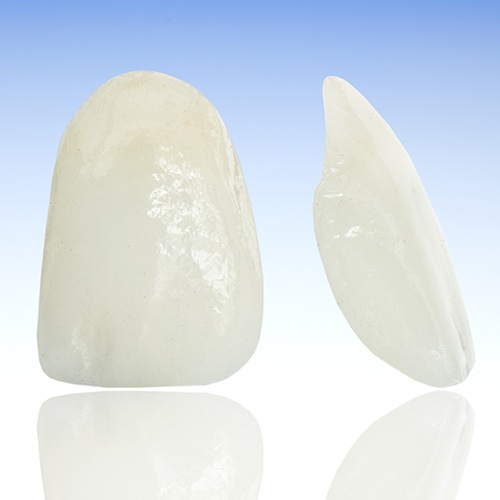 Dental veneers are thin, custom-made pieces of porcelain or resin that are designed to improve the appearance of the tooth's surface, altering the size, shape, or color. Once you speak with a dentist and have your initial fitting, they will be bonded to the surface of your tooth.
The Benefits Of Porcelain Veneers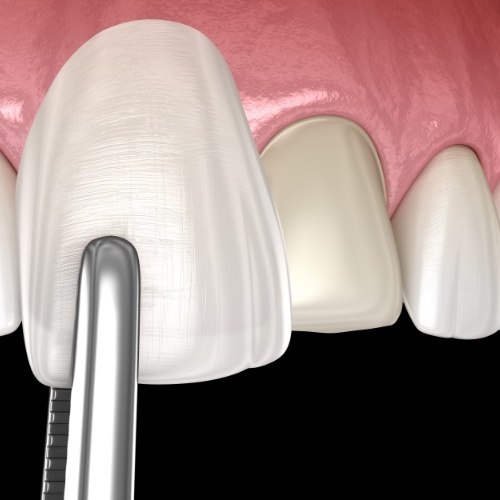 Having veneers placed offers a few advantages. The biggest one is that they look and feel like natural teeth. Veneers are also ideally suited for numerous imperfections, making them a versatile solution for a multitude of issues. Dentists do not need to do as much trimming or enamel removal with veneers as they do with other corrective procedures, such as crown placement. They are also a long-lasting alternative to other whitening procedures, with resin veneers lasting up to seven years. Veneers are also able to cover stains that traditional whitening procedures are unable to touch.
Another significant benefit of getting veneers is that your existing teeth stay intact. There may be some enamel shaved off, but for the most part, your teeth are relatively unaltered. This leads to a faster procedure, better adaptation, and a more natural looking result.
What is the process?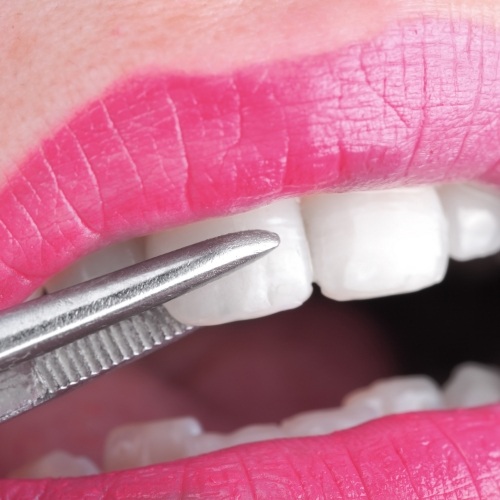 The dental veneer procedure involves a few different steps. First, you need to have your teeth examined thoroughly. Your dentist may have to remove some enamel from the surface of your tooth so the custom-made veneer will lie flat against it. Bite impressions are gathered next to ensure that each veneer is perfectly designed for each tooth. If you did have enamel removed, your dentist will place temporary veneers to cover any exposure. The bite impressions are sent off, and once they return, you are called back into your dentist's office for final placement. The entire process can usually be completed within one or two visits, including your initial appointment.
What Kind of Aftercare is Required?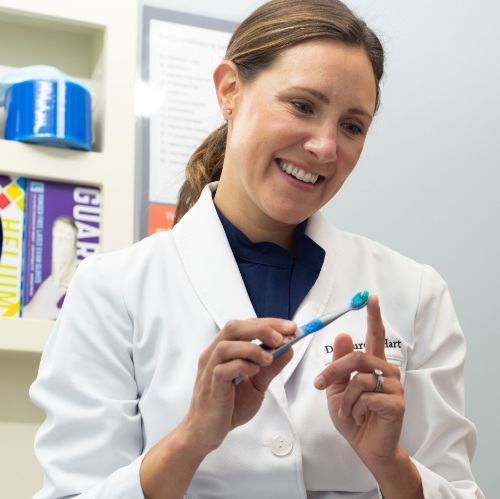 While veneers are incredibly durable, it is still important to take excellent care of your oral health following their placement. This means visiting your dentist on a regular basis for check-ups and restorations. Make sure to brush at least three times per day using a non-abrasive toothpaste and floss regularly. Veneers are stain-resistant, especially if you opt for porcelain ones, but you should still take care to brush and rinse your mouth out after drinking anything that can stain your teeth.
To avoid chipping or damaging your veneers, avoid using your teeth to rip open packages or to chew on extremely hard objects. Your dentist may also recommend that you wear a mouthguard when you sleep if you happen to grind your teeth. If you are looking for veneers in Arlington Heights, contact Westgate Dental Care. We have a team of dental care professionals, including a porcelain veneer cosmetic dentist who can help you get the smile of your dreams. Westgate Dental Care has been serving the Chicagoland area for years. Thanks to our patient-centric care, we are proud to provide a dental experience that is relaxing and comfortable. Contact us today to learn more or to book your appointment.