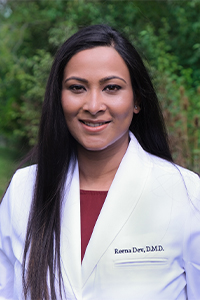 It's difficult to prepare for any emergency, but urgent dental problems can be especially troublesome. Most people don't know what to do if you lose or break a tooth in an accident or have an abscessed tooth that causes extreme pain.
That's why it's important to contact a dentist as soon as you have a problem. At Westgate Dental Care, the dentists make sure they're available when an emergency case comes in.
"We see the emergency patients right away, even when we are jam packed with other patients," said Dr. Reena Dev of Westgate Dental Care. "We don't charge for the exam. We will take X-rays as needed to cover our bases and discover what's going on."
A dental emergency is best defined as a painful problem with your teeth or gums that distracts you from your normal activities. Dr. Dev recommends patients call the practice if they have an emergency and let Westgate know when you'll be arriving.
It can be difficult for dentists to provide effective guidance over the phone, as most situations require a professional's evaluation and care. That's why Westgate patients are fortunate, because the practice has longer hours than most dental practices – 7 a.m. to 7 p.m. Monday through Friday and 8 a.m. to 5 p.m. Saturday. If the patient is calling after hours, the practice has dentists on call.
When patients call, "we ask them to come and see us as soon as possible and take pain medications," such as ibuprofen, Dr. Dev said. They might also be asked to rinse with warm salt water and put warm and cold compressions on the affected area.
If someone loses a tooth it's best to put the tooth in water or milk so bacteria doesn't accumulate around the root. "Chances are we can put it back in the socket, and hopefully the body does its job and reintegrates it to the bone," she said.
Try not to play dentist at home if you have an emergency, though.
For example, some people try to take their own teeth out if they are jarred loose in an accident. "Please don't do that, let professionals handle that," Dr. Dev said. You might also get out some of the tooth but the remaining part will cause a lot of pain.
The office will usually see a few emergency cases per day, often involving a patient who is in pain because of a toothache. Sometimes an emergency is caused by kids who fall or bump into something and break or lose a tooth.
One of the best emergency prevention strategies is to get regular dental care – usually two cleanings per year. Adult toothaches often happen because people aren't taking care of their cavities right away. "When the cavity is into the nerve, it causes excruciating pain and they have to go to the dentist."