Root Canal Therapy – Arlington Heights, IL
Root Canal Therapy:
A Welcome Relief
Toothaches are never something that you want to experience. The pain can quickly become unbearable, affecting every area of your life, including your ability to eat, sleep and speak comfortably. When you notice a toothache, the best course of action is to visit your local Arlington Heights dentist. If you have a toothache, come in to Westgate Dental Care to see what our team of elite dentists can do to help your pain, even if that involves one of the most misunderstood procedures in dentistry: root canal therapy from our Arlington Heights, IL dentist.
Why Choose Westgate Dental Care for

Root Canal Therapy?
We Accept Most
PPO Dental Plans
Customized
Dental Crowns
Painless Root
Canal Therapy
Do You Need a Root Canal?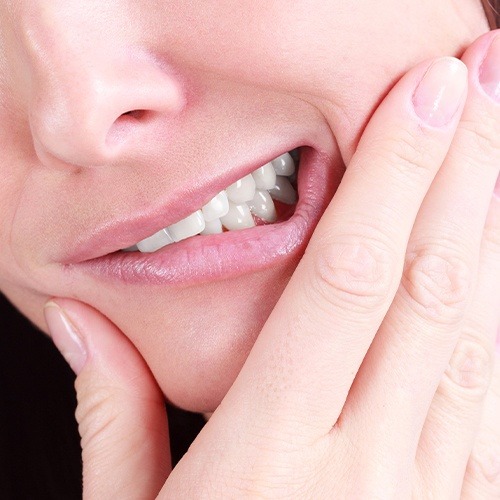 When the pulp inside a tooth becomes infected, a root canal is often the only way to treat it. This procedure is reserved for cases where infections are deep within the tooth, as opposed to surface cavities. Infections like these can develop as a result of injury, a crack in the tooth, or an untreated cavity. During this procedure, and the infected material is removed and replaced with a rubber-like material known as gutta percha. Then, the tooth is covered with a dental crown.
Seek Root Canal Help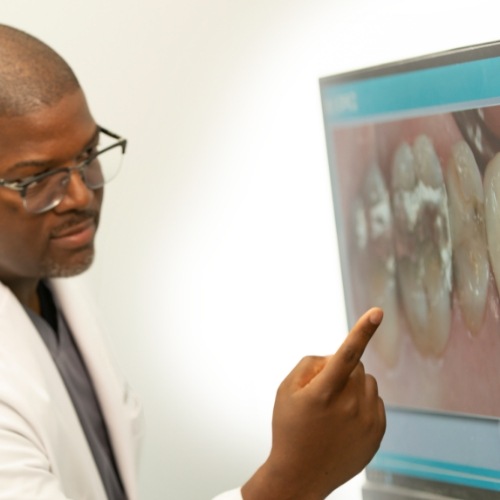 There are a ton of misconceptions out there about having this procedure completed. The biggest one is that it is incredibly painful. While this may once have been true 50 years ago, modern dentistry has made significant strides, especially in recent years. Patients can now expect a much more comfortable procedure than in the past. In fact, there is much less pain involved in treating the severe toothache than what the toothache caused itself!
Seeking help as soon as possible also reduces the risk of the infection spreading to other teeth. Once the infection spreads, the pain may become unbearable. It is much better to have it treated as soon as you notice an issue.
Importance of Compassionate Dental Care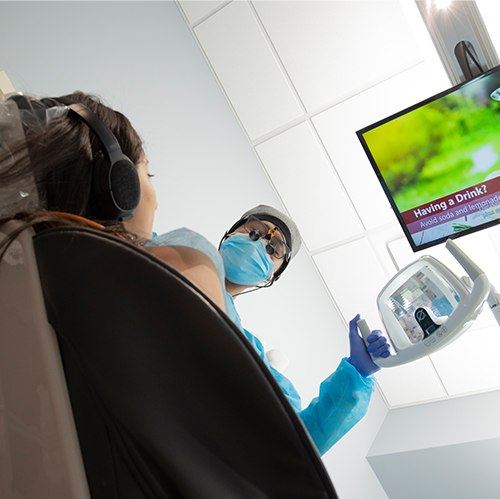 Visiting a dentist's office can be a very scary thing for a child, especially if the facility doesn't look child-friendly. Cold and clinical dental offices do seem frightening and can set a child up for a lifetime of dental phobia. Many adults cite early childhood experiences at dental clinics as the main reason they do not seek out dental care when appropriate. You can reduce the risk of this happening with your child by searching for a dentist that puts the comfort of their pediatric patients first.
Finding a compassionate, caring dentist is beneficial to you and your family for numerous reasons. Not only can they put your child at ease, they are trained in spotting oral health issues unique to children. For example, a child may not complain of a toothache or experience normal symptoms when developing an oral health issue. A highly trained pediatric specialist knows exactly what signs and symptoms to look for, along with the questions they should ask, to find the source of the dental issue.
Compassionate dental care also encourages your child to practice good oral hygiene. Some children learn better from kind authority figures outside of their family, such as teachers, doctors, and dentists. A child may care more about proper brushing techniques if the reason why they are important is explained in kid-friendly terms. A skilled and experienced dentist knows exactly how to have that conversation in a way that is likely to be well received.
The Process and Procedure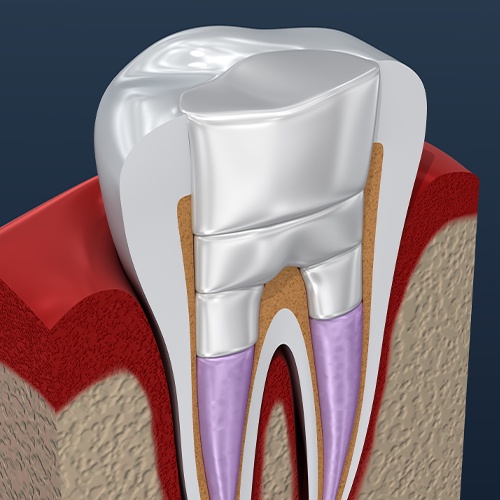 Treatment for this type of deep-rooted infection is typically performed over the course of two dental office visits. On the first visit, we create a small access hole to reach the pulp. This is done under local anesthesia, which numbs the mouth, resulting in a relatively pain-free procedure. Once your mouth is numb, the dentist then removes damaged or diseased pulp from within the tooth using a small tool. This inner chamber is then shaped and sculpted, preparing for the internal filling. In severe cases, you may also require an antimicrobial solution to be placed inside the mouth to kill hard to reach bacteria. In most cases, a putty-like material called gutta percha is used to fill-in that internal chamber. The opening is then sealed with a temporary filling.
The second visit occurs a few weeks after the first. During this appointment, the permanent crown or other restorations are applied to the tooth, sealing the gap supporting the filling, and giving you a healthy-looking smile. An X-ray may also be used to ensure that there are no more bacteria within the tooth.
After the procedure is completed, you need to maintain basic oral health to reduce the risk of the infection returning. This means getting your teeth cleaned twice a year, seeing your dentist once a year for a thorough exam, and brushing and flossing at least twice per day.
If you are experiencing a toothache, Westgate Dental Care in Arlington Heights is here to help. We have a team of caring and compassionate dentists and oral health professionals who are ready to help you. Some may feel anxious about going to the dentist, which is why we focus on setting you at ease from the moment you contact us. Call Westgate Dental Care or check us out online to learn more about what sets us apart from the rest!
Understanding the Cost of Root Canals
If your dentist said you need a root canal, you may be wondering how much it'll cost. Since every patient is unique, it's impossible to provide an accurate price estimate until you come in for an exam. For any specific concerns, it's best to speak directly with a member of our team at Westgate Dental Care. In the meantime, you can review the following information to help you understand what to expect when it comes to the cost of root canal therapy in Arlington Heights.
Factors That Can Affect Root Canal Cost
It's difficult to determine the exact cost of root canal therapy in Arlington Heights because several factors come into play. During your appointment, our team will need to assess the tooth or teeth in question. Some elements that can influence the overall price of your treatment include:
Location of the Tooth – Since back molars have more root canals than front teeth, they're usually more expensive to treat. They usually cost about $500 to $2,000 each, while front teeth run about $300 to $1,000 each. Of course, it's important to keep in mind that these numbers are just estimates and the cost may vary depending on your dentist.
Complexity of Your Case – Simply put, some root canals are harder to treat than others. In some cases, a patient may need to visit a specialist, which can add to the overall cost.
Additional Services – Usually, root canal therapy requires additional dental services. For instance, dental crowns are often used after treatment to strengthen and protect the tooth.
Is it Cheaper to Pull My Tooth?
If you're worried about your upcoming root canal, you may be tempted to skip the procedure altogether and opt for extraction instead. While that route may initially seem cheaper, the long-term effects of losing a natural tooth can cost you much more down the line. For example, a single extraction can lead to infection, misalignment, jawbone deterioration, and bone loss. To prevent those issues, many dentists recommend exploring tooth replacement options like dental implants or bridges – both of which are much more expensive than a root canal. That said, your best bet would be to undergo root canal therapy. You can save your tooth and enjoy a complete, healthy smile!
Does Dental Insurance Cover Root Canals?
In most cases, yes! It's incredibly common for dental insurance plans to offer coverage for root canal therapy because it's considered a major procedure. Most providers usually cover around 50-80% of the cost of your treatment after the deductible has been met. Of course, every policy is unique, which is why you should check with your insurance provider before making any final decisions. Our team is more than happy to help with that step if needed!
Other Options for Making Root Canal Therapy Affordable
Don't have dental insurance? No problem! We offer multiple flexible financing options to make our dental care as affordable as possible, such as:
CareCredit Financing – With this option, you can split up the total cost of your treatment into smaller monthly installments. Plus, most plans have little-to-no interest attached!
In-House Savings Plan – For one low annual fee, you can get the preventive dental care you need and enjoy sizeable discounts on many other services, including root canal therapy.
Special Offers – Currently, we are offering a free new patient special which includes an exam, digital X-ray, periodontal exam, and oral cancer screening.
Root Canal FAQ's
Are you still curious about root canals? Don't hesitate to call us with any specific concerns. Until then, we've included the answers to some of the most frequently asked questions about root canals. Read on to learn more about this tooth-saving treatment!
Does it Hurt to Get a Root Canal?
Root canal therapy often comes with a reputation that it's painful and uncomfortable. However, at Westgate Dental Care, we ensure that all our patients are numb, comfortable, and completely relaxed before beginning the procedure. Remember, root canals are meant to get you out of pain rather than put you in it! We offer various sedation options for anxious or fearful patients, but this can also be used for a greater sense of relaxation during your treatment.
Is There an Alternative to Root Canal Therapy?
Root canal therapy is one of the most important treatments we have to offer because it effectively saves damaged, decayed, and infected teeth. Before root canals, the only option was extraction. That said, the single alternative to a root canal is getting your tooth completely removed. This procedure is not only more invasive, but you'll need a replacement, which also makes it more costly.
How Can I Avoid Root Canals in the Future?
Thankfully, root canals can be completely avoided if you practice a proper oral healthcare routine. Start by brushing your teeth twice a day for two minutes each session, paying close attention to your gumline and the hard-to-reach areas of your mouth. Next, floss once a day to remove lingering food debris from in between your teeth. Additionally, you can use a nonalcoholic mouthwash for an extra layer of freshness. Last but certainly not least, make sure that you're visiting us twice a year for checkups and cleanings. During these appointments, we can catch early signs of decay before they turn into a root canal.
How Long Does a Root Canal Take?
The length of your treatment time will all depend on the severity of the infection. A root canal will take anywhere from 30 to 90 minutes, and it can usually be completed in a single visit. However, for more serious cases, we may want to split your treatment up into 2 appointments so your tooth can dry and disinfect a second time before your restoration.
What Are the Warning Signs of a Root Canal?
While it's sometimes difficult to recognize that you need a root canal, you can be on the lookout for these common symptoms:
Serious tooth pain or sensitivity that gets worse over time
Puss-filled pimple around the gums
Swollen or tender gums near the affected tooth
Bad breath (not caused by food)
Darkening of your tooth
If you notice any of these warning signs, please don't hesitate to contact our office for necessary treatment! This type of dental issue will only turn into something more painful and costly, which is why it's vital to let us know as soon as you recognize one of these symptoms.