Dental Bridges – Arlington Heights, IL
Custom-Made Replacements for Multiple Missing Teeth
Are you missing multiple teeth consecutively? At Westgate Dental Care, our team offers a variety of high-quality options for tooth replacement, including dental bridges in Arlington Heights. This lifelike, beautiful, prosthetic set of teeth restores strength and function to your smile. Keep reading to learn more about dental bridges and how you can benefit from one.
Why Choose Westgate Dental Care for Dental Bridges?
High-Quality Dental Materials
Experienced Team of Dentists
iTero Digital Impression System
What is a Dental Bridge?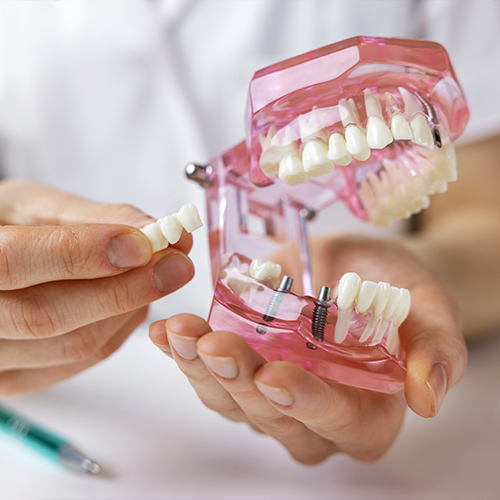 A dental bridge is a prosthetic that is designed to replace multiple missing teeth consecutively. Held in place with crowns on either side of the space in your smile, dental bridges can restore the visible portion of 1 to 3 teeth by literally "bridging the gap. Once placed, you'll enjoy a strong, lifelike restoration.
The Dental Bridge Procedure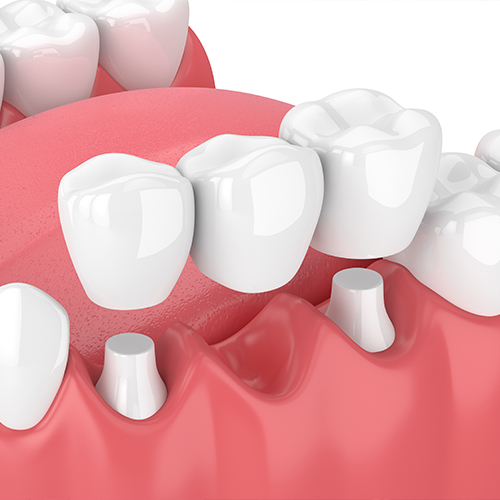 After your initial consultation, where we will decide if any preexisting issues need treatment, you'll come into our office for your first appointment. We will prepare your smile by removing a slight portion of enamel from the teeth surrounding the gap to accommodate the anchoring crowns. Next, we will take digital impressions of the affected area, which are used to make your dental bridge. These images are sent to a high-tech dental lab that will create your restoration. In the meantime, we'll give you a temporary bridge to maintain your appearance. After 1-2 weeks, you'll come back into our office, where we'll permanently place your final restoration once you're happy with your results.
The Benefits of Dental Bridges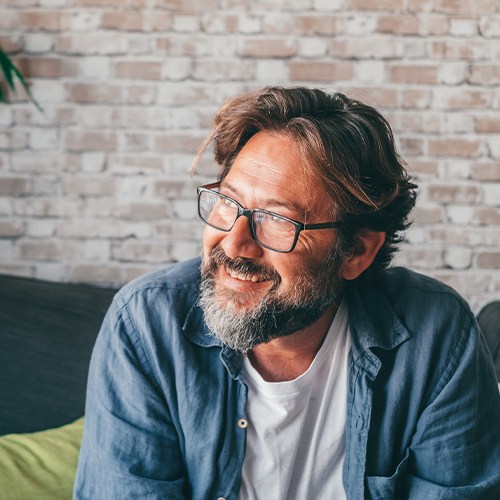 We offer dental bridges as one of our solutions for missing teeth because of their unique benefits, including:
Appearance: Your dental bridge is personalized to match the exact size, shape, and shade of the rest of your teeth for a beautifully lifelike replacement.
Convenience: Using a dental bridge, we can replace multiple teeth at once, which cuts down your number of dental visits.
Confidence: If you've been hiding your smile due to your missing teeth, a dental bridge will allow you to grin with complete confidence in any social or professional setting.
Durability: With proper care, dental bridges can last up to 15 years, helping you chew through all of your favorite foods.
Caring for Your Dental Bridge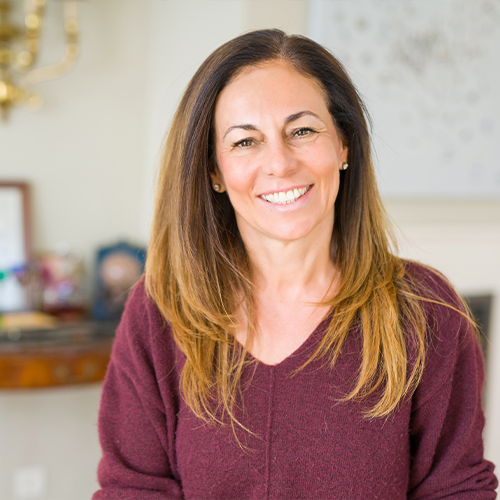 One of the added benefits of having a dental bridge is that you can care for it like your natural teeth. Just make sure you're brushing with a nonabrasive toothpaste and a toothbrush with soft bristles. Additionally, floss around your bridge to remove lingering food debris and bacteria. Of course, don't forget to visit our dentist in Arlington Heights for routine checkups and cleanings, where we'll ensure that your smile is still looking and functioning properly.
If you have any questions, please don't hesitate to contact our office!
Dental Bridge FAQs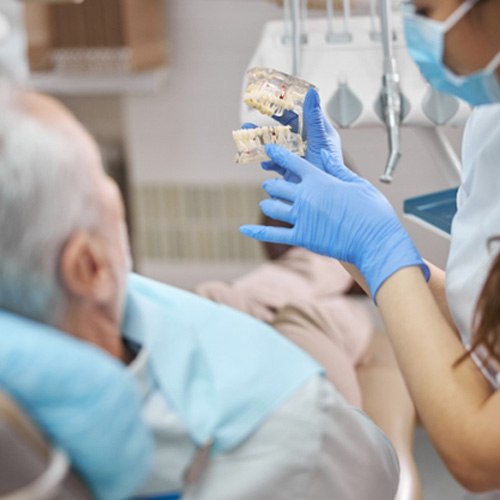 Missing teeth can make eating and speaking difficult, resulting in more time spent at home, away from others, and feeling as if you'll never regain your healthy smile. However, dental bridges in Arlington Heights are some of the most well-known and reliable options for tooth replacement. At Westgate Dental Care, our team can provide the type of customized prosthetic you need to feel good about your appearance once again. But before you start the process, we want to answer some of the most common questions asked by our patients. Review the information below and feel free to give us a call to schedule an appointment.
How long should a dental bridge last?
The longevity of your dental bridge is ultimately dependent on how well you take care of your new teeth. The average timeframe for one is anywhere from 5-15 years. If you want to make sure that you don't have to replace it within just a few years of originally receiving it, you'll need to make sure that you practice good oral hygiene, regularly visit your dentist in Arlington Heights, and avoid unhealthy foods and bad habits that can damage your bridge.
Other factors that can determine how long your bridge will last include where it is located inside the mouth, as those in the back tend to wear down more quickly than those placed toward the front. Also, the materials used can make a difference in how long your bridge will last.
How many teeth can a dental bridge replace?
A dental bridge should not replace more than three or four consecutive teeth. Any more than that should have you considering a partial denture. The reason is that because of how dental bridges are designed, they can become vulnerable and unstable the longer they are. To ensure that they remain firmly in place and do not become damaged under constant pressure, it's best if you move forward with a bridge if you only have a few missing teeth.
Do dental bridges look natural?
As long as you opt to see a dentist who is trained and experienced in providing high-quality restorative care, and lifelike materials are used, you can expect your dental bridge to look and feel completely natural. At Westgate Dental Care, we believe in creating restorations and prosthetics that blend in seamlessly with patients' smiles. This allows for greater confidence and improved appearances that help individuals like yourself feel eager to join social gatherings and pursue opportunities you might have once bypassed.
How do I clean under my bridge?
Just because you are missing certain teeth and now wearing a dental bridge doesn't mean your oral hygiene routine should be lax. Instead, you must understand and abide by the guidelines provided to clean underneath your bridge. Bacteria can accumulate, resulting in gum disease and dental decay among your nearby healthy teeth. To keep this area clean, make sure that you:
Make flossing essential. This means cleaning underneath the bridge to remove accumulated bacteria.
Use an interdental brush to remove food debris and particles from the smallest crevices surrounding your bridge.
Use an water irrigator to eliminate any built-up bacteria that may exist beneath your dental bridge.