Dental Implants – Arlington Heights, IL
Better Replacements for Missing Teeth
Losing even one permanent tooth can have a severe effect on your oral health. Even if you get traditional dentures to eat and speak normally again, your gums and jawbone will still suffer from the lack of stimulation normally provided by natural teeth. With dental implants in Arlington Heights, IL, you can replace both your teeth and the root structure that supports them, creating a healthier, stronger smile. To schedule a consultation for dental implants as a solution for lost teeth, contact Westgate Dental Care today!
Why Choose Westgate Dental Care for

Dental Implants?
Dental Implants Placed & Restored In-House
Mini Dental Implants Available
Multiple Affordable Financing Options
What Are Dental Implants?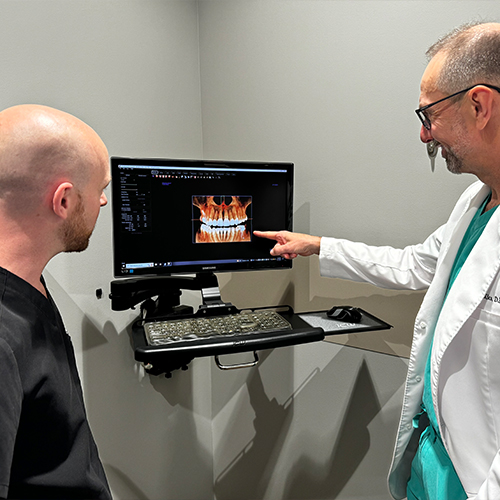 A dental implant is a small, screw-shaped titanium post meant to mimic the root structure of one or more lost teeth. One of our dentists can surgically place this post into your jawbone. Over the next three to six months, the biocompatible implant will actually fuse to the existing bone and oral tissues in a process called osseointegration. Afterward, we'll attach a metal connector piece called an abutment to the top of the implant. Then, we can place your custom-made replacement tooth. Depending on the number of teeth you're missing, this restoration might be a dental crown, bridge, or denture.
The dental implant process does require oral surgery, but it also promises greater stability, functionality, and longevity. Due to their ability to become one with the jawbone, dental implants create a sturdy, long-lasting foundation for your new pearly whites, which should look, feel, and function pretty much the same as your original teeth. That's why we typically recommend dental implants for most patients who are missing at least one tooth.
The 4-Step Dental Implant Process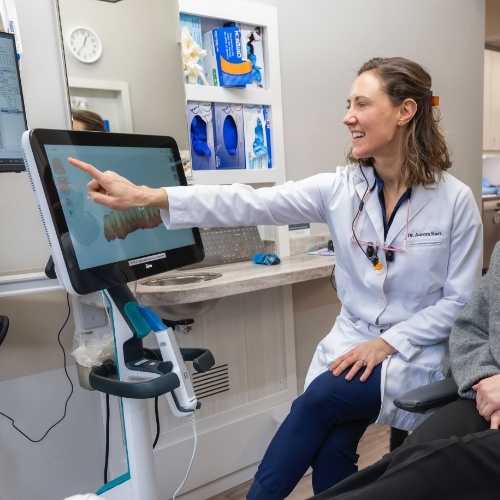 Why see a specialist to have your dental implants placed when the entire procedure can be done by your dentist in Arlington Heights? At Westgate Dental Care, you can get your implant posts as well as the restoration they'll support under one roof. That way, there's no need to go traveling all over town or to trust your oral health to someone you don't know; you can get convenient treatment from a team you already know you can trust.
Every patient's dental implant process looks just a bit different. That said, here are the four basic steps you can expect:
Initial Dental Implant Consultation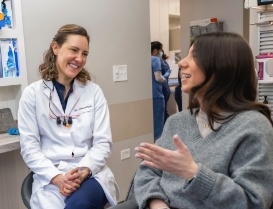 During your initial consultation, one of our experienced dentists will carefully examine the condition of your oral health, the number of teeth you're missing, and the density of your jawbone. They will also check for any preexisting oral health issues like tooth decay or gum disease. It's important to understand that gum disease and other infections will need to be treated before starting the dental implant surgery. Thankfully, we provide all of the treatments you need under one roof for ultimate convenience.
Dental Implant Surgery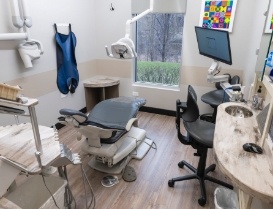 We ensure that all of our patients are numb and comfortable before beginning surgery. Additionally, we have sedation options to provide you with a greater sense of relaxation if necessary. Then, we will create small incisions in your gums that allow us to access your jawbone. Next, small holes are made for the placement of your implants. After they're in place, you will leave our dental office to begin a healing process known as osseointegration.
Dental Implant Osseointegration/ Abutment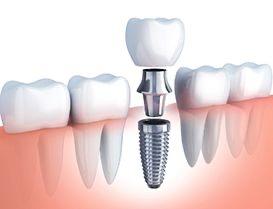 Dental implants are made of titanium, which is a biocompatible material that allows them to fuse to your jawbone. This osseointegration process can last for three to six months on average, but it's precisely what makes dental implants so strong and beneficial to your smile. After your implants are completely healed, we will attach your abutments, which are metal connectors that allow us to place your restorations.
Delivery of Dental Implant Restorations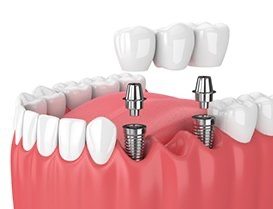 We will take images and impressions of your smile with the dental implants, which are used for the personalization of your restorations. After your restorations are created, your dentist in Arlington Heights will ensure that you're happy with them before permanently placing your crown, bridge, or denture. All that's left is for you to walk out of our dental office with a beautiful, strong, and complete smile.
Benefits of Dental Implants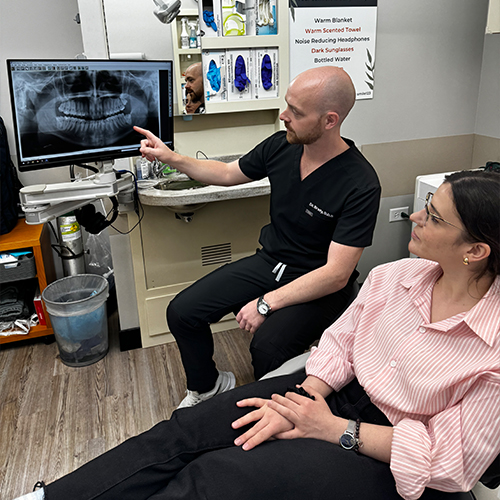 Dental implants have quickly become one of the most popular tooth replacement solutions we have to offer. While they do require surgery (a more involved process than other options like dentures), dental implants can provide you with a unique set of benefits that you won't get with other solutions. Are you considering dental implants? Read on to learn the many benefits of dental implants in Arlington Heights, IL and why a growing number of patients are choosing this amazing tooth replacement option.
Bone Preservation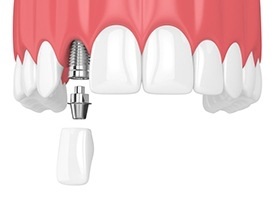 One of the biggest advantages that patients enjoy after getting dental implants is jawbone preservation. When you lose teeth, your jaw loses some of the stimulation it was getting from your tooth roots, which causes it to shrink. This can lead to an older facial appearance and even more lost teeth. Thankfully, dental implants stimulate the jaw like your natural teeth, preventing the bone from deteriorating after tooth loss to keep it healthy and strong.
Dental Health
With certain tooth replacements like dental bridges, some of your natural enamel may have to be removed to support and accommodate your dental prosthetic. However, dental implants replace teeth from the roots up through surgical placement in the jawbone, which means they don't require alteration of any of your remaining teeth.
Strength & Longevity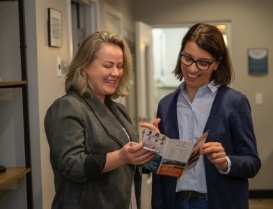 Unlike any other replacement, dental implants themselves can last for an entire lifetime if they're cared for properly. Titanium is a biocompatible material, allowing implants to fuse to bone, becoming a permanent part of your body. Additionally, because they're rooted in the jawbone, dental implants allow you to bite and chew a wide range of foods, giving you the ability to eat all of your favorites. Patients with other replacements like traditional dentures tend to have to avoid certain foods because their smile isn't strong enough to chew them.
Comfort & Appearance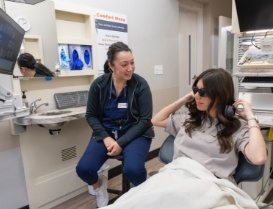 A patient favorite, dental implants look and feel just like your natural teeth, making smiling, speaking, and laughing effortless. In fact, you'll want to flash your newly complete teeth at any chance you get. Dental implants allow your restorations to mimic the way your natural teeth emerge from your gums for the most realistic replacement. They're also so comfortable that many patients forget which teeth were replaced with implants.
Confidence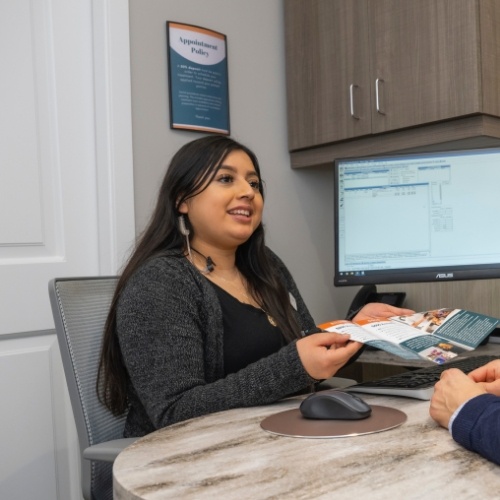 Last but certainly not least, dental implants restore patients with boosted confidence and self-esteem. If you're missing teeth, you may be familiar with the self-consciousness you feel when it's time for a photo or social gathering. Plus, professional life can be hard when you're not confident in flashing your grin during an interview or meeting. Dental implants dramatically improve your health and beauty, but you can also enjoy boosted confidence in your everyday life. The power to smile will help you look and feel happy, which radiates confidence to those around you.
Does it sound like you could benefit from dental implants? Call our dental office today to take your first step toward a healthy, complete, and beautiful set of teeth.
Who Dental Implants Can Help
If you have a missing tooth and have good oral health overall, you could potentially be a candidate for dental implants. Here are the indications that you could benefit from the procedure:
Missing One Tooth
You could lose a tooth for any number of reasons, whether it's from physical trauma or tooth decay that advanced too far. One implant post can support a crown attached to an abutment; said crown will be made out of porcelain or zirconia in order to resemble a natural tooth.
Missing Multiple Teeth
What if you happen to be missing three or four teeth in a row? You can replace them all at once with a dental bridge supported by two implants. Traditional bridges rest on other teeth, but this means giving up some enamel and leaving your pearly whites more vulnerable to damage and decay; implant bridges avoid this problem.
Missing All Teeth
If an entire row of teeth is missing, dentures are the best way to replace them all at once. A denture retained by four to six implant posts will be more secure in the mouth; it won't slip while you're talking, laughing, or chewing.
Learn More About Implant Dentures
Alternatively, All-on-4 dental implants can help. We use this treatment to help patients enjoy a beautiful, strong, and functioning smile by placing and restoring four dental implants in just one appointment. This solution is not only convenient, but you can enjoy many health and lifestyle benefits from All-on-4.
Understanding the Cost of Dental Implants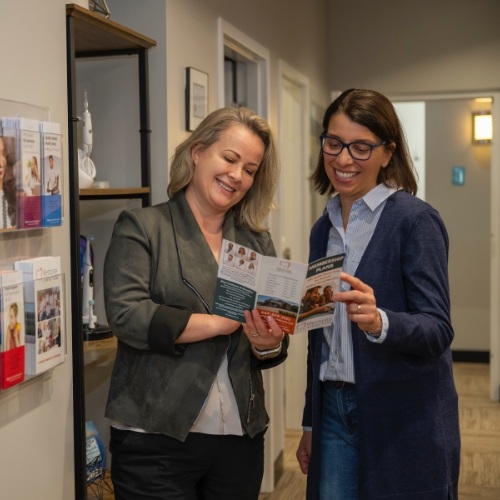 The number of implant posts you need, the various steps of the process, and any additional treatments that are needed to prepare the jawbone will all factor into the final cost of your implants. During your consultation, we'll give you an estimate that you can plan around. Remember, dental implants can last for decades, so you can be sure you're making a worthwhile long-term investment in your oral health.
Types of Dental Implants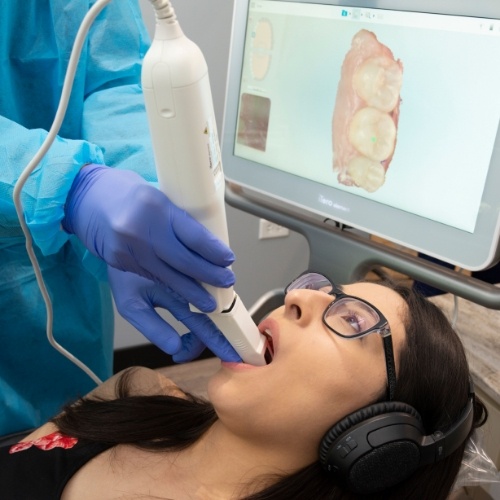 We offer different types of dental implants, and the treatment you require will directly depend on your pattern of tooth loss. For a single missing tooth, we will recommend an implant-supported crown to seamlessly complete your smile. If you're missing multiple teeth consecutively, we may recommend an implant bridge to fill in the missing gap. Lastly, if you're missing all or most of your smile, we can use an implant denture to replace your entire set of teeth. As you can imagine, the more teeth you're missing, the more implants you will require, which will also increase your treatment price.
What Are the Stages of Dental Implant Treatment?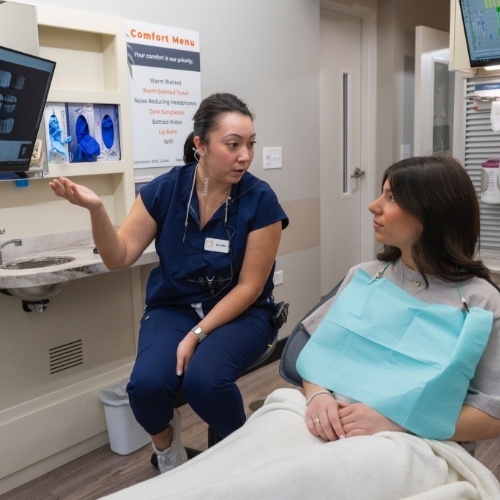 After your initial consultation, we will need to treat any preexisting issues before getting started. Then, we will schedule your implant surgery, where your implant dentist in Arlington Heights will make small incisions in the gums to access the bone. Next, small holes are created for the placement of your implants. Once the dental implants are placed, you'll begin a healing period that lasts at least three to four months. From there, you'll come back into our office for possible abutments (small connectors) and impressions. Lastly, we will place custom-made restorations on top of your dental implants. Each step of the implant process will incur its own separate cost, which will add up to the total price of your treatment.
Are Dental Implants Worth the Investment?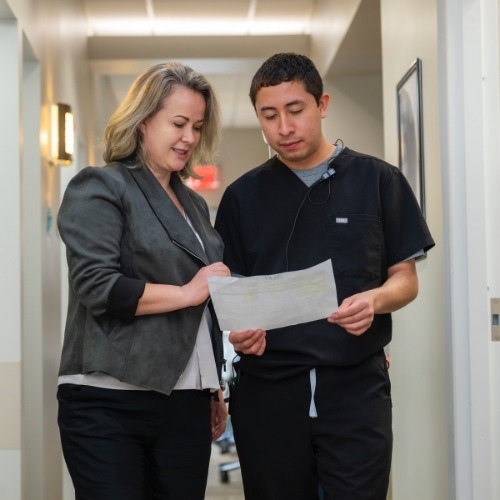 While dental implants tend to come with a higher price tag, their exceptional advantages make them well worth your investment. In fact, one of their benefits is longevity—dental implants can last for a lifetime with proper care, which may even save you money down the road. Plus, they stimulate your jawbone to prevent it from deteriorating, keeping your facial appearance full and protecting you from additional tooth loss.
Does My Dental Insurance Cover Dental Implants?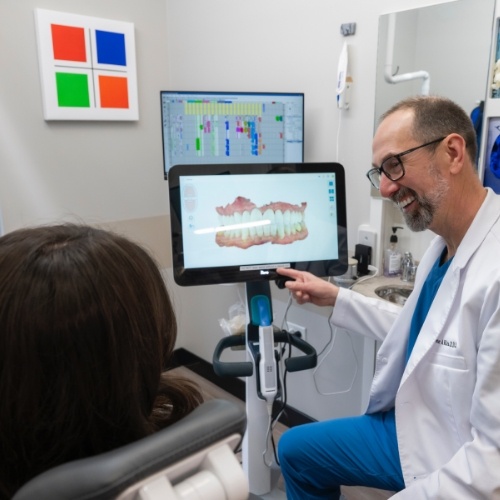 Typically, dental insurance will not cover dental implants, but your plan may be able to help out with the costs of certain aspects of the procedure like your consultation, treatment of preexisting issues, and part of your restorations. However, this will all depend on your specific dental insurance plan. Our friendly team will do all they can to maximize your benefits for quality and affordable dentistry.
If you have any questions, please don't hesitate to contact our office today!
Dental Implant FAQs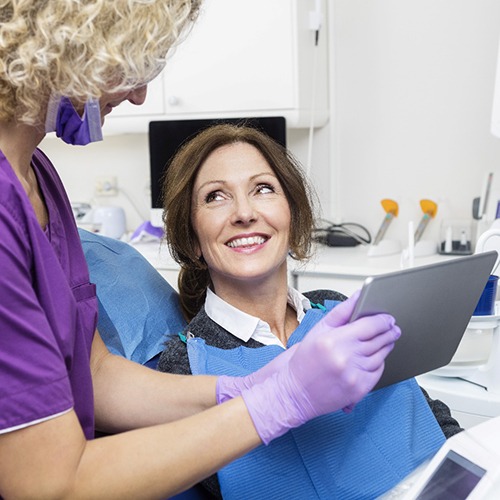 Do you still have questions about dental implants? If so, we have the answers. Because this tooth replacement option is a newer technology, many patients still wonder about certain factors before committing. At Westgate Dental Care, we want you to be confident in your investment, which is why we've included the answers to some of the most frequently asked questions about dental implants in Arlington Heights! Read on to satisfy your curiosity.
How Long Do Dental Implants Last?
One of the biggest advantages that patients enjoy once they get dental implants is their longevity. With proper care, you can benefit from the implant itself for a lifetime! That's because the osseointegration process that occurs allows the implant to actually become a permanent part of your jaw. It's also why implants can last much longer than other replacement solutions.
Will I Have to See a Specialist for Dental Implants?
While most dentists have to refer you to an implant specialist or oral surgeon, we can place and restore your implants at Westgate Dental Care. This is not only convenient, saving you trips across town, but it also leads to more personalized and consistent care. Plus, you'll automatically feel more comfortable and relaxed at a dental office you're familiar with.
How Many Dental Implants Will I Need?
The number of dental implants that you need will depend on how many teeth you're missing. In fact, some larger teeth, like your back molars, may even require multiple implants to support them. The only way to know how many implants you need is to schedule a consultation with our dental office. One of our experienced dentists will carefully examine your smile before developing a personalized treatment plan, including factors like the number of implants necessary, the cost, and a schedule.
Does the Dental Implant Procedure Hurt?
When patients hear about the process of receiving dental implants, they automatically assume it's a painful procedure because of the surgical aspect. However, those with dental implants have related the discomfort felt during the procedure to a simple tooth extraction. We work hard to keep our patients numb and comfortable for the entire process. We even offer sedation for a greater sense of relaxation.
Can Dental Implants Help If I'm Unhappy with My Denture?
Yes! Implant dentures are a popular service we offer for patients who are missing all or most of their teeth. Traditional dentures slip and slide around, which can be embarrassing and uncomfortable. However, we can use an average of four to six dental implants to support a full denture, allowing patients to complete their smiles with a strong and stable bite.