Dental Implants – Arlington Heights, IL
Better Replacements for Missing Teeth
Losing even one permanent tooth can have a severe effect on your oral health. Even if you get traditional dentures to eat and speak normally again, your gums and jawbone will still suffer from the lack of stimulation normally provided by natural teeth. With dental implants in Arlington Heights, IL, you can replace both your teeth and the root structure that supports them, creating a healthier, stronger smile. To schedule a consultation for dental implants as a solution for lost teeth, contact Westgate Dental Care today!
Why Choose Westgate Dental Care for

Dental Implants?
Dental Implants Placed & Restored In-House
IV Sedation Available
Multiple Affordable Financing Options
What Are Dental Implants?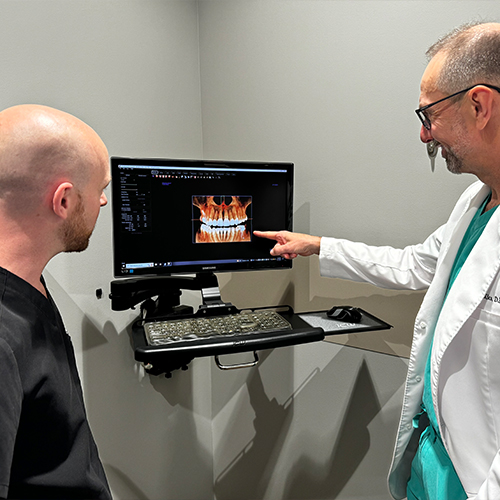 A dental implant is a small, screw-shaped titanium post meant to mimic the root structure of one or more lost teeth. One of our dentists can surgically place this post into your jawbone. Over the next three to six months, the biocompatible implant will actually fuse to the existing bone and oral tissues in a process called osseointegration. Afterward, we'll attach a metal connector piece called an abutment to the top of the implant. Then, we can place your custom-made replacement tooth. Depending on the number of teeth you're missing, this restoration might be a dental crown, bridge, or denture.
The dental implant process does require oral surgery, but it also promises greater stability, functionality, and longevity. Due to their ability to become one with the jawbone, dental implants create a sturdy, long-lasting foundation for your new pearly whites, which should look, feel, and function pretty much the same as your original teeth. That's why we typically recommend dental implants for most patients who are missing at least one tooth.
The 4-Step Dental Implant Process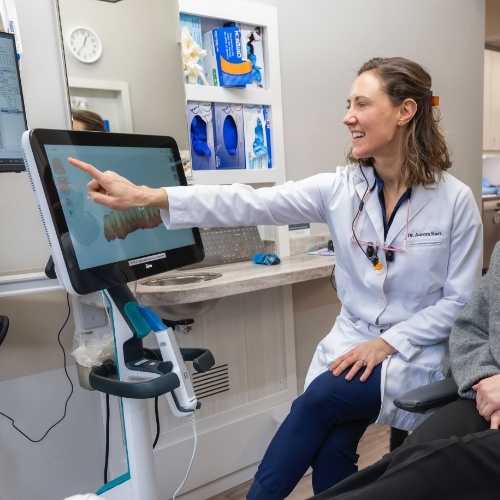 Why see a specialist to have your dental implants placed when the entire procedure can be done by your dentist in Arlington Heights? At Westgate Dental Care, you can get your implant posts as well as the restoration they'll support under one roof. That way, there's no need to go traveling all over town or to trust your oral health to someone you don't know; you can get convenient treatment from a team you already know you can trust.
Every patient's dental implant process looks just a bit different. That said, here are the four basic steps you can expect:
Initial Dental Implant Consultation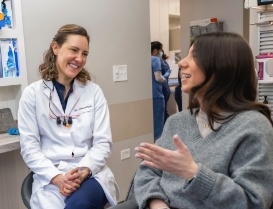 During your initial consultation, one of our experienced dentists will carefully examine the condition of your oral health, the number of teeth you're missing, and the density of your jawbone. They will also check for any preexisting oral health issues like tooth decay or gum disease. It's important to understand that gum disease and other infections will need to be treated before starting the dental implant surgery. Thankfully, we provide all of the treatments you need under one roof for ultimate convenience.
Dental Implant Surgery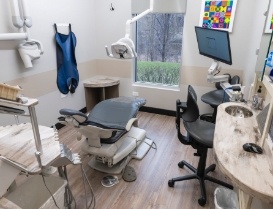 We ensure that all of our patients are numb and comfortable before beginning surgery. Additionally, we have sedation options to provide you with a greater sense of relaxation if necessary. Then, we will create small incisions in your gums that allow us to access your jawbone. Next, small holes are made for the placement of your implants. After they're in place, you will leave our dental office to begin a healing process known as osseointegration.
Dental Implant Osseointegration/ Abutment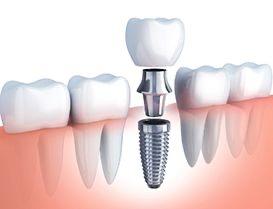 Dental implants are made of titanium, which is a biocompatible material that allows them to fuse to your jawbone. This osseointegration process can last for three to six months on average, but it's precisely what makes dental implants so strong and beneficial to your smile. After your implants are completely healed, we will attach your abutments, which are metal connectors that allow us to place your restorations.
Delivery of Dental Implant Restorations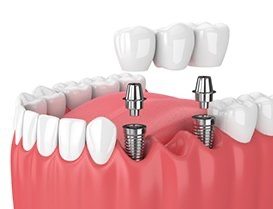 We will take images and impressions of your smile with the dental implants, which are used for the personalization of your restorations. After your restorations are created, your dentist in Arlington Heights will ensure that you're happy with them before permanently placing your crown, bridge, or denture. All that's left is for you to walk out of our dental office with a beautiful, strong, and complete smile.
Benefits of Dental Implants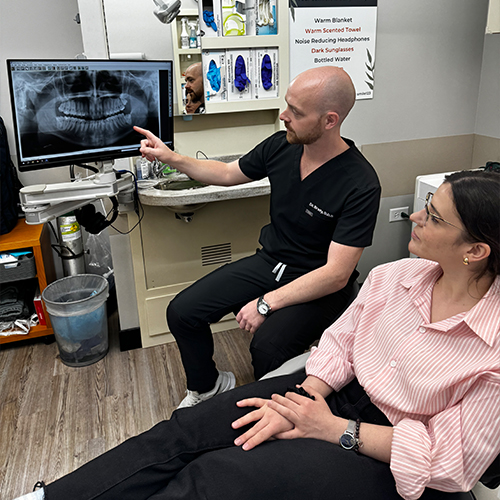 Dental implants have quickly become one of the most popular tooth replacement solutions we have to offer. While they do require surgery (a more involved process than other options like dentures), dental implants can provide you with a unique set of benefits that you won't get with other solutions. Are you considering dental implants? Below, you can learn about the many benefits of dental implants in Arlington Heights and why a growing number of patients are choosing this amazing tooth replacement option.
Day-to-Day Benefits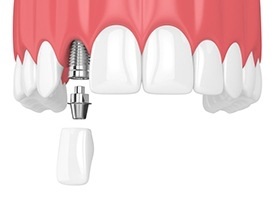 If you currently wear dentures, you may feel like it limits your day-to-day life to some degree. Maybe they slip around when you speak or you can't eat properly with them in your mouth. Well, choosing to upgrade to dental implants can be a game-changer! You can enjoy the following benefits:
Ability to eat most foods. Dental implants are inserted into the jawbone to replace the entire structure of missing teeth, from the roots up to the chewing surface. Because of their unique placement, they're able to withstand the chewing of virtually any food. You can eat almost anything you want with implants!
Boost of confidence. If you're missing teeth, you may be familiar with the self-consciousness you feel when it's time for a photo or social gathering. Dental implants will allow you to enjoy boosted confidence in your everyday life. The power to smile will help you look and feel happy, which radiates confidence in those around you.
Easier maintenance. With implants, you don't have to worry about purchasing special products or incorporating complex steps into your oral hygiene routine. Caring for your new smile is as easy as caring for natural teeth!
Health Benefits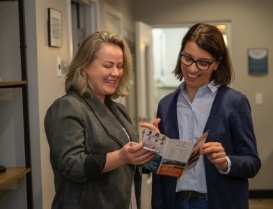 Aside from improving your appearance, dental implants provide many health benefits. Some of those advantages include:
Jawbone preservation. When you lose teeth, your jaw loses some of the stimulation it was getting from your tooth roots, which causes it to shrink. This can lead to an older facial appearance and even more lost teeth. Thankfully, dental implants stimulate the jaw like your natural teeth, preventing the bone from deteriorating after tooth loss to keep it healthy and strong.
Protection for natural teeth. With certain tooth replacements like dental bridges, some of your natural enamel may have to be removed to support and accommodate your dental prosthetic. However, dental implants replace teeth from the roots up through surgical placement in the jawbone, which means they don't require alteration of any of your remaining teeth.
Improved overall health. Research has discovered a correlation between tooth loss and an increased risk of several diseases. Since dental implants are similar to natural teeth, it's safe to assume they can help lower such risks.
Long-Term Benefits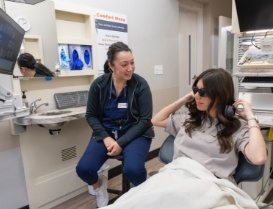 Are you thinking about getting dental implants soon? Not only can they help you in the short-term, but in the long-term as well. Here's what you can look forward to:
High success rate. Dental implants have a success rate of about 95% even 20 years after they've been placed!
Youthful appearance. Because implants stimulate the jawbone, they prevent the sunken look that often comes with tooth loss. They'll help you enjoy a youthful appearance for years to come!
Long-lasting results. Unlike traditional options, you don't have to worry about replacing your implants every few years. They can easily last a lifetime with proper maintenance.
Who Dental Implants Can Help
Dental implants offer many benefits, which is why they are chosen by so many patients. However, they're also incredibly popular because they can be used to replace a single missing tooth, multiple teeth, or even an entire smile. During your initial consultation, we will ensure that you're a good candidate for dental implants in Arlington Heights. From there, we'll develop a personalized treatment plan based on your unique needs.
Who is a Good Candidate for Dental Implants?
Almost any healthy adult can get dental implants! Usually, you'll need to have these three things to be considered a good candidate:
Good overall health: The placement of dental implants requires a minor procedure, so you must be well enough to undergo a small surgery.
Great oral health: Preexisting issues like gum disease or cavities can compromise the success of your dental implants, which is why they need to be addressed first.
Strong jawbone: It's essential that you have adequate jawbone density to support dental implants.
Even if it sounds like you're not a good candidate initially, we can provide preparatory treatments like bone grafting and gum disease therapy to ensure the success of your dental implants. Once we schedule and complete these procedures, your smile will be back on track and ready for implants. From there, we'll design our plan around the number of teeth that you're missing.
Missing 1 Tooth
You could lose a tooth for any number of reasons, whether it's from physical trauma or tooth decay that advanced too far. One implant post can support a crown attached to an abutment. The crown will be made out of porcelain or zirconia in order to resemble a natural tooth, and our dental implant dentist in Arlington Heights matches the restoration to the rest of your smile for a seamless replacement. This option is both sturdier and stronger than a traditional dental bridge.
Missing Multiple Teeth
For consecutive missing teeth, we can replace them all at once with a dental bridge supported by two implants. Traditional bridges rest on other teeth, but this means giving up some enamel and leaving your pearly whites more vulnerable to damage and decay. Implant bridges avoid this problem and preserve your natural, healthy teeth.
Missing All Teeth
If an entire row of teeth is missing, implant dentures are the best way to replace them all at once. A denture retained by four to six implant posts will be more secure in the mouth; it won't slip while you're talking, laughing, or chewing. This will give you a full smile replacement that looks, feels, and functions just like your natural one. Plus, this option allows you to get a minimal number of implant posts for maximum stability.
Learn More About Implant Dentures
Alternatively, All-on-4 dental implants can help. We use this treatment to help patients enjoy a beautiful, strong, and functioning smile by placing and restoring four dental implants in just one appointment. This solution is not only convenient, but you can enjoy many health and lifestyle benefits from All-on-4.
Understanding the Cost of Dental Implants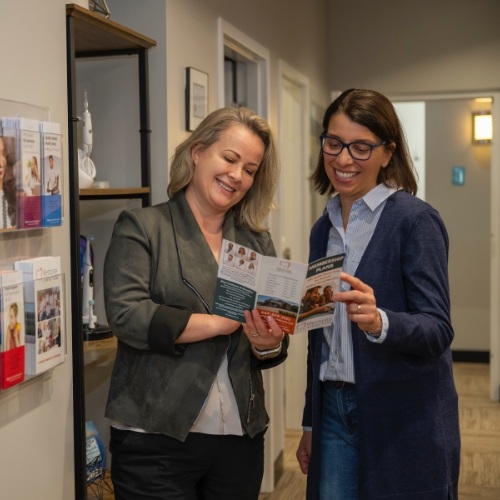 The number of implant posts you need, the various steps of the process, and any additional treatments that are necessary to prepare the jawbone will all factor into the final cost of dental implants in Arlington Heights. During your consultation, we'll give you an estimate that you can plan around. Remember, dental implants can last for decades, so you can be sure you're making a worthwhile long-term investment in your oral health.
Preliminary Treatments & Dental Implant Surgery
Treatments like tooth extractions, bone grafting, and gum disease therapy will add to the overall price of your implants. However, these services are integral for the success of your dental implants. Thankfully, they're typically partially covered by insurance. Next, you'll have your implant surgery, which will incur its own unique cost. Our implant dentist in Arlington Heights provides the entire process at the same location, giving you compact and simple fees instead of multiple payments to various practices.
The Parts of Your Dental Implant
We offer different types of dental implants, and the treatment you require will directly depend on your pattern of tooth loss. For a single missing tooth, we will recommend an implant-supported crown to seamlessly complete your smile. If you're missing multiple teeth consecutively, we may recommend an implant bridge to fill in the missing gap. Lastly, if you're missing all or most of your smile, we can use an implant denture to replace your entire set of teeth. As you can imagine, the more teeth you're missing, the more implants you will require, which will also increase your treatment price.
How Dental Implants Can Save You Money
While dental implants in Arlington Heights tend to come with a higher price tag, their exceptional advantages make them well worth your investment. In fact, one of their benefits is longevity – dental implants can last for a lifetime with proper care, which may even save you money down the road. Plus, they stimulate your jawbone to prevent it from deteriorating, keeping your facial appearance full while protecting you from additional tooth loss.
Does My Dental Insurance Cover Dental Implants?
Typically, dental insurance will not cover dental implants, but your plan may be able to help out with the costs of certain aspects of the procedure like your consultation, treatment of preexisting issues, and part of your restorations. However, this will all depend on your specific dental insurance plan. Our friendly team will do all they can to maximize your benefits for quality and affordable dentistry.
Making Dental Implants Affordable
No insurance? No need to worry! We offer various ways to make your dental implants fit your budget. We have our own in-house membership plans, featuring silver, gold, and platinum options. By paying one simple fee each year, you'll get access to benefits that insurance would never provide. The best part is that our membership plans are straightforward, avoiding complicated fees, deductibles, maximums, and more. Plus, we offer alternative financing through CareCredit, which gives you the option to choose low-to-no interest financing with monthly payments. Call us for a consultation! We can't wait to help you get dental implants at fees you can afford.
Dental Implant Technology
At Westgate Dental Care, we are committed to providing our patients with the most comfortable, efficient, and effective treatments. As a part of this, we use the latest technology to stay up to date on the best and most successful dental implants. We have special dental instruments that lead to more precise and longer lasting tooth replacements, plus fewer surprises throughout the entire process. Read on to learn more about dental implant technology in Arlington Heights.
3D Cone Beam Imaging/3D CT Scanning
Traditional X-rays are reliable, however they only take 2D images of the mouth. While this is a start, it leaves room for guess work and potential issues in the future with treatment. Thankfully, we use a CT scanner to take more detailed, 3D images of the smile. This amazing piece of technology takes hundreds of images of the oral structures, including the teeth, gums, and jawbone, in a matter of seconds. Using these images, we can create a digital 3D model of your smile for the most precise treatment planning. The result is a higher success rate with a more enjoyable treatment process because of the latest technology we have at our office.
Dental Implants Post-Op Instructions
Between your mouth being numbed and the possible use of sedation during the surgery, you usually won't experience any discomfort during implant placement. That said, it is normal to experience some soreness during the recovery process, and there are certain steps you'll need to take to keep yourself comfortable while also making sure your mouth has a chance to heal properly. The following post-op instructions will outline what you'll normally experience during dental implant recovery and what steps you need to take to avoid problems.
What to Do Directly After Dental Implant Surgery
Plan on resting for a day or two after your surgery; too much strenuous activity right after the procedure could increase your blood pressure and lead to bleeding around the surgical site. You should be able to return to your normal routine fairly quickly. In the meantime, though, you should focus on protecting the blood clot that has formed on the surgery site so that your gums can heal properly around the implant. Do not use tissues, drink from straws, or touch the surgery site with your fingers and tongue; these actions could all end up removing the blood clot.
Common Side Effects
General discomfort, swelling, and intermittent bleeding are all normal symptoms to have after dental implants have been placed. You can stop any bleeding by putting a small amount of pressure on the wound with a piece of gauze, and swelling can be controlled with a cold compress. You may receive a prescription for medication to reduce your pain, but over the counter medication can help as well. What's important to remember is that these symptoms should gradually disappear over time; if they linger longer than they should or start to grow worse, you need to call our office immediately.
Diet
Before your implant surgery, stock up on mashed potatoes, yogurt, scrambled eggs, pasta, and other soft foods that require very little if any chewing. Soup is also a good option, but make sure it isn't too hot. Most people are comfortable returning to a normal diet in just a few days. Remember to avoid chewing directly with the dental implant until it has received a restoration.
Health & Oral Hygiene
You need to keep your mouth healthy and clean so that your implants can become successfully integrated with the jawbone. It's okay to brush your teeth normally as long as you're careful around the implant site. Rinse with salt water two to three times every day to clean your mouth and get rid of bacteria that could enter the implant site and cause an infection.
What to Do After Your New Teeth Are Attached
After your mouth has fully healed, you'll be ready to have the final prosthetic attached to your dental implant. Compared to what you'll experience after implant surgery, there's not much discomfort associated with having a restoration attached. Any minor sensitivity can be dealt with via pain medication.
Maintaining & Caring for Your Dental Implants
Dental implants have the potential to last for a lifetime. In order to live up to that potential, however, they need to receive proper dental implant care in Arlington Heights. Diligent oral hygiene, smart dietary choices, and regular dental checkups are just a few of the things that can help you to protect your new smile from potential problems. Below, you can learn more about maintaining your dental implants.
Make Oral Hygiene a Priority
One of the most common causes of dental implant failure is an infection known as peri-implantitis. Fortunately, most cases of peri-implantitis can be prevented via diligent oral hygiene. To safeguard your smile from infection, you should:
Brush your teeth at least twice a day. Be sure to clean the backs of your teeth and the area along the gumline.
Floss daily. Flossing is essential for cleaning the tight spaces in your mouth. If you have an implant-supported bridge, you may need to floss beneath your pontics (the artificial teeth between your crowns).
Rinse with an antibacterial mouthwash. Your dentist might recommend that you use a specific product to combat bacteria accumulation in your mouth.
Eat a Healthy Diet
Dental implants in Arlington Heights can allow you to eat virtually anything. However, just like some foods are better for natural teeth than others, some foods can damage your implants if you overindulge. For example, you should limit your intake of sticky and sugary foods. Instead, try to center your diet on foods that promote oral health, such as those that are rich in calcium and vitamin C.
Break Bad Habits
There are a number of bad habits that can pose a threat to your dental implants:
Smoking slows down your body's ability to heal after implant surgery, and it increases the risk of infection. Every effort you make to quit will be well worth it!
Using teeth as tools. You should not use either your natural teeth or your implant restorations to open packages, trim your fingernails, or perform other tasks that they are not designed for.
Chewing on hard objects. Biting down on ice, pen caps, or other hard items may damage your dental implants.
Protect Your Dental Implants
Do you like to play sports? If so, you should always wear a mouthguard during games and practices. An over-the-counter mouthguard provides a level of protection, but a custom one from a dentist is more comfortable and more effective. Similarly, if you tend to grind and clench your teeth while you sleep, you should wear a mouthguard at night. It will place a barrier between your teeth and prevent them from damaging one another.
Schedule Regular Dental Checkups
At your regular appointments with your implant dentist in Arlington, our dental team will thoroughly clean your mouth and inspect both your dental implants and your natural teeth. If we find any cause for concern, we may be able to address the problem before it becomes severe. Most patients should visit us at least once every six months for a checkup.
Dental Implant Failure & Salvage
Dental implants are chosen time and time again for many reasons, but the most significant is they have a success rate of 95% even after 10 years. However, there is still a chance of dental implant failure. If you notice discomfort or a change in your newly restored teeth, please don't hesitate to contact our office immediately. There is a possibility that we can use dental implant salvage treatment to get your smile back on track.
Learn More About Dental Implant Failure and Salvage
Dental Implant FAQs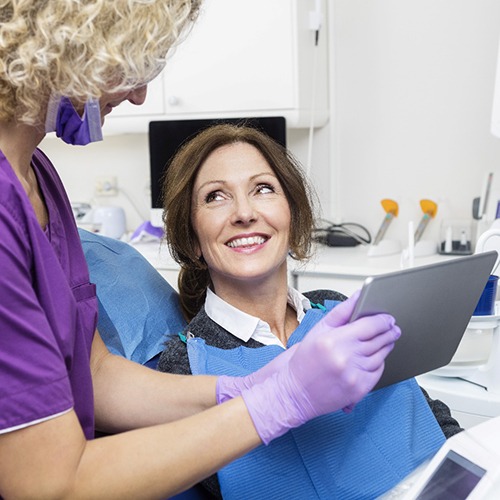 Do you still have questions about dental implants? If so, we have the answers. Because this tooth replacement option is a newer technology, many patients still wonder about certain factors before committing. At Westgate Dental Care, we want you to be confident in your investment, which is why we've included the answers to some of the most frequently asked questions about dental implants in Arlington Heights! Read on to satisfy your curiosity.
How Long Do Dental Implants Last?
One of the biggest advantages that patients enjoy once they get dental implants is their longevity. With proper care, you can benefit from the implant itself for a lifetime! That's because the osseointegration process that occurs allows the implant to actually become a permanent part of your jaw. It's also why implants can last much longer than other replacement solutions.
Will I Have to See a Specialist for Dental Implants?
While most dentists have to refer you to an implant specialist or oral surgeon, we can place and restore your implants at Westgate Dental Care. This is not only convenient, saving you trips across town, but it also leads to more personalized and consistent care. Plus, you'll automatically feel more comfortable and relaxed at a dental office you're familiar with.
How Many Dental Implants Will I Need?
The number of dental implants that you need will depend on how many teeth you're missing. In fact, some larger teeth, like your back molars, may even require multiple implants to support them. The only way to know how many implants you need is to schedule a consultation with our dental office. One of our experienced dentists will carefully examine your smile before developing a personalized treatment plan, including factors like the number of implants necessary, the cost, and a schedule.
Does the Dental Implant Procedure Hurt?
When patients hear about the process of receiving dental implants, they automatically assume it's a painful procedure because of the surgical aspect. However, those with dental implants have related the discomfort felt during the procedure to a simple tooth extraction. We work hard to keep our patients numb and comfortable for the entire process. We even offer sedation for a greater sense of relaxation.
Can Dental Implants Help If I'm Unhappy with My Denture?
Yes! Implant dentures are a popular service we offer for patients who are missing all or most of their teeth. Traditional dentures slip and slide around, which can be embarrassing and uncomfortable. However, we can use an average of four to six dental implants to support a full denture, allowing patients to complete their smiles with a strong and stable bite.
Advanced Dental Implant Procedures
At Westgate Dental Care, we want all our patients to have access to the best treatments. While you may not be a good candidate for dental implants initially, it doesn't mean that you can never get them. We offer advanced dental implant procedures in Arlington Heights to get you ready for your new, complete set of teeth. While these treatments may extend your timeline, they are well worth it when it comes to the success of your implants.
Bone Grafting
When you lose teeth, your jawbone loses the blood flow stimulation it was getting from the roots, causing it to weaken and deteriorate. If a jawbone isn't strong enough, it may not be able to properly support dental implants. Thankfully, bone grafting in Arlington Heights can correct this issue by fortifying your jawbone. This involves opening up the gums to access the weak part of the bone. Then, bone grafting tissue (from elsewhere on your body or a doner) is placed on the area to strengthen it. This process does take several months, but it's vital for the longevity of your implants.
Sinus Lift
If the bone in the upper jaw deteriorates, it can cause the sinus cavities to be too close to where the implants need to be placed, which could lead to failure. A sinus lift is a type of bone grafting that addresses this specific issue. First, the gums are opened to expose the thin membrane that holds the sinuses. Next, it gets pushed back, and grafting material is placed to keep it out of the way of the affected area. It will usually take 4 to 9 months for the sinus lift to heal before we can place your dental implants in Arlington Heights.