Teeth Whitening – Arlington Heights, IL
The Fast & Safe Way To Brighten Smiles
Those searching for teeth whitening in Arlington Heights have a few options available to them. One of the most effective methods is to have in-office tooth whitening done at a reputable dental clinic. Over-the-counter, at-home solutions do not often work and can wind up costing you more money in the long run. In worst-case scenarios, purchasing the wrong product can even cause lasting harm to your enamel. Thankfully, there are safe, affordable, and effective options for professional teeth whitening in Arlington Heights, IL available here at Westgate Dental Care.
Why Choose Westgate Dental Care for

Teeth Whitening?
KöR In-Office Teeth
Whitening System
Opalescence Take-Home
Whitening
Noticeable Results
In Less Time
How Does Teeth Whitening Work?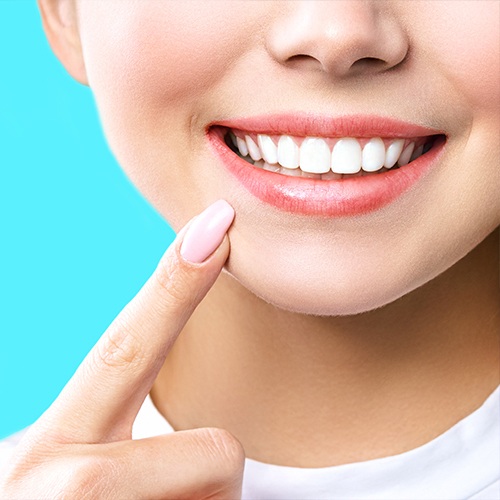 Teeth can become yellowed or stained for any number of reasons. People who use tobacco often, drink beverages such as coffee, tea, soda, and red wine, or who fail to take proper care of their teeth are at the highest risk for developing stains. Aging can also wear down the enamel, which can result in dull teeth that appear yellow.
Cosmetic teeth whitening is a simple and pain-free procedure designed to restore the shine and brightness to your smile. Your dental team starts the process by protecting your gums with a rubber shield or protective gel. Next, they apply the whitening gel directly to the teeth. Solutions used in dental offices are much stronger than those you can buy for at-home kits. This gel is then activated by a laser or special light designed to make the whitening process happen faster. In most cases, each whitening session lasts around 30 minutes, with optimal effectiveness occurring after one to three appointments.
What Are the Benefits of Teeth Whitening?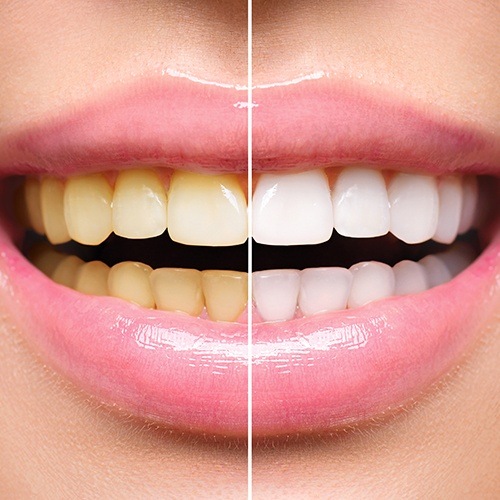 The biggest benefit of white teeth is that it results in a smile you can be confident about. When you have professional teeth whitening done, it removes stains and brightens your enamel much faster than traditional at-home treatments. Having a brighter, whiter smile can also result in better oral hygiene habits. Also, some of the whitening gels used in dental offices can even kill bacteria. As a result, this process can also reduce the risk of gum disease and tooth decay.
How Does KöR Work?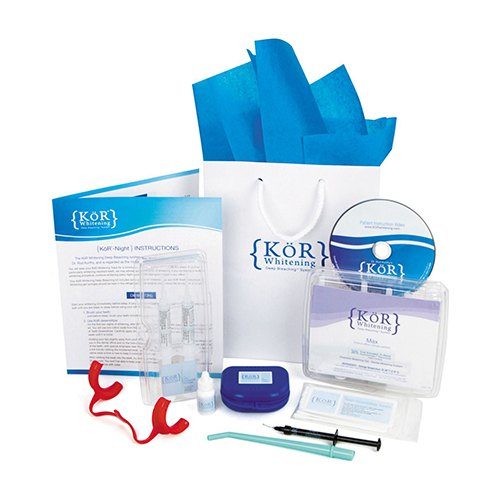 One of the biggest issues with most whitening treatments is that saliva and air can enter into the trays, disrupting the bleaching process and leaving you with less-than-optimal results. The KöR system uses a special sealing mechanism to keep saliva and air out, ensuring that the gel is held right up against the tooth enamel. Plus, a special oxidized and refrigeration method helps the gel stay fresher for maximum strength. It's the most revolutionary way to brighten a smile -- and that is why we prefer it!
After-Treatment Maintenance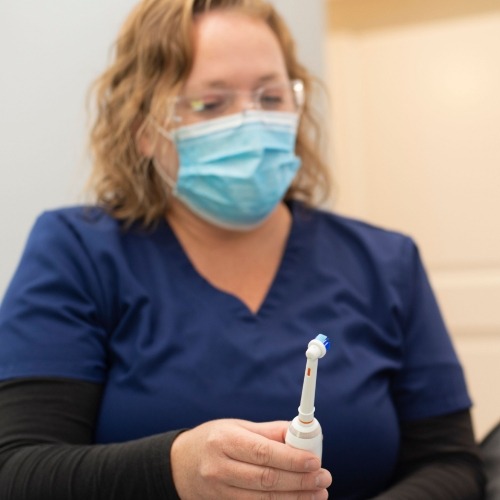 Once you have your Arlington Heights teeth whitening completed, you need to take specific steps to maintain your bright smile. All whitening treatments fade if you do not take proper care of your teeth, gums, and the rest of your oral health. Thankfully, caring for your newly white teeth involves very little more than merely practicing good oral hygiene habits.
It is always important to brush and floss your teeth every day. Be sure you brush immediately after breakfast (not before) and shortly before going to bed at least. It is advisable also to brush following each meal, to avoid the buildup of food particles in your mouth. After you have whitened, you may want to use special toothpaste to ward off future coffee and red wine stains. Ask your dentist about which whitening toothpaste is ideal for your lifestyle and the condition of your teeth.
Another way you can maintain your brilliant smile after whitening is to visit your dentist on a regular basis. You should visit your dentist for a check-up at least once per year at minimum. It is also essential to have your teeth professionally cleaned by a hygienist at least twice a year. Cleanings and exams allow your dental team to inspect your teeth and diagnose any potential issues before they worsen.
If you are looking for teeth whitening in Arlington Heights, IL, contact Westgate Dental Care today. We offer a wide variety of dental services, including cosmetic dentistry. Our dental team focuses on providing patient-focused care, putting your needs first. With extended dental office hours, flexible financing arrangements, and a compassionate staff that understands dental anxiety, Westgate Dental Care is the perfect clinic for your family. Contact our friendly dental office staff by phone, visit our location, or book your appointment online today.
Understanding the Cost of Teeth Whitening
As you're doing your research on teeth whitening in Arlington Heights, it's natural to wonder about the cost. After all, how can you commit to a treatment without knowing the price? Since each treatment plan is 100% customized to each patient's smile goals, there isn't a one-size-fits-all answer when it comes to the total price. With that being said, there are some all-encompassing factors that impact the final cost. Keep reading to learn what they are!
Factors that Affect the Cost of Teeth Whitening
Each patient's dental needs are different, which means that each treatment plan is different. To provide you with an estimate, our cosmetic dentist in Arlington Heights will consider several important factors, including:
The severity of the dental discoloration
The source of the stains (i.e., age, medication, smoking)
The need for preliminary procedures, like a filling or dental crown
Types of Teeth Whitening: What Do They Cost?
At Westgate Dental Care, we're proud to offer our patients not one, but two reliable and safe stain-blasting solutions: in-office and take-home whitening treatments. While in-office treatments can range from $400 to $800, take-home alternatives typically cost a few hundred dollars less. Of course, over-the-counter options have a much cheaper upfront cost ($20-$40 on average), but it's important to remember that cheaper isn't necessarily better, especially when it comes to something as important as your smile.
Inexpensive Teeth Whitening VS Professional Teeth Whitening
As previously mentioned, over-the-counter whitening kits require a significantly lower financial investment. Since the marketing behind these products make it seem like they are equally as effective, you may be wondering why you should opt for a professional whitening treatment.
First, over-the-counter kits use one-size-fits-all trays and diluted whitening agents, leading to lackluster and unpredictable results. In addition, they don't take into account the condition of your oral health, which can negatively impact the state of your teeth and gums. Lastly, they aren't monitored by a licensed dental professional, meaning that you can easily overuse them, doing more harm than good in the long run.
Conversely, professional teeth whitening starts with a dental exam to ensure that you are a good candidate for this popular cosmetic dentistry treatment. Each treatment plan is 100% customized, ensuring you get the reliable results you deserve. And, perhaps most importantly, an in-office treatment can lighten your teeth by up to eight shades in a single visit!
Options for Making Teeth Whitening Affordable
Since dental insurance plans typically don't cover the cost of teeth whitening in Arlington Heights, you may naturally assume that the treatment will be too expensive. Fortunately, that's not the case! Our team is proud to offer our patients several financial solutions, including:
CareCredit – With trusted third-party financiers, like CareCredit, you can space-out your payments instead of having to pay for it in one lump sum.
In-House Savings Plan – Our in-house savings plan helps you save on a wide range of treatments – without annoying deductibles, claims forms, and annual maximums too!
Special Offers – We offer periodic specials to help lower your out-of-pocket expenses as well. Don't hesitate to ask our team about our latest specials!
Of course, the easiest way to pinpoint an exact price and find the best financial option for you is to schedule a consultation with our team. We're here to help whenever you're ready!
Teeth Whitening FAQs
When researching teeth whitening treatments, it's natural to have questions on your mind. Will it hurt? What's the difference between professional and store-bought options? Am I a candidate? Our team would be more than happy to answer all of these questions and more during your initial consultation. However, if you'd prefer to do a bit more research before getting in touch, that's okay too! Keep reading to learn the answers to some of the most frequently asked questions about teeth whitening in Arlington Heights.
Does Teeth Whitening Hurt?
Thankfully, professional teeth whitening treatments are completely personalized to you and utilize high-quality brighteners, both of which decrease your chances of experiencing tooth sensitivity following your visit. To prevent soreness and irritation, you should also use a toothpaste designed for sensitive teeth, avoid drinking hot beverages, and skip overly acidic or sugary foods.
What's the Difference Between Professional and Store-Bought Teeth Whitening?
Since store-bought whitening kits market themselves as both reliable and cost-effective, many patients are curious if investing in professional treatments is really worth it. The answer? Absolutely. While over-the-counter whitening products use one-size-fits-all applicators and diluted brightening agents, professional alternatives are personalized, high-quality, and extremely effective. Furthermore, in-office treatments take into account your current oral health, like existing cavities, preventing damage to your teeth. Unfortunately, the same cannot be said for store-bought options.
Am I a Candidate for Teeth Whitening?
Whether you're struggling with mild or moderate dental staining, you could be a candidate for teeth whitening. The final answer will ultimately depend on the health of your teeth and gums. For example, if you have one or more decayed teeth, then those will need to be treated first. Otherwise, the whitening agent will further damage the tooth. If you have gum disease, then moving forward with a whitening treatment will leave you with white teeth and inflamed, red gums, not giving you the beautiful, healthy smile you're after. As a result, incorporating the appropriate restorative care into your treatment plan is crucial.
Is Teeth Whitening Permanent?
In short, the answer is no. While the results of your teeth whitening treatment can last for 6+ months with proper care, the effects will eventually fade. To ensure your beautiful, bright smile lasts for as long as possible, make sure to brush your teeth after each meal, floss regularly, and use a mouthwash that isn't bright green or blue. You should also visit our dentist in Arlington Heights every six months for a dental checkup and cleaning and quit unhealthy dental habits, like smoking.
Is Teeth Whitening Covered By Dental Insurance?
Since teeth whitening treatments aren't considered "medically necessary," they usually aren't covered by dental insurance. Luckily, our team offers other ways to save! To start, we happily accept flexible financing with CareCredit. Furthermore, we offer periodic specials and have an in-house savings plan which gives you access to significant discounts on all of our services.