Sedation Dentistry – Arlington Heights, IL
Helping You Feel At-Ease In The Treatment Chair
Countless people of all ages feel anxiety, nervousness, or fear at the thought of needing to visit their dentist's office. At Westgate Dental Care, we're dedicated to providing our patients with relaxing and high-quality dentistry, which is why we offer several options for sedation dentistry in Arlington Heights, IL. Dental phobias keep countless people from receiving the care they need, and we're here to put that to an end by prioritizing your comfort every time you visit our dental office.
Why Choose Westgate Dental Care for

Sedation Dentistry?
Making Long
Procedures Comfortable
Two Hassle-Free
Sedation Methods
Several Experienced
Dentists
Oral Conscious Sedation Dentistry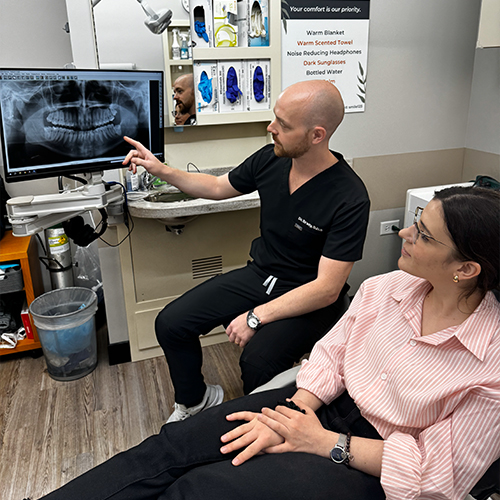 For patients who suffer from moderate to severe dental anxiety, we offer oral conscious sedation, which only involves swallowing one pill about an hour before the appointment. By the time you arrive at our dental office, you'll already feel at-ease as we direct you to your treatment room. Because the effects take a while to wear off, you'll need to be prepared to have a trusted family member or friend drop you off and pick you up from our dental office.
Learn More About Oral Conscious Sedation
Nitrous Oxide Sedation Dentistry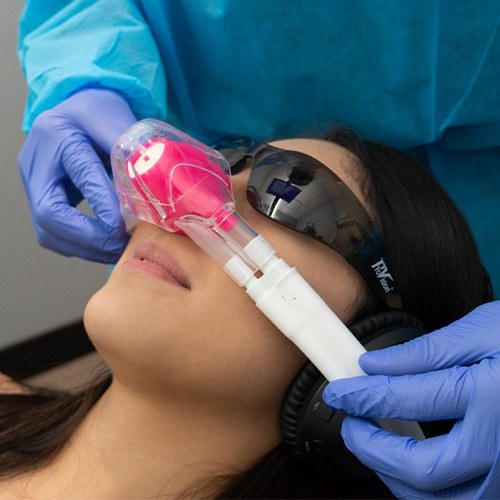 For more fast-acting sedation without the lasting effects, we offer nitrous oxide. When you sit in the treatment chair, we'll place a small nose mask on your face and administer the odorless, colorless gaseous substance for you to breathe in. Within a few minutes, you'll begin to feel a wave of relaxation wash over you. After the treatment, we'll remove the mask and you'll quickly feel back to your normal self. Because the effects wear off fast, patients are typically able to drive themselves home after their appointment.
Learn More About Nitrous Oxide Sedation
IV Sedation
We offer IV sedation in addition to other options for patients who want the greatest sense of comfort and relaxation. Administered through an IV, this form of sedation is easily adjustable, fast-acting, and it allows the most anxious and fearful patients to enjoy the dental care they need. If you're looking for a quick and powerful way to stay calm and at-ease while in the dental chair, IV sedation may be the perfect solution.
Sedation Dentistry FAQs
Thanks to sedation dentistry, you can get the high-quality dental care you need without the anxiety, nerves, and stress. If you've never used this calming solution before, then you may have lots of questions on your mind. Don't worry – we're here to help! To get the answers you're looking for, get in touch with our team or read on.
Will I remember anything with dental sedation?
Although you'll be awake with most forms of sedation, you most likely won't remember the majority of your procedure. However, the extent will depend largely on the type you choose. While you'll most likely have little to no memory with IV sedation, even oral conscious and nitrous oxide can yield similar effects. This benefit is especially helpful for patients who struggle with dental-related anxiety because it makes each visit more and more stress-free!
What does it feel like to be sedated at the dentist?
Again, the answer to this question depends largely on the type you're getting. With nitrous oxide, also known as "laughing gas," patients report feelings of relaxation and euphoria. Oral conscious sedation provides an even deeper state of relaxation, causing you to doze off during the procedure. IV sedation often produces the same results, but on a higher level.
Is sedation dentistry covered by insurance?
While it's always best to check your dental insurance benefits, sedation dentistry is often considered a "luxury" treatment. As a result, the cost is usually an out-of-pocket one. It is important to mention, however, that there are a few exceptions. For example, patients with cerebral palsy, autism, and other disabilities that make sedation a necessity may include coverage. Additionally, sedation dentistry for more complex procedures, like multiple tooth extractions, might be included in your benefits. If you're unsure, don't hesitate to get in touch with us – our knowledgeable team is here to help!
Is sedation dentistry worth it?
If you have struggled with dental-related anxiety in the past, need extensive dental work, have a sensitive gag reflex, or struggle to stay comfortable in the treatment chair, then you'll most likely find that sedation dentistry is well worth the cost. After all, this calming solution can help avoid neck and jaw pain, allow more dentistry to be done in a single sitting, and create an overall more positive experience.
Am I a good candidate for sedation dentistry?
If you've been avoiding the dentist due to nerves, a low pain tolerance, difficulties sitting still, or something in between, then sedation dentistry might be the solution you've been looking for. However, the decision will ultimately be up to you and our dentist. During your initial appointment, they can review your medical history, ask you a few questions, learn about any current medications you're taking, and help you determine if you are a candidate. If you are, then we will discuss each of the types of sedation. If you aren't, then we will discuss other ways we can help you feel more comfortable during your treatment.