Children's Dentistry - Arlington Heights, IL
Keep Your Kid's Smile Healthy
When it coms to your child's oral health, it is never too early to start looking for a pediatric dentist in Arlington Heights. Good oral health is essential to the overall development of your child. You can help your child develop good oral hygiene habits by visiting a kid's dental office. This sets them up for a lifetime of good dental health care. When searching for your next dentist, be sure you find a skilled, compassionate, and caring, family dentistry.
WHEN DOES YOUR CHILD NEED TO SEE THE DENTIST?
Contrary to popular belief, your child needs to see a dentist quite early on; usually around the age of one, or six months after the first tooth appears. Following this initial visit, you should bring your child in for a check-up at least once every six months to monitor the development and health of their teeth.
Toddlers and young children, especially those who have recently started brushing on their own, are particularly susceptible to cavities. If left untreated, these cavities can spread, affecting other adult teeth or even infecting the gums, so it's important to treat them, even if they're in the baby teeth stage.
Regular dental visits also encourage good oral hygiene at a young age. Arlington Heights family dentists spend time with children, teaching them proper brushing and flossing techniques. They can also give parents tips and tricks on how to encourage children to brush, including putting on music, using colored plaque detecting mouthwash, and purchasing electronic toothbrushes.
IMPORTANCE OF COMPASSIONATE DENTAL CARE
Visiting a dentist's office can be a very scary thing for a child, especially if the facility doesn't look child-friendly. Cold and clinical offices do seem frightening and can set a child up for a lifetime of dental phobia. Many adults cite early childhood experiences at dental clinics as the main reason they do not seek out dental care when appropriate. You can reduce the risk of this happening with your child by searching for a dentist that puts the comfort of their pediatric patients first.
Finding a compassionate, caring dentist is beneficial to you and your family for numerous reasons. Not only can they put your chide at ease, they are trained in spotting oral health issues unique to children. For example, a child may not complain of a toothache or experience normal symptoms when developing an oral health issue. A highly trained pediatric specialist knows exactly what signs and symptoms to look for, along with the questions they should ask, to find the source of the dental issue.
Compassionate dental care also encourages your child to practice good oral hygiene. Some children learn better from kind authority figures outside of their family, such as teachers, doctors, and dentists. A child may care more about proper brushing techniques if the reason why they are important is explained in kid-friendly terms. A skilled and experienced dentist knows exactly how to have that conversation in a way that is likely to be well received.
COMMON DENTAL SERVICES REQUIRED
The most common procedure a child needs to have administered is a routine checkup, including the administration of x-rays and a detailed cleaning. This checkup likely involves multiple dental staff, including the dentist and a hygienist. You can prepare your child for these procedures by discussing the details with them in advance. If you are uncertain about any aspect you think your child may need to know in advance, you should feel free to contact the office. A caring staff member is happy to answer your questions, ensuring your child is comfortable.
Children often require sealants and cavity fillings as well. Sealants are a special formula applied to the tooth to reduce the risk of cavities. They are popular among children who have limitations preventing them from being able to practice perfect brushing techniques, or those who have had repeated cavities over the years. Having a cavity filled can be a bit unnerving, which is why you should focus on finding a dental team that knows how to provide your child with the comfort they need during the procedure.
Finally, you should look for a dental practice that offers emergency services. Children have dental emergencies all the time. It helps to take them to a place that is familiar for treatment. If that is not possible, you want to be sure that the records of your emergency visit are shared with your regular dentist, and that your emergency dentist has access to your existing health information.
Parents looking for family dental care in Arlington Heights can contact Westgate Dental Care. We have a team of caring and compassionate family dentists eager to help you and your whole family attain excellent oral health. Our dedicated and skilled dental care team can help you and your family with a range of Arlington Heights pediatric dentistry services, including x-rays, fillings, and emergency care. Contact one of our friendly dental office staff members to reserve an appointment with a children's dentist today.
Children's Dentistry FAQ's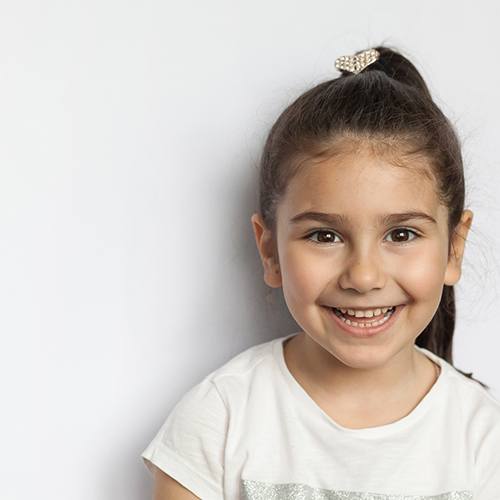 As a parent, you're probably always doing research for what's best for your child's health. If you're still curious about children's dentistry, you've come to the right place! At Westgate Dental Care, we want all of our patients to have the information they need to feel confident in their family's oral health. That's why we've included the answers to some of the most frequently asked questions about children's dentistry. Read on to learn more about your little one's smile.
Are Thumb Sucking Habits Bad for My Child?
In general, thumb sucking is only dangerous if your son or daughter continues this habit past the age of 4. Kids often turn to thumb sucking as a way to relax. We will monitor their smile and thumb sucking as they grow older. If this habit does persist, it can affect the alignment of their smile and bite. The pressure and suction created by this habit can even impact your child's social and speaking development. Plus, our children's dentist says it can cause higher risks of issues like infection and decay.
Why Are Baby Teeth Important?
If baby teeth are just going to fall out, why should you still take care of them? Primarily, your son or daughter's baby teeth act as placeholders for their permanent ones. Healthy baby teeth will make it more likely for their adult smile to grow in properly. Additionally, baby teeth help your child develop by getting them used to speaking, eating, and smiling. These good habits will prepare them for a happy and healthy life with permanent teeth.
How Does My Child's Diet Affect Their Oral Health?
When it comes to oral healthcare for your child, their dental hygiene routine extends into the foods and drinks they consume. Children simply love sugary foods, but these can be dangerous for their smile. Minimize your child's sugar intake as much as possible to decrease their risk of cavities and decay. Watch out especially for hard or sticky candies—these items stay in contact with the teeth for longer periods of time, creating higher probability that cavities form. It's okay to let your son or daughter indulge every now and then, but you can choose items like chocolate, which wash away from the mouth easier than other sweets.
What Should I Do if My Son or Daughter has a Toothache?
A toothache may seem like a sudden problem, but it is often an infection that occurs over time because of poor dental hygiene. If your child has a toothache, try rinsing and flossing their mouth to remove any irritating food debris. If the pain persists, call our office right away to see our kid's dentist. They may need a root canal to remove infected tissue. Until you can visit our office, give your child over-the-counter pain medication and try to stay positive. This problem will only grow more severe, which is why you should come see us as soon as possible if a toothache occurs.
If you have any additional questions, please don't hesitate to contact our office!