BOTOX® Alternative -- Arlington Heights, IL
Xeomin®: A Simple, Subtle Muscle Relaxer
Are you looking for a simple, easy alternative to BOTOX in Arlington Heights to enhance your smile without altering your teeth? You may not have considered it, but cosmetic injectables are an excellent, cost-effective way to provide a beautiful frame for your grin by reducing the appearance of fine lines and wrinkles around it. At Westgate Dental Care, we also use wrinkle treatment in Arlington Heights to help improve the appearance of gummy smiles, ease chronic migraines, and address TMJ pain, which can improve your day-to-day life. If you'd like to learn more about this treatment and whether it can help you, contact our office today to schedule a consultation!
Why Choose Westgate Dental Care for Wrinkle Treatment?
Dentist is a Certified BOTOX® Provider
In-House Savings Plan Available
Conveniently Open 6 Days a Week
What is Xeomin®?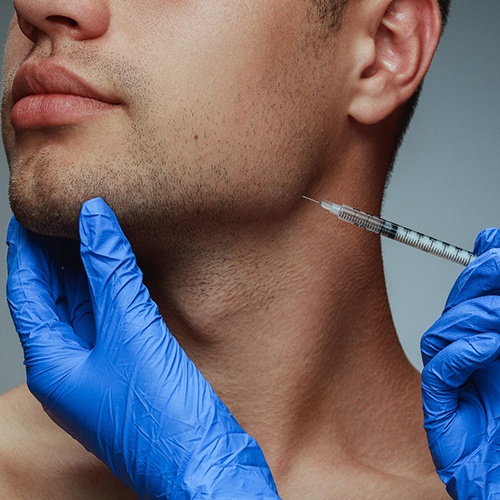 Xeomin is the brand name of pure form of botulinum toxin that doesn't have any protein additives. Because it is a purified structure, it can prevent antibody resistance, which is what many routine BOTOX patients experience over time. This reduces the achievement of optimal results the more treatments you receive. With Xeomin, this won't be an issue.
As you age, your muscles will become overworked, causing them to bunch up. When this happens, it creates unwanted wrinkles and fine lines, or even tension and muscle spasms. When injected into certain facial muscles, like ones near the jaw, around the mouth, or at the corners of the eyes, it's able to relax them and smooth them out. By encouraging the muscles to relax, Xeomin is able to minimize these cosmetic issues, improving the overall appearance and function of your face.
The process of receiving Xeomin injections is relatively simple and fast. At your appointment, your BOTOX dentist in Arlington Heights will discuss the goals that you'd like to achieve with treatment. Then, our team will map out where we plan on placing the injections for optimal results. Each injection only takes a couple of minutes to administer, so treatments typically last no longer than an hour.
Who is a Good Candidate Xeomin®?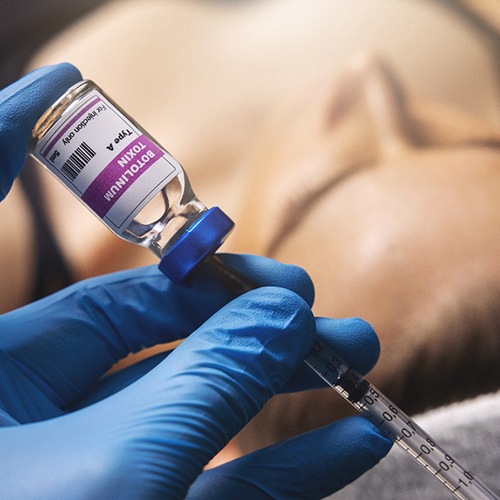 Xeomin can address cosmetic issues as well as functional problems, just like BOTOX can, like chronic migraines caused by TMJ dysfunction. Here are a few facial imperfections or situations that we can address with Xeomin:
Pain as a result of TMJ dysfunction
Chronic migraines
Crow's feet
Gummy smiles
Lines between the eyebrows
Smoker's lines around the lips
Smile lines at the corners of the mouth
Muscle spasms
The Benefits of Xeomin®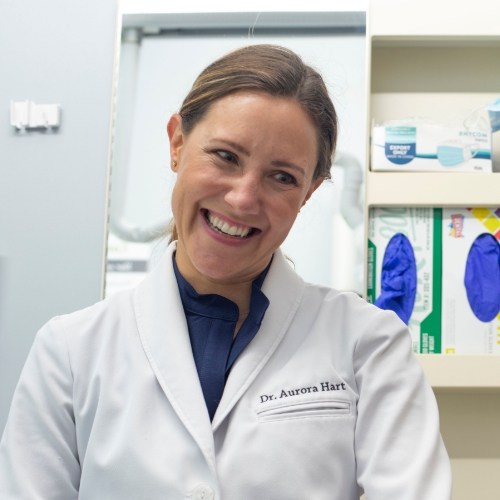 Xeomin injections present a variety of benefits that patients can enjoy, including:
Noticeable results within two weeks.
Fast treatment that can be scheduled during lunch breaks, if necessary.
Delicate, subtle results that enhance your appearance.
Non-surgical procedure that doesn't involve a recovery period.
Results that can last between three and six months.
Cost-effective treatment.
Purified structure prevents antibody resistance.
If you believe that Xeomin can help you, feel free to reach out to our team today to learn more.