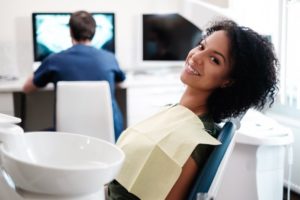 If you're like many others, you may be doing all you can to pinch pennies and save money. As a result, you're probably cutting out various memberships, services, or other things you may consider unnecessary. During this time, you may consider canceling your upcoming dental appointments. However, this could cost you more money in the long run! Read to learn how routine dental visits can actually save your dollars and what your dental insurance can do to help.
Detect Gum Disease Early
Gum disease is easily preventable, however 50% of adults are affected by it. Each time you visit your dentist for biannual checkups, they will examine your gums to ensure that your mouth is healthy. Catching gum disease early on means that it hasn't progressed enough to the point that there is permanent damage. Untreated gum disease can lead to bone deterioration and even tooth loss, which require much more extensive and expensive treatment options.
Prevent Decay & Staining
Tired of spending money on fillings for cavities? Or are you sick of shelling out your hard-earned cash to whiten your teeth? Routine checkups and cleanings help prevent these issues before they occur in the first place. Combined with good at-home oral healthcare, dental appointments will protect you from spending extra money and time in the dental chair.
Catch Oral Cancer Early On
During a routine checkup, your dentist looks for much more than normal problems with your teeth. One of the most vital parts of your appointment is an oral cancer screening. Your dentist will inspect your neck, mouth, throat, and oral tissues for any warning signs. Caught early on, this problem is extremely treatable and affordable. However, missing just one appointment is a risk because oral cancer can progress so rapidly.
Maximize Your Insurance Benefits
The best part about saving money by attending regular dental visits is that these appointments are typically covered by insurance. Your provider rewards you for paying your monthly premiums by covering preventive visits like checkups and cleanings. By seeing your dentist at least twice a year, you're maximizing your insurance benefits while also saving money by protecting your oral and overall health.
Who knew that keeping your pocketbook full was as easy as visiting your dentist regularly? Now that you know some of the reasons why routine appointments are important, contact your dentist to make sure you have your next one scheduled!
About the Practice
At Westgate Dental Care, we are committed to providing high quality dentistry that is also affordable. We have a team of 5 dentists who offer a wide range of dental services, including thorough routine checkups and cleanings. We are in-network with various insurance providers and have an affordable in-office savings plan for those without coverage. If you have any questions, please contact us through our website or by phone at (847) 577-7171.