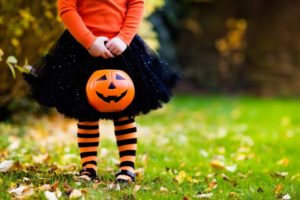 Spooky season is officially here, which means that your kids are probably licking their lips in anticipation of Halloween sweets. Of course, you know that candy is bad for your teeth, but this holiday staple is unfortunately unavoidable. Everyone deserves to sink their teeth into a treat, however some candies are more dangerous for your child's smile than others. Read to learn about the best and worst sweets your son or daughter can eat to decrease their risk of cavities after Halloween.
Friendly Treats for Teeth
Sugar interacts with bacteria in the mouth, which creates acids that eat away at the teeth, causing cavities. That's why the best candies your children can eat are those that wash away quickly. Chocolate is creamy and can easily be cleaned off of the teeth. Luckily for you, it's one of the most popular Halloween sweets. Just encourage your little one to drink lots of water to keep their mouth clean.
Scary Sweets to Avoid
Unfortunately, there are a lot of classic Halloween snacks that can seriously increase your child's risk of developing cavities, including:
Ghostly Gummies
Gummy or sticky candies are especially bad for your little one's teeth because they stay in contact with their smile for longer periods of time. They often stick to the back molars, which are the teeth used to chew, making it even more difficult for your child to thoroughly brush.
Horrific Hard Candy
Hard candy like gobstoppers, jawbreakers, and many others create a high risk of decay because they coat the teeth in sugar. When sucking on hard candy, the sugar gets in the saliva, reaching every surface of your child's smile. Additionally, chewing on hard sweets will put their teeth at risk of getting chipped, broken, or damaged.
Spooky Sour Candy
Any candy that makes you pucker is incredibly acidic. This ingredient can weaken and damage your child's teeth, making them more susceptible to cavities. Sour candies are often hard, chewy, or coated with sugar, which is why they're some of the worst sweets your kids can eat.
Popcorn Balls
When fall comes around, so do popcorn balls, but you're going to want to have some floss handy if your child indulges in this snack. Kernels get stuck in between teeth, but they also may put your little one at risk of a cracked tooth.
Is your son or daughter ready to enjoy Halloween with a healthy smile? Just remember these simple tips to prevent cavities!
About the Practice
At Westgate Dental Care, we have a team of 5 experienced dentists who are committed to helping young patients smile with health and happiness for years to come. We have numerous options if Halloween does get the best of your little one, including tooth-colored fillings and fluoride treatment. For any questions, don't hesitate to contact us through our website or by phone at (847) 577-7171.