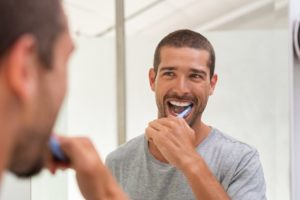 October is known for Fall weather, and of course, Halloween! However, this time of the year also marks National Dental Hygiene Month—a reminder for the importance of the health of your entire mouth. That's why your dentist has included some easy yet effective oral hygiene tips! Read on to learn how to celebrate National Dental Hygiene Month the right way by practicing great at-home oral healthcare.
#1. Brush Properly
You may know to brush twice a day, but are you using your toothbrush properly? Be sure that you're brushing for two minutes each session, cleaning each side of your smile. Angle the brush at 45-degrees for the most thorough cleaning, paying close attention to your gumline, where plaque and bacteria can often collect. Think of brushing as massaging your teeth rather than scrubbing them. Remember—your enamel can't grow back, so you must be gentle and protect it the best you can.
#2. Don't Forget to Floss
Brushing often gets the spotlight when it comes to your oral healthcare, but flossing is just as important! If you think about it, each tooth has 5 sides: the front, back, top, left side, and right side. Without flossing, you're leaving 2 sides of each tooth susceptible to decay and cavities. Plus, flossing lifts food debris and bacteria from off of your gums, decreasing your risk of periodontal disease.
#3. Try Mouthwash
A great way to pick up the slack of your at-home routine is to use mouthwash. Brushing and flossing are irreplaceable when it comes to your oral health, however there are parts of the mouth they simply can't clean. Using a mouthwash can reach these areas while also giving you fresh breath. Just be sure to choose a nonalcoholic mouthwash because alcohol decreases saliva flow.
#4. Drink Water
Water is incredibly beneficial when it comes to your overall health, but it can also help with your oral hygiene. Drinking water with every meal will help wash away plaque and food debris in between your brushing and flossing. Additionally, most water contains fluoride, which is a natural mineral that fights cavities.
#5. Watch Your Diet
Sugars interact with bacteria in the mouth to create acids that eat away at your smile. That's why it's in your best interest to limit your sugar intake to protect your teeth. Stay away from especially hard or sticky treats because these items stay in contact with your teeth for longer periods of time. Instead, try chocolate when indulging—it washes down much faster!
Are you ready to enjoy National Dental Hygiene Month with a smile? Use these tips to enjoy a healthy set of teeth for October and beyond!
About the Practice
At Westgate Dental Care, we have a team of 5 dentists who offer a wide range of services for patients of all ages, including routine checkups, tooth-colored fillings, fluoride, and more. If you have any questions, they can be reached through their website or by phone at (847) 577-7171.