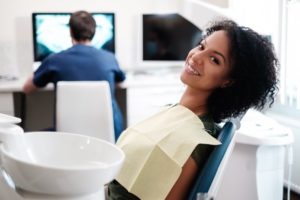 Did you know that about 85% of Americans agree that oral health is very or extremely important when it comes to their overall wellbeing? That's why a recent survey shows about 73% have dental insurance. If you're considering getting coverage, you may be wondering about whether or not it's worth it for just a few visits a year. However, dental insurance is a lot more valuable than you may think. Read on to learn why!
Make Dentistry Affordable
Regular brushing and flossing is integral for the health and beauty of your smile, but it's also vital to visit your dentist for routine checkups and cleanings. Typically, dental insurance will cover these important visits 100%, making it easy to save on your dentistry right away. Plus, dental insurance often steps in to reduce out-of-pocket costs when it comes to restorative procedures like fillings, crowns, and more! Without a dental insurance plan, you would have to pay the entire cost of your treatment on your own.
Avoid Future Oral Health Issues
Having dental insurance encourages you to put those monthly premiums to use by visiting your dentist for regular appointments. These preventive checkups and cleanings not only save you money by utilizing your dental benefits, but they protect you from more costly and involved procedures in the future. It's estimated that for every dollar you spend on preventive care, you save $50 or more on more extensive and expensive treatments.
Improved Overall Health
You may have guessed that oral health is good for the rest of your body, but recent research shows a direct relationship between your dental hygiene and your overall wellbeing. Specifically, issues like gum disease can contribute to increased risks of problems like strokes, heart attacks, diabetes, high blood pressure, and even certain cancers.
During your routine checkups, your dentist will examine your mouth to ensure there aren't any diseases, decay, or infections. These visits are also incredibly vital because they give your dentist a chance to provide oral cancer screenings. With dental insurance, it's that much easier for you and your family to access these regular checkups.
Now that you know more about the amazing advantages of having dental insurance, you can feel confident when you make an investment in your oral health. Your smile and your pocketbook will thank you!
About the Practice
At Westgate Dental Care, we are committed to providing quality dentistry that is also affordable. We do this by accepting a variety of dental insurance plans, and our front desk team will help you maximize your benefits while minimizing your out-of-pocket expenses. Additionally, we accept alternative financing options, and we have an in-house savings plan to help patients with all budgets receive exceptional dentistry. If you have any questions, we can be reached through our website or by phone at (847) 577-7171.