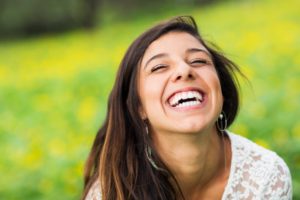 Occlusion is the relationship between your upper and lower teeth as they come into contact when eating, speaking, or closing your jaws together. However, you may know this as bite alignment. This is an incredibly important part of your oral health, and it can cause significant damage if your bite is misaligned. Read on to learn about the effects that a misaligned bite can have on your oral health as well as how it can be treated from your dentist in Arlington Heights.
What Are the Signs of Bite Misalignment?
There are various warning signs that indicate bite misalignment. You should contact your dentist if you notice any of the common symptoms, including:
Tooth breakage
Tooth loss
Excessive wear and tear on teeth
Previous root canals
Head and neck muscle pain
Jaw joint pain
Headaches
Jaw joint noises
How Can Bite Misalignment Affect Your Oral Health?
When your bite isn't aligned properly, the force used to chew and speak can quickly lead to abnormal wear on your teeth. Clenching and teeth grinding will eventually break down your smile. Additionally, this force can permanently damage the ligaments that help you open and close your mouth. If you don't seek treatment for misalignment, you may experience:
TMJ disorder
Chronic headaches
Tooth movement
Tooth loss
Muscle pain
Injuries to the teeth
Tooth sensitivity
How Is Bite Misalignment Corrected?
There are a wide range of treatment options your dentist may recommend because no two smiles are the same. That's why the only way to know is to visit your dentist for a consultation. They will examine your smile and occlusion before developing a personalized treatment plan to get your alignment back on track. This can be done through the use of orthodontics, shifting an entire row of teeth to come together seamlessly with the other part of your smile. There are also other options like neuromuscular therapy to help correct the position of your jaw.
Bite Misalignment and Cosmetic Dentistry
If you've been wanting to upgrade your smile with porcelain veneers, all ceramic crowns, or other cosmetic treatments, it's important to consider your bite. Without proper bite alignment the long-term durability and function of your new smile could be in jeopardy. That's why your dentist will always examine your smile and how your teeth come together before proceeding with additional cosmetic services.
Bite misalignment can cause serious damage, but not if you get it treated! Now that you know more about this issue, contact your dentist to start smiling with health and comfort!
About the Practice
At Westgate Dental Care, we have 6 dentists who are ready to help you smile. We offer a wide range of services, including Invisalign, to give our patients beautifully straight sets of teeth. If you have any questions, we can be reached through our website or by phone at (847) 577-7171.