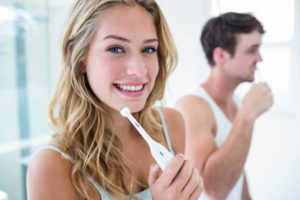 You may already understand the importance of good dental hygiene, but during this uncertain time, oral health takes on a whole new meaning. The health of your mouth and body are much more connected than you may think, which is why it's vital to keep your smile in shape while COVID-19 is still a risk. Read on to learn more about how your dental hygiene can impact your overall wellbeing as well as some easy tips for a healthy smile from a safe dentist in Arlington Heights.
Oral Health & Your Immune System
Your mouth is the gateway to the rest of your body, which means it can let in and keep out unwanted viruses and bacteria. When your mouth is healthy, it allows your immune system to fight off infections and prevent you from getting sick. However, if your smile is affected by problems like gum disease, you could have a potentially weaker immune system, which becomes a real problem during the Coronavirus pandemic.
When plaque and bacteria infect your gums and cause disease, your immune system is alerted to help fight off this issue. In fact, if gum disease persists, the bacteria infecting your gums can eventually get in your bloodstream. However, with your immune system busy paying attention to your gums, it leaves your body susceptible to sickness. That's why it's more important than ever to keep your mouth healthy while the Coronavirus is still a threat. You need to give your immune system the best chance at fighting off potential infections.
Tips for a Healthy Smile & Body!
Thankfully, gum disease, tooth decay, and other oral health issues can be completely prevented with a little know-how. That's why your dentist has included some easy yet effective steps to take for a healthy smile, including:
Brushing your teeth twice a day for two minutes each session
Flossing once a day to remove plaque and food debris from in between your smile
Using a mouthwash at the end of your brushing and flossing routine to clean hard to reach areas of your mouth
Minimizing the number of sugary foods that you eat each day to prevent infection and decay
Eating healthy fruits and vegetables to increase saliva and naturally clean your mouth
Drinking water throughout the day to promote saliva flow and rinse away lingering bacteria in the mouth
Your smile plays a significant role in your overall wellbeing, which is why it's up to you to practice good oral hygiene, especially now. Remember these tips to keep your mouth and body healthy during these uncertain times.
About the Practice
At Westgate Dental Care, we have a team of 6 dentists who work together to provide our patients with the best treatment options. We want all of our patients to stay as healthy and happy as possible while the Coronavirus is still a threat, which is why we've explained the relationship between your dental health and immune system. For any questions, we can be reached through our website or by phone at (847) 577-7171.