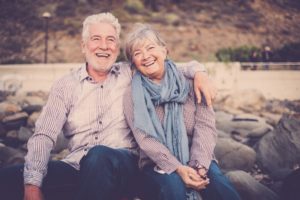 As you grow older, your past experiences can make life a lot easier. You may have honed in on some of your favorite activities and meals, or you've figured out the best way to travel. In any case, age can often be an advantage when it comes to your daily routines. However, your dental hygiene is a completely different story. Dentistry for seniors is not the same as it is for younger folks! That's why your dentist has included some important information and tips about caring for your smile as a more seasoned patient.
Potential Dental Concerns for Seniors
As life goes on, you put your smile through normal wear and tear by daily eating, speaking, and smiling. Eventually, your once bright, white smile will become dull and discolored, even if you have a stellar at-home oral healthcare routine.
Additionally, gum disease is a common issue that affects around 80% of Americans at some point in their lives, and it is definitely prevalent in the older population. While your teeth tend to get the spotlight, your gums are just as important. Gum disease starts as a mild infection and inflammation of the gums, but if it persists, it can lead to permanent tissue damage, jawbone deterioration, and even tooth loss.
Lastly, tooth decay is still a concern for seniors, just as it is for patients of all ages. However, for older patients, decay can often lead to more severe problems like infections, root canals, or weakening the tooth to the point that it needs to be replaced.
Tips for the Healthiest Senior Smiles
Thankfully, these issues can typically be prevented as long as you're practicing proper dental hygiene, including:
Brush your teeth twice a day for two minutes each session, paying close attention to your gumline so you can remove lingering plaque and bacteria.
Floss once a day to clean away food debris in between teeth. If you have arthritis or struggle to floss, try using pre-strung floss picks or a water flosser instead!
Use a nonalcoholic mouth rinse after brushing to clean hard to reach areas of your mouth.
If you have a denture, take it out each night to soak in solution so you can shake loose plaque and debris that stick to it.
Visit your dentist in Arlington Heights regularly for routine appointments and checkups, especially for previous restorations.
Drink water consistently throughout the day to promote saliva flow, which washes away bacteria in the mouth.
Stay away from especially hard or sticky sweets because they increase your risk of cavities and decay.
It's possible to teach an old dog new tricks! Remember these easy yet effective tips to keep your smile healthy and happy as you continue to gain more experience.
About the Practice
At Westgate Dental Care, we have a team of 6 dentists who combine their expertise and training to provide high-quality dentistry for patients of all ages. We are known for our friendly and gentle touch when it comes to dentistry for seniors. Contact us through our website or by phone at (847) 577-7171 for any questions!