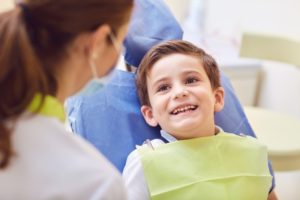 You may often hear about the best ways to care for your child's oral health, but what about what not to do? Children's dental hygiene is important early on because it sets them up for success down the road. If your son or daughter can get into good dental hygiene habits now, they will be more likely to maintain a healthy mouth in the future. Read on to learn about 6 don'ts when it comes to your loved one's smile from your children's dentist in Arlington Heights.
#1. Don't Skip Fluoride
Fluoride is a naturally occurring mineral that helps strengthen and protect enamel. As soon as your child has teeth, start brushing them with fluoridated toothpaste. However, only use a small amount because too much can lead to fluorosis. A nice tip to remember is to use a small smear of toothpaste before the age of 3. Afterward, you can use a pea-sized dab.
#2. Don't Skip Brushing Supervision
Independence for children is great, especially when it comes to their oral healthcare. However, it's simply a fact that children cannot brush as thoroughly as adults, plus they may want to get out of it altogether. That's why you should be involved in your child's brushing before the age of 6. After, you should still watch them to ensure they are cleaning their teeth properly.
#3. Don't Forget About Brushing
Your mornings and nights may be incredibly busy, but these are the best times for teeth brushing! Make sure that your family is brushing their teeth twice a day for two minutes each session to prevent problems like cavities and decay.
#4. Don't Let Kids Carry Around Their Drinks
When kids carry their own drinks, they may frequently sip their juice or other beverage. This coats the teeth in sugar, raising risks of decay. If they simply like carrying around their own drink, give them water instead!
#5. Don't Give Your Children Sticky Sweets
Sugar is bad for the teeth because it creates acids that eat away at enamel. That's why sticky sweets are dangerous for kids—they remain in contact with the teeth for longer periods of time, increasing their chances of cavities. If your child has a sweet tooth, try chocolate instead because it can wash away easier than other candies.
#6. Don't Avoid Going to the Dentist
Once your child turns 1, they should have their first dental checkup to establish a "dental home." From there, they should attend a checkup and cleaning every 6 months. Don't fall out of this routine because these visits are the best way for your dentist in Arlington Heights to prevent and detect oral health issues.
Remember these important tips for what not to do to ensure the happiness and health of your entire family!
About the Practice
At Westgate Dental Care, we have a team of 5 dentists who work together, combining their training and expertise to treat patients of all ages. If you have any questions, or if you want to schedule an appointment for your little one, don't hesitate to contact our office through our website and by phone at (847) 577-7171.