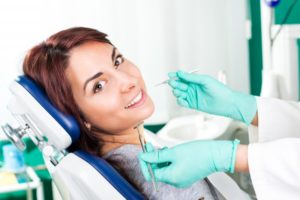 When is the last time you saw your dentist? While regular checkups and cleanings are probably low on your list of fun activities you have planned, they are much more important than you may think. In addition to preventing and detecting decay, infection, and other dental issues, your dentist also checks for oral cancer. This simple yet effective examination is potentially life-saving because oral cancer can cause serious problems if left untreated. Keep reading to learn more about oral cancer and how your dentist in Arlington Heights can help.
Is Oral Cancer Common?
Oral cancer is a problem that affects over 50,000 Americans each year, and an estimated 10,000 people will unfortunately die from this issue. The problem with oral cancer is that its symptoms are often hard to spot on your own. The longer it isn't treated, the higher your risk of severe complications. Plus, it's about twice as common in men as it is in women.
What Causes Oral Cancer?
There are various factors that can cause oral cancer, including:
Prolonged exposure to sun
Tobacco use of any kind
Heavy alcohol consumption
A sexually transmitted virus called HPV
A weakened immune system
While some of these risks can be controlled, others cannot. That's why you should ensure that you're receiving routine oral cancer screenings, especially if any of the above causes sound familiar.
How Can Dentists Help with Oral Cancer?
The ADA recommends visiting your dentist every 6 months for routine checkups and cleanings. These appointments serve as important parts of a clean and healthy smile, but they also have another purpose. During the checkup portion of your visit, your dentist will provide an oral cancer screening. This visual and physical exam only takes about 2 minutes—you've probably gotten one without even knowing it! Dentists alone catch over 80% of oral cancer cases each year, making these visits potentially lifesaving.
During your oral cancer screening, the dentist will check your mouth for any abnormalities like discolored tissue, scaly or white tissue, lumps, red patches, or any other common signs. They will also check your head, neck, jaw, gums, throat, tongue, and any other related areas. During the physical portion of the exam, they will feel along your jawbone and lymph nodes to ensure there aren't any asymmetries. If they do notice a warning sign, your dentist may order a biopsy for further investigation.
Are you ready to ensure the health and safety of your smile? Schedule your appointment today to get a quick and easy oral cancer exam.
About the Practice
At Westgate Dental Care, we believe that oral healthcare extends far beyond just your teeth, which is why we offer services like thorough oral cancer screenings. Early detection is the best way of fighting this problem, so if you haven't seen your dentist recently, don't hesitate to contact our office! We can also be reached through our website or by phone at (847) 577-7171 for any questions you may have.