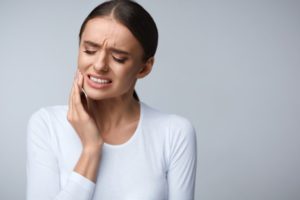 Now that the Coronavirus has spread, hospitals and emergency rooms are filled with cases. So, if you have a dental emergency, it's in your best interest to avoid these places altogether and see your dentist right away. While dental offices are closed for elective visits, your dentist can still help in the event of an emergency. Keep reading to learn exactly what a dental emergency is and why it's important to visit your dentist in Arlington Heights if one occurs.
But First, What's Considered a Dental Emergency?
Some soreness or discomfort in the mouth is relatively common, so how do you know when you're having a dental emergency? A dental emergency is any pain that causes you to lose focus on your normal tasks. This includes toothaches, bleeding, lost teeth, chipped teeth, cracked teeth, lost fillings, and more.
One of the more common dental emergencies that can occur is a toothache. If you have pain in a tooth, try flossing around the area to remove any food debris. If you're still in pain, contact your dentist right away before going to their office. They will probably need to provide root canal therapy to remove the infected tissue while saving your tooth.
Why It's More Important Than Ever to Choose the Dentist Over the ER
It's better to see your urgent dentist in Arlington Heights for a dental emergency during any time, but especially while COVID-19 is spreading. ER facilities are filled with coronavirus cases, so it's in your best interest to steer clear of these areas. Instead, you can visit your dentist who is ready and able to help with dental emergencies. Their office is clean, sanitized, and has a significantly lower patient count than the ER. Plus, your dentist simply specializes in oral healthcare, so they will be able to provide you with a wide range of treatment options.
When is an ER Visit Necessary?
However, there are some instances that require an immediate visit to the emergency room. If you experience a jaw injury, trouble breathing, uncontrollable bleeding, deep facial cuts, or other life-threatening problems, go to the hospital right away. Otherwise, you can do yourself a favor and avoid these hot spots for the Coronavirus.
During this uncertain time, it's important to know that your dentist is here to help in your time of need. Whether you know you're having a dental emergency or not, don't hesitate to contact your dental office today.
About the Practice
At Westgate Dental Care we are committed to helping our patients stay healthy. While we have closed our office for elective services, we're ready to treat dental emergencies in our clean and sanitized environment. If you have any questions about dental emergencies, or the COVID-19 outbreak, we can be reached through our website or by phone at (847) 577-7171.