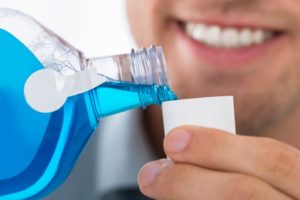 With the outbreak of COVID-19, you're hopefully taking all of the necessary precautions to keep you and your loved ones healthy and safe. Sanitation and cleanliness are important, and your oral healthcare routine is no exception. Are you doing everything you can to keep your smile in shape during their uncertain time? Keep reading to see why your dentist in Arlington Heights says it may be a good idea to add mouthwash to your daily brushing and flossing routine.
The Importance of a Clean Mouth
A clean mouth is important year-round, lowering your risk of cavities and decay. However, with the recent outbreak of the Coronavirus, a clean mouth is more vital than ever before. Evidence shows that bacteria and germs containing COVID-19 that get in the mouth can be inhaled, successfully infecting. However, maintaining a pristine mouth by brushing and flossing can lower your risks of bacteria and germs (of any kind) from collecting inside of your mouth.
Be sure to brush your teeth twice a day for two minutes each session to remove plaque buildup and bacteria on teeth. You should also floss to clean away food debris or plaque that get caught in between your smile. Plus, drinking water will help you wash away lingering food particles.
Adding Mouthwash to Your Routine
While there are no confirmed studies that show mouthwash can prevent Coronavirus, it certainly does help you maintain a cleaner mouth, which helps everyone. Because Covid-19 is spread through sneezing and coughing, anything you can do to keep your mouth and face as clean as possible could benefit you and your family members. When choosing a mouthwash, be sure to pick one that doesn't contain alcohol and bears the American Dental Association seal of approval. Alcohol can dry out the mouth, which actually promotes bacterial growth.
Your Dentist is Here to Help
Although dental offices have closed to comply with efforts for minimizing the spread of COVID, your dentist is still ready and available to help treat dental emergencies and answer any questions they can. Practicing a good oral health routine can minimize your risk of an emergency occurring, but if you do have one, don't worry! Your dentist can provide all of the services you need to stay healthy in a clean and sanitized environment.
During this uncertain time, it's important that you and your loved ones take the right steps to stay healthy. Remember these tips about mouthwash to do all you can to fight the virus.
About the Practice
At Westgate Dental Care, we have a team of 5 dentists who are committed to helping their patients stay as healthy as possible during these times. They are still available for dental emergencies, so don't hesitate to call if you're in pain. For any other questions, we can be reached through our website or by phone at (847) 577-7171.