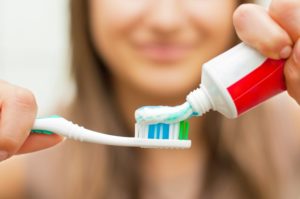 The year 2020 marks the 75th anniversary of community water fluoridation! That's why National Children's Dental Health Month is extra special this year. Fluoride is one of the key factors that has decreased cavities and tooth decay in the US, especially among children. However, there are other ways you can help your son or daughter's smile stay healthy and beautiful. Keep reading to learn some easy yet helpful tips for National Children's Dental Health Month from your children's dentist in Arlington Heights!
Get It from the Tap!
This year's slogan for National Children's Dental Health Month is, "Fluoride in water prevents cavities! Get it from the tap!" This obviously marks the anniversary of fluoridated water for American communities, but it also encourages parents to give their children tap water. Fluoride is a natural mineral that helps fight cavities, which is why tap water is a great beverage for kids rather than sugary or acidic drinks. You can start giving your kids tap water from a young age to instill them with this positive habit. Plus, by drinking tap water instead of bottled, you can help save on plastic!
Pack Healthy Snacks
For years, school lunches have been filled with cookies and potato chips, but these foods can hurt your son or daughter's teeth. Sugary and fatty foods can increase your kids' risk of decay, which is why it's a good idea to pack them fruits and veggies instead. These foods act as natural toothbrushes, scrubbing away excess plaque and increasing saliva flow to wash down bacteria. You can also pack easy and fun-to-eat snacks like cheese and nuts. These items can actually help strengthen their teeth, containing healthy vitamins like calcium.
Monitor Their Brushing
Children simply can't clean their teeth as thoroughly as adults, which is why it's important that you help with their brushing and flossing routine. Brushing should last for 2 minutes each session, twice a day. Remind them that all surfaces of their teeth need to be brushed, and make sure they're using a soft-bristled toothbrush to avoid damaging enamel.
Use a Mouthguard
If your son or daughter loves playing sports, participating in physical activity, or they're just aggressive on the playground, it's vital to protect their teeth. A professional mouthguard can prevent their teeth from getting damaged, and it can even help them minimize concussion during head trauma. Compared to mouthguards bought at the store, a professional one from your dentist in Arlington Heights can effectively reduce force on the smile and it lasts for years!
Now that you know these helpful tips, it's time to use them. Remember these steps to celebrate National Children's Dental Health during February and beyond!
About the Practice
At Westgate Dental Care, our team of 5 highly trained dentists are experienced in children's dentistry. They take pride in ensuring that your son or daughter remains happy and comfortable throughout their entire dental visit. For any questions, they can be reached through their website or by phone at (847) 577-7171.