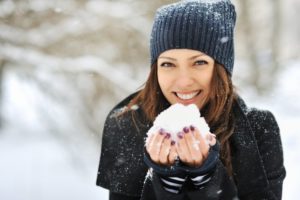 Now that it's February, you and your loved one have probably shifted your attention toward Valentine's Day. While this is a great time of sharing happiness with each other, your dentist in Arlington Heights wants to share some important Valentine's Day dental tips. Keep reading to learn how you and your partner can enjoy the holiday while keeping your oral health in check!
Don't Share a Toothbrush!
Share life, but not a toothbrush. You may want to experience everything with your partner, but your toothbrush is not one of them. Brush together if that helps, but just be sure that you're each using your own brush, switching them out every 3 to 4 months. This will ensure that your brushes are still doing a thorough job while preventing the spreading of germs and sickness—the worst kind of gift you could give or get on Valentine's Day.
Prevent Bad Breath (Your Valentine Says Thanks)
Bad breath is never good, but Valentine's is probably the worst time to be affected by this problem. That's why you should be sure to brush your teeth twice a day, for 2 minutes each session. You should also floss to remove lingering food debris from in between your teeth—one of the main causes of bad breath. For an extra layer of freshness, you can use a nonalcoholic mouthwash to ensure that your smile smells as good as it looks.
Beware of Contagious Cavities
Whether it's kissing, sharing a drink, or even a fork to try your Valentine's meal, the bacteria that causes cavities can spread from mouth to mouth. Your own cavity is bad enough, but causing one in your partner's mouth? No thank you. This is another reason why a good oral healthcare routine is so important.
Smoking Doesn't Make You Look Cool
Clint Eastwood, James Dean, Denzel Washington—these are just some of the Hollywood stars that made smoking look cool, and even handsome. However, the reality is that cigarettes make your teeth look the opposite of attractive. In fact, tobacco causes discoloration, and it even increases the risk of your problems like tooth decay and gum disease.
Don't Forget Your Dentist
Your personal relationship isn't the only one you should maintain this February! In fact, a healthy relationship with your dentist, consisting of twice-a-year appointments at minimum, will help keep your smile looking and feeling great. Many dental issues can occur without any symptoms, which is why these visits are an important step for preventing and detecting problems before they get more extensive an expensive. Plus, if you have any issues with your smile's appearance, your cosmetic dentist in Arlington Height's can help.
Are you ready for the holiday of love? Remember these tips for a happy and healthy Valentine's Day.
About the Practice
At Westgate Dental Care, we have a team of experienced dentists who offer all of the services you need to enjoy a healthy and shining smile. For teeth whitening, a routine checkup, or any other dental services you may need before Valentine's Day, we are here to help! If you have any questions, we can be reached through our website or by phone at (847) 577-7171.