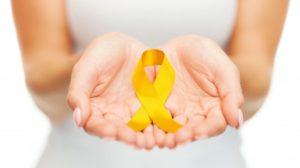 No one wants to hear their doctor say the word cancer, but can you imagine hearing it from your child's doctor? According to the American Childhood Cancer Organization, a family gets this devastating news about three minutes. During September, Childhood Cancer Awareness Month, our team at Westgate Dental Care is going gold. With several patients who have battled childhood cancer, our practice hosts a fundraiser every September to contribute to the effort to end this disease. In this blog post, you'll learn how you can help in our fundraiser and how our team can perform oral cancer screenings for your child.
Childhood Cancer Awareness
It is estimated that one out of 285 children in the United States will be diagnosed with cancer before they turn 20 years old, and out of those 20 percent will not survive it. Although childhood cancer is not as prevalent as cancers in adults, it is the number one cause of death by disease for children in America. That's why we're dedicated to helping as much as we can.
Donations
Unfortunately, childhood cancer research and trials require a lot of time and, therefore, a lot of money to find ways to save lives. Over the past few years, Westgate Dental Care has donated $3,000 to Lurie Children's Hospital and Comer Children's Hospital, both located in Chicago, where many children are treated. This year, we hope to donate $500 to Comer's. Basically, we're hosting our fundraising event on Facebook. For every like, we'll donate $2, and for every new review our patients post, we'll donate $5. We invite community members to participate in this effort and help us reach our goal.
Oral Cancer
Our team at Westgate Dental Care can help your child stay healthy and cancer free in another way. At every checkup, we closely examine your child's oral cavity for signs of oral cancer. Although the average age of patients who are diagnosed with oral cancer is 62, children and adolescents can still be at risk for developing oral cancer. Especially as high-risk activities, such as vaping and exposure to the human papillomavirus (HPV), become more common in younger populations, these frequent screenings are even more important to maintain for your child's health.
This September, you can show your support for Childhood Cancer Awareness Month by participating in our fundraising efforts, wearing a gold ribbon, or donating to organizations seeking a cure for cancer. Also, if your child hasn't had a dental checkup and cleaning in a while, you can schedule an appointment with us at Westgate Dental Care so that they can have an oral cancer screening. Through these little actions, we can make a difference and hopefully save children's lives.
About Westgate Dental Care
Dr. Peter Kics started Westgate Dental Care in September of 2002. Now, there are five dentists and a total of 38 team members on staff. As the practice has grown, it has generously contributed to local schools and organizations. To learn more about Westgate Dental Care's efforts to raise funds for childhood cancer research and treatment, you can call (847) 577-7171 or click here.