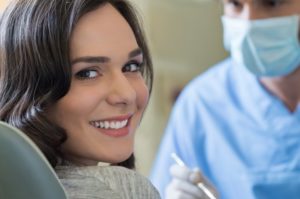 Here at Westgate Dental Care, September is a special month. About this time in 2002, we opened our doors for the first time and began to help our friends and neighbors in the community have healthier, happier smiles. If you are looking for a dentist with a great reputation, Dr. Kics and the rest of our team go above and beyond to make your dental experience a positive one from beginning to end. We are grateful for the opportunity to serve Arlington Heights and the surrounding areas and look forward to caring for your smile more in the future.
Humble Beginnings
When we first started out, we had a small team consisting of Dr. Kics, one hygienist, one dental assistant, and one front-desk coordinator. Over the years, we've slowly but surely added more team members in order to better serve our patients and expand our dental family. Now, we have 38 people on our team, several of whom have been with the practice for many years. For example, Rajmonda, our office administrator, has been with us for 15 years; Tracy, one of our dental assistants, has worked with us for 14 years. You can rely on our experienced, caring team to meet your needs with a smile.
Dedication to Excellence
Although our practice has changed a lot over the course of 17 years, one thing has remained constant—our commitment to providing high-quality dental care. Every day and in every appointment, we strive to uphold our core values:
We serve.
We have integrity.
We over-deliver.
We are coachable.
We are positive.
We celebrate.
We are not just in the dental business, we are in the people business.
We want to make our patients' dental experience as effective as possible. Every year, Dr. Kics and the rest of our team take hundreds of hours of continuing education and advanced training. Why? These courses allow us to use the most innovative techniques and technologies available and give you and your family the best that dentistry has to offer.
Making the Community Better
From the beginning, we've tried to make a positive difference in our community. For example, we realize that our patients are busy, so we offer convenient hours six days a week. Also, we want everyone to be able to afford top-tier dental care, so we offer a in-house membership plan for those without dental insurance. Over the past five years alone, our practice has donated $115,000 to local schools, organizations, and sponsorships.
Moving forward, you can continue to expect the highest quality of care and service to the Arlington Heights and surrounding communities. We will keep putting our patients' needs first and make sure that they leave with a smile on their face. We hope that you and your family will continue to visit Westgate Dental Care for many years to come!
About Westgate Dental Care
Westgate Dental Care was founded in 2002 by Dr. Peter Kics. Since then, the practice has grown to have five highly trained dentists on staff to serve patients in the Arlington Heights area. Appointments are available until 7 p.m. on weekdays and on Saturdays to accommodate busy families If you would like to schedule an appointment with Westgate Dental Care, you can call (847) 577-7171 or click here.