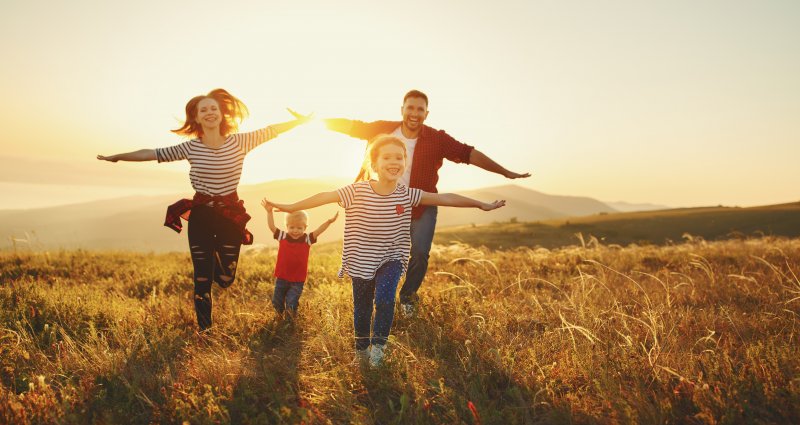 As spring break approaches, your children are bubbling with excitement, and you're eager to take a brief break from the "hustle and bustle" of life to enjoy some family time. Your dentist in Arlington Heights reminds you, though, of the importance of maintaining excellent oral health even while everyone "let's their hair down." Read on to get some helpful tips!
Why Oral Health Should Never be Overlooked
Maintaining excellent oral care is not just essential to having healthy teeth and gums, but it also plays a significant role in the quality of everyone's overall wellness. Furthermore, when your family commits to performing regular and proper oral hygiene, it limits the growth of harmful bacteria that could otherwise contribute to the development of gum disease and tooth loss.
By establishing a healthy trend, you'll also be protecting your children from such issues as oral cancer, Alzheimer's disease and pancreatic cancer further down the road.
Spring Break Tips for Top-Notch Oral Health
The following is a check-list of habits the entire family should practice during spring break and all other times of the year:
Keep the teeth clean – It's especially critical to perform consistent oral hygiene during spring break because of the tendency to eat snack foods. The two most important things to remember are to brush and floss at least two times a day.
Drink more water – While drinking an adequate amount of water should always be at the top of the priority list, it's even more significant when everyone's diet is a little more liberal. Thus, drinking an abundance of water will help to flush away excess debris.
Monitor the sugar consumption – The prime nemeses to oral health are bacteria, and they love sugar. Therefore, its best to create a sugar budget to decrease the chances of someone developing an emergency toothache that ruins all the fun.
The Value of a Pre-Break Visit
Before the break starts, it's a good idea to take everybody for a preventive care visit. It provides the whole family with a thorough cleaning and an examination to identify any developing issues before they can mushroom into something worse.
These visits also offer a chance to brush-up on some best-practices so everybody can be on the same page.
The main theme here is to place an emphasis on maintaining dental wellness instead of scrambling for solutions once a problem reaches a crescendo. To ensure your family enjoys the absolute best in dental health over spring break, contact the best dentist in Arlington Heights to schedule a preventive care visit today!
About the Author
Dr. Peter A. Kics is a graduate of Northwestern University Dental School. He then went on to complete his residency at Westside VA Medical Center, Chicago, where he received advanced training in the placement of dental implants, oral surgery and pain management. A member of the Chicago Dental Society and the Illinois State Dental Society, Dr. Kics combines his years of experience and vast knowledge to provide comprehensive and compassionate care for patients of all ages at Westgate Dental Care. He can be reached for more information through his website.