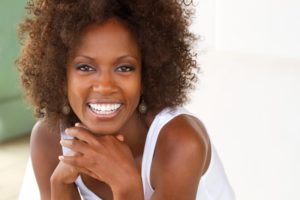 You see it when you look in the mirror. It's particularly apparent when you wear a white shirt. Your teeth are becoming yellow. What can you do about it? What are your options for teeth whitening in Arlington Heights? You want to get the dramatic results that will give your smile its youthful luster back. Well, there are solutions out there that can help! But how do you know which one is the best choice for you? Check out this helpful information about a new, revolutionary whitening solution that puts the rest to shame.
Why do I need to whiten my teeth in the first place?
With nearly constant exposure to darkly pigmented foods and drinks, our teeth can appear yellow or dull, aging the look of your teeth. It can also happen over the natural course of time as tooth enamel becomes more worn, revealing the yellow layer of dentin underneath. But you don't have to simply accept what time and your favorite food and drinks have done to your teeth. You can do something about it!
What whitening solutions are available?
If you're looking to brighten your smile, you have several options:
Commercial at-home whitening trays or strips.
Professional take-home kits.
Traditional professional in-office treatment.
KöR Whitening in-office treatment.
Commercial at-home trays or strips have such a low concentration of peroxide, the chemical used to whiten, that they are rarely effective. Although each of the professional options has its own pros and cons, there's one that delivers predictable, dramatic results every time—KöR Whitening.
How is KöR different from other professional whitening solutions?
For many other in-office whitening options, the whitening gel is only strongly active for about 25 to 35 minutes because it quickly becomes contaminated through contact with your saliva. KöR whitening trays are specially designed to seal saliva out. In addition, whereas other in-office treatments can leave your teeth feeling sensitive afterward, KöR uses a desensitizer in the process to alleviate this common symptom.
Also, the KöR whitening gel is stored in a refrigerated environment from the moment it is manufactured to the time it is delivered to your dentist's office. This prevents the natural degeneration process that happens with other whitening gels. At room temperature or higher, the solutions can start to degrade and become less effective. Because of refrigeration, KöR Whitening solution is just as effective as it was from the moment it was manufactured to ensure that you get the best results possible.
In the end, you want to be sure that you'll get the dramatic whitening results you're looking for, and you can get them with KöR Whitening. Addressing all the downsides of other whitening solutions, it helps you turn back the clock on your smile. Find out if your cosmetic dentist in Arlington Heights offers KöR Whitening and get started with it today!
About the Author
Dedicated to making each visit as pleasant as possible, the dentists and staff at Westgate Dental Care remove any fear from their patients' dental visits. With years of experience, they can provide comprehensive care in restorative, preventive, and cosmetic dentistry. They also offer KöR Whitening to get the best results for their patients every time. To contact them for an appointment, call (847) 577-7171 or click here.