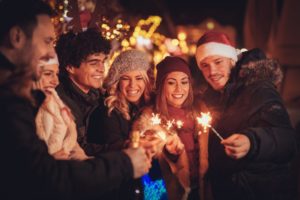 With Christmas rapidly approaching, have you sent Santa your wish list? During this time of year, sweets, treats, and fun gifts are sure to make their way into your family's stockings. But, this season of sugar can also bring oral health issues like cavities. So, how do you protect your teeth while still enjoying the holiday? Keep reading to learn 6 great dental inspired gift ideas from your dentist in Arlington Heights. That way, you can stuff your family's stockings with items that will keep them healthy!
#1: An Electric Toothbrush
Give your loved ones the gift of a new brush this Christmas so they can start off the next year with a fresh one. Brushes often harbor bacteria that can actually damage your teeth and gums, so holiday season is a great time to switch brushes.
#2: A Helpful Waterpik Flosser
Do you or your loved ones struggle with flossing? Or maybe an older member of your family has dexterity issues? A Waterpik flosser uses water to floss your teeth twice as effective as normal dental floss.
#3: A Nice Tumbler with a Straw
Did you know that drinking your favorite drinks through a straw can help keep your teeth healthy? Give your family something that will promote straw use. Whether it's sodas, sports drinks, wine, or coffee, sugary and dark beverages can cause staining and cavities. Straws allow for the least amount of contact the liquid makes with your teeth, making a tumbler with a straw a great gift for a healthy grin!
#4: Beautiful Teeth Whitening
Are you ready for your family's holiday card? How does everyone's teeth look? Give your family the gift of teeth whitening for a dramatically whiter and brighter smile to dazzle with. If someone in your family routinely hides their smile because of stains or discoloration, give them professional teeth whitening. In no time at all your loved one will have a smile they can be confident in.
#5: Orthodontic Treatment
If someone in your family has crooked or misaligned teeth, now is a great time to gift them orthodontic treatment for the new year. Your local dentist offers Invisalign treatment—a discreet way to straighten teeth using clear aligners. That way, you or your loved ones can straighten your teeth without anyone knowing. Plus, the aligning trays are removeable, so you can still eat all of your favorite foods.
#6: Cosmetic Services
Cosmetic dentistry focuses on improving the appearance of your smile. Whether you have chips, cracks, stains, gaps, and more, your dentist has a wide-range of cosmetic services to transform smiles for the holiday season.
Now that you know some good mouth-healthy gift ideas from the best dentist in Arlington Heights, use these suggestions to give your family the gift of pristine oral health this Christmas.
About the Practice
At Westgate Dental Care, we have a team of 5 highly-trained dentists who each love caring for their patients. They take pride in providing quality cosmetic services that help with patients' self-esteem and confidence. For any questions, they can be contacted through their website or by phone at (847) 577-7171.