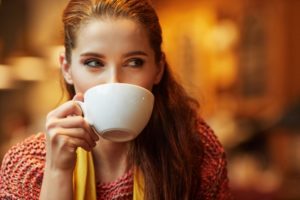 Whether you visit your local coffee shop or nearby Starbucks, it's no secret that the drinks they serve have the potential to be incredibly damaging to your teeth and gums. Many coffee and tea options are packed with a ton of sugar, syrups, whipped cream and other additives that only increase the chances of you developing a cavity by the new year.
But what if there were drinks you could purchase that didn't damage your enamel? Today, a dentist in Arlington Heights offers three options worth considering.
Unsweet Iced Tea
Sweet tea can have as much sugar as a can of soda, so don't be fooled by its fruity flavor. Instead of having a pump of syrup or pack of sugar added to your tea, just have it straight. While it will taste more bitter at first, it's still incredibly refreshing and less likely to dehydrate you because of the reduced sugar.
Another great alternative to the sweet tea you usually buy is green tea. Green tea has numerous health benefits for teeth and does not need added sugar to taste good. It also has plenty of caffeine, so you won't have to drink as much coffee to keep your buzz going!
Mocha or Caramel Light Frappuccino
Frappuccino can be very dangerous to your oral health because of one main ingredient: whipped cream. Whipped cream contains more sugar than any other ingredient on the menu.  If you choose a Frappuccino, make sure to ask for no whipped cream. Not only will you do your teeth a favor, but you'll skip the extra calories. Instead, remember to ask for a milk substitute, such as skim, soy or coconut milk creamer.
Nonfat, Unsweetened Café Misto
If you typically get a latte, you're probably consuming a lot more sweetener and whole milk than you realize. When you opt for the alternative café Misto however, you aren't exposed to that extra sugar and you're drinking nonfat milk. If your drink doesn't have enough flavor, mainly because the espresso is replaced with coffee, add a dash of cinnamon, nutmeg, or cocoa powder.
Americano
If you need a punch of caffeine but want to avoid as much sugar as possible, the Americano is a hard drink to pass up. As long as you reduce the amount of cream and sugar you add, you're mainly drinking espresso and hot water.
Cold-Brew Coffee
When coffee is cold-brewed, it is much less bitter, which means you don't need to add nearly as much sugar just to get a great-tasting cup of coffee. It's also less acidic, so you're doing the surface of your teeth a big favor as well. It may be expensive now, but getting a cavity filled isn't exactly cheap either.
Want to confirm how changes to your diet are improving your oral health? Schedule an appointment with a dentist today!
About Westgate Dental Care
The dentists and team members at Westgate Dental Care aren't only prepared to treat your issues when they appear. They're also more than happy to help you prevent issues before they happen, whether it be through proactive treatments, helpful dental and diet advice or anything in between! To learn more about the practice, you can contact the dentists through their website.