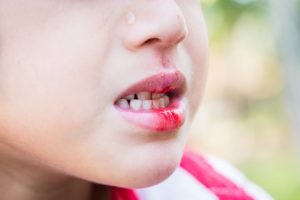 When the holidays are around the corner, the last thing on your mind is a dental emergency. That is until your child is outside playing and accidentally slips and falls on ice that froze overnight. A bad fall can easily lead to a broken or even knocked-out tooth, causing a major disruption in your already busy schedule.
In a dental emergency, whether it happens to you or your child, it's important that you don't panic. By following these tips from an emergency dentist in Arlington Heights, you'll be better equipped to handle these issues if they occur.
Broken or Knocked-Out Teeth
Start by collecting any loose pieces of tooth you find on the ground. Get a glass of warm water and rinse out your mouth. Rinse the pieces of tooth as well before placing in a safe place. Take a piece of gauze and apply it to the damaged area for at least 10 minutes. This pressure will help stop the bleeding. After the bleeding stops, apply a cold compress to the area to reduce any swelling and pain that's present. If the bleeding doesn't stop after at least 15 minutes of pressure, get to the emergency room.
If your tooth is completely knocked-out, retrieve the tooth and rinse the root of any dirt or foreign debris. Be careful not to touch the root or remove any leftover tissue still attached. After rinsing, place the tooth either back in the socket or if not possible, inside a container of milk or saltwater. Schedule an appointment with the dentist for the same day if possible. The sooner you get it placed back into the socket, the more likely the tooth can be saved.
Chipped Teeth
If a large piece of tooth has chipped off, save the tooth and rinse your mouth with warm water. If the tooth is minorly chipped and no pain is present, you can wait until normal business hours to have it repaired. If the tooth cracks and the crack extends below the gum line, get to the dentist as soon as possible. Use a gauze pad to cover the tooth if it's sharp and catching on your cheek or tongue.
Severe Toothaches
Rinse your mouth with warm water, brush and floss to confirm no food debris is applying pressure to your tooth. If the pain is still present, take an ibuprofen and apply an ice pack to reduce pain and swelling. Schedule an emergency appointment with the dentist to confirm the issue either the same day or as soon as possible.
A dental emergency doesn't have to ruin your holiday. Knowing the right steps will help you handle emergencies confidently before you visit the dentist. If you're experiencing a dental emergency, don't hesitate to contact a dentist in Arlington Heights for more advice and to schedule an appointment!
About Westgate Dental Care
The dentists at Westgate Dental Care have been providing emergency dental services to the community for many years now. If you're experiencing a severely damaged tooth or a bad toothache, it's time to contact our office and get you or your family member treated. To learn more about our emergency services, you can contact our practice through our website.