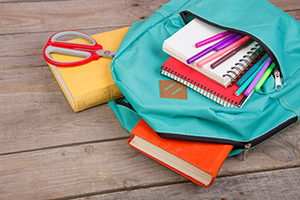 The simple act of giving is one of the cornerstones of any thriving community, and there are no receivers more worthy of such gestures than children. That's the philosophy that lies at the heart of the Apple Tree Donation Campaign, a local Midwestern tradition that has been going on for the better part of three decades now.
Established with the goal of providing students in need with the supplies they require to learn and grow as people, the campaign involves setting up donation centers where people can contribute either by donating school supplies or giving money. The typical supplies that are needed year after year include backpacks, highlighters, markers, and pencils, but virtually any school-related item will come in handy. Those who prefer giving money should know that their funds will be used exclusively for the purchase of school supplies, and will need to send out checks that are payable to the "Palatine Township Needy Family Fund".
The Westgate Dental Care – Apple Tree Campaign Partnership
This attitude of giving is so infectious that multiple businesses in the area and in neighboring communities have decided to take part in the proceedings. We here at Westgate Dental Care in Arlington Heights are proud to partner with the Apple Tree campaign. Donations will be accepted in-house by both patients and employees, and we will also make a special monetary donation to the township in order to help campaign volunteers buy more school supplies for children.
We want to incentivize donations by giving you something in return. We have instituted a special offer to help drive donations for this great cause. During the entire campaign, all of our patients under-18 are eligible to receive $15 Fandango gift cards in exchange for their or their parents' donations. Fandango gift cards can, of course, be redeemed at numerous movie theaters across the nation. This should help foster the spirit of giving among children and may even raise their awareness of the less fortunate among them. These donations are focused in the community in which they are donated, so there is no better way to give to your friends and fellow students than by donating these much-needed school supplies.
Of course, such promotions wouldn't matter much if they didn't also come with the typical world-class services that Westgate Dental Care is known for. If you're considering bringing your child for treatment at one of our facilities, here are a few choice services to keep in mind:
1. Cavity Fillings
Children tend to consume more sweets on average than adults do, thereby increasing their odds of developing cavities on a regular basis. Add in the fact that it takes time to master proper brushing and flossing techniques and it's easy to see why most children need regular check-ups in order to have their teeth cleaned and cavities filled.
2. Sealant Applications
A popular preventive procedure that seeks to reduce the risk of developing cavities, applying sealant involves putting on a special solution that seals off your tooth from enamel-damaging substances. This method is particularly effective for teeth that are difficult to reach and brush properly, or for children who have shown a tendency towards repeat cavities.
3. Orthodontics
Having properly-positioned teeth is an essential part of oral health. After their permanent teeth are firmly in place, braces can be used to straighten children's teeth and prevent all the problems that can result from having crooked or misaligned teeth.
All in all, no matter which treatment you go for, your child will be eligible to receive a $15 Fandango gift card in exchange for a donation to the Apple Tree Campaign. Helping others is at the core of Westgate's philosophy, one that extends beyond professionalism and into genuine human compassion. Visit our website to see which of our locations is closest to you and which service is right for you. Thank you for your donations!