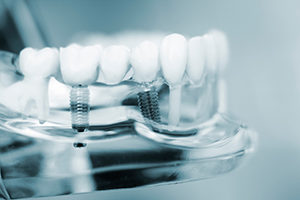 There are few things more important than keeping your teeth healthy. We can replace almost anything, but we only get one set of adult teeth. Luckily, Westgate Dental Care makes it possible for anyone to have healthy teeth with the help of dental implants. It is imperative to replace any tooth that you have missing to avoid tooth drift and decay. At Westgate Dental, we use state of the art dental implant technology that heals your teeth completely.
The Benefits of Implants
Traditional implants were meant solely for cosmetics. They would give you the appearance of having healthy teeth in place but in fact, served no real purpose other than the aesthetics. Today, dental implants allow for the complete restoration of your oral health through a brief surgical procedure. The implant process is usually spread across a few visits, allowing your gums and teeth to adjust to the new addition and also allowing the implant to settle and appropriately mimic the placement of the original missing tooth. Once the initial post or posts have been placed it is easy to affix one or multiple new teeth into the gums and secure them snugly.
Implant Retained Crowns & Bridges
Following the surgical implantation and fusion of the post or posts, patients will then return to our office and have a replacement tooth or teeth attached to the implant posts. If a patient needs up to four consecutive teeth replaced, we will likely need to utilize an implant-supported crown or fixed bridge. A single tooth can oftentimes be replaced by attaching one dental crown to a fixed bridge. We can also fuse two consecutive replacement teeth together and attach them to a single post. If a patient has three to four consecutive teeth that need to be replaced we will have a row of replacement teeth fused together and supported by a post on either side.
Implant Retained Prosthetics
If a patient requires more than three or four teeth to be replaced we will usually recommend that they utilize an implant retained prosthetics. These prosthetics are far less invasive than the alternative and act as full or partial dentures. Regardless of whether a patient requires a full or partial prosthetic, we start by creating a gum-like base to support a number of replacement teeth. Partials are custom shaped to fill in the gaps where teeth are missing whereas full prosthetics affix directly to the gum line and are utilized to replace full rows of teeth. Partials to full dentures and typically be supported with anywhere from four to six implant posts, which in turn keep the prosthetic stable and easy to keep in place.
Dental implants have never been less daunting. See for yourself how our team of dentists and technicians can give you the smile you have always wanted with stable and restorative implants. Schedule your appointment today to see just what Westgate Dental Care can do for you.