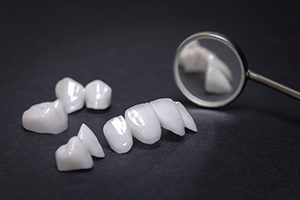 Restorative dentistry encompasses a large section of dentistry as a whole. Everything from fillings to dentures falls under this umbrella and depending on your needs, restorative dentistry can oftentimes be the best solution. Here at Westgate Dental Care, we pride ourselves in our knowledgeable staff and in providing the best treatment for each individual patient. Schedule an appointment with us and see how Westgate Dental can help you find your perfect smile.
Traditional Crown & Bridge
Traditional crowns are usually utilized to repair a decayed or damaged tooth when easier options like fillings would not suffice. Crowns are usually implemented for the following reasons:
To improve the cosmetic appearance of teeth
To support one or more replacement teeth, which in turn forms a fixed bridge.
To replace one to up to four consecutive teeth when attached to dental implants.
To protect teeth treated by root canal
Getting a crown done with us is usually done in two visits to our office. On your first visit, we will prepare the damaged teeth, gather impressions, and place a temporary crown. We then send your impressions to a lab, where your crown is custom crafted and placed in your second appointment.
Fillings
In the old days, dentists used highly visible metal fillings that had no cover or coloration shift. Luckily, fillings have come a long way. At Westgate Dental we utilize tooth-colored fillings that are invisible to the naked eye. We use a putty-like resin that seeps into small crevices in the teeth to create a stronger and more natural bond, in turn preserving the remaining healthy tooth structure and keeping your teeth happy and healthy.
Dentures
Dentures can be utilized for people who are missing anywhere from a few consecutive teeth to a full arch of teeth. If you only need partial dentures, a custom partial is created to fill in gaps between existing healthy teeth. A gum-colored base fits snugly between teeth and metal clasps anchor the partial to the remaining healthy teeth. Full dentures on the other hand still utilize the gum colored base, but since there are no remaining teeth to adhere to, they use a suction technique to remain affixed. Properly made dentures make all the difference, with a well-crafted set of full dentures staying snugly in place with suction designed from a custom mold of your gums.
Root Canals
In the world of dentistry, root canals are the one thing no patient wants to think about. A root canal is only necessary when tooth decay or damage has reached the innermost layer of the tooth. This usually results in an intense toothache. We take the pain out of root canals by using a technique where we drill a small hole from the top of the tooth, clean out the affected area, disinfect any contaminated sections and then sealing the tooth back up.
One of our main goals is to create a relaxed and stress-free environment for our patients. By implementing the most advanced practices and staying up to date on the cutting edge of dentistry, we take the pain out of our procedures. Schedule an appointment to come into one of our offices to see what Westgate Dental can do for you.