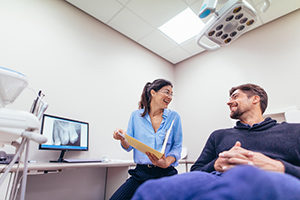 As anyone who's ever been saddled with a midnight toothache surely knows, dental emergencies don't abide by a fixed schedule. That's because, like all medical emergencies, tooth-related problems are impossible to predict in every single instance. Even people who take great care of their teeth and visit their dentists on a regular basis can still suffer the occasional accident or spontaneous infection that requires immediate care.
Since we at Westgate Dental Care believe strongly in an anxiety-free style of dentistry, we've decided to implement emergency services for all patients in the Arlington Heights Illinois area. This means that, in case of an emergency, you can pay us a visit even if you haven't previously booked an appointment with us. We have protocols in place to welcome customers on the same day in emergency situations, and will gladly do everything in our power to see you as quickly as possible. Here are just some of the advantages of choosing Westgate Dental Care in times of need:
1. You'll Prevent Certain Problems from Getting Worse
If you experience swelling, pain or discomfort, chances are that something is seriously wrong with your teeth or gums, and coming straight to the dentist's office is definitely the right thing to do. Such flare-ups are often signs of deeper underlining issues, so getting treatment now can save you from experiencing a lot of headaches down the road.
2. You'll be Treated in Our State-of-the-Art Stress-Free Environment
Going to the dentist should not be a nerve-wracking experience under any circumstance, and that goes doubly when it comes to dental emergencies. For this reason, we're ready to go the extra mile to make you feel at-ease before, during and after receiving treatment. This includes everything from offering refreshments to giving you noise-cancelling headphones and sunglasses to reduce the uncomfortable glare from our overhead lights.
3. The Whole Family is Welcome
We've taken great care to ensure that our facilities cater to people of all ages. From small children still on their baby teeth to older adults dealing with dentures, rest assured, there is no dentistry problem we haven't seen and successfully treated before. While a patient is undergoing treatment, the rest of the family will feel right at home within our comfortable office amenities.
Now that you know a little bit more about what to expect when visit Westgate Dental Care, let's take a closer look and see what exactly qualifies as a dental emergency. While by and large anything that causes pain and discomfort warrants an immediate visit, here are some of the most common types of emergencies we are fully equipped to handle:
Broken/chipped/cracked/knocked out teeth
Damaged braces or dentures
Severe tooth ache and heightened pain sensitivity
If you ever experience any of the above, be sure to call our office at (847) 754-4480 as soon as possible. We'll invite you over at the earliest opportunity and give you appropriate recommendations to address the pain or discomfort in the meantime. This way you can rest easy knowing that, no matter the issue, at Westgate Dental Care you'll always enjoy first-rate treatments delivered in a speedy and efficient manner.