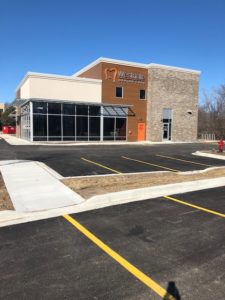 As we draw closer to the opening of our new location, we think it's the perfect time to share our Westgate Dental Care story.
Dr. Kics first opened the doors of Westgate Dental Care in September 2002. He was practicing as an associate dentist in Janesville, Wisconsin and wanted to move back to the Chicago area with his wife Teja, toddler Sophia and newborn Ava to be near his roots (he grew up in Hillside). His wife previously taught in D25 at Olive-Mary Stitt school and they always liked the Arlington Heights community, so when a small dental practice was for sale, they jumped at the opportunity.
One question our patients always ask is "why the name Westgate Dental Care?"  Sorry to say, there's no great story behind our name! Dr. Kics had to quickly come up with a name for the practice when purchasing the business, and since Westgate Elementary School was the closest school to the office, he chose the name Westgate Dental Care. Fifteen years later, the name still works!
Westgate Dental Care started as a very small dental practice that has slowly but surely grown, creating a strong presence in the community. Our first team consisted of Dr. Kics, one hygienist, one assistant, and one front desk coordinator. Over the years we slowly added team members to better serve our growing patient base. We know that our team is the backbone of our practice and are proud of our staff members who have made an impact at Westgate Dental Care over the years, including our office administrator Rajmonda (14 years), clinical assistant Tracy (13 years), scheduling coordinator Suela (10 years), and hygienist Kaylee (8 years), as well as our invaluable doctors and team members who are currently serving you.
Our Westgate Dental Care staff now consists of over 19 team members and growing.  The one constant we have through our continued growth is the commitment and high level of care and service we aim to provide to all our patients and one another.  Every day we review and evaluate our Westgate Dental Care Core Values: We serve. We have integrity. We overdeliver. We practice teamwork. We are coachable. We are positive. We celebrate. We are not in the dental business, we are in the people business.
Dr. Kics believes the growth of Westgate Dental Care has been influenced by one driving factor: investment. Investing in state-of-the-art technology to help our team deliver the best in care and comfort to our patients. Investing in continuing education with hundreds of hours of staff training each year, in both dentistry and customer training, to deliver an exceptional experience at every visit. Investing in our patients by offering convenient appointments six days a week, simple text message reminders, in-house savings plans, and of course our Patient Appreciation Events like the Food Truck Social.  Investing in our team by hiring the most qualified doctors, hygienists, assistants, and administrative team members to better serve you. If you've had the pleasure of meeting Dr. Hart or Dr. Rosenblatt, you'll know what we mean! Investing in a new building to give our patients and team members a dental home they can be proud of. Investing in our community through donations and sponsorships of local schools and organizations throughout the year, especially Dentistry from the Heart, where we get to use our skilled craft of dentistry to help the less fortunate in need of dental work. Our growth has allowed us to give back more than we ever imagined, and we look forward to paying it forward for many years ahead.
Many of you have been patients at Westgate Dental Care from the first day we opened our doors, and we thank you. For those who are newer to our practice, welcome. We love welcoming new patients to the practice, especially those who are referred from all of you. (This is why we promote our Referral Contest so much – we love meeting your friends, colleagues and family members!) We often hear a lot of great stories and get many rounds of laughter from the patients you refer. We truly have the best patients around, and are proud to welcome your friends.
When will the new building open? As we write this, the amazing construction team at TMS Construction, along with numerous subcontractors, equipment specialists, painters, floor installers, digital tech installers, etc. are working furiously to have our building ready for us in April. We plan to transition our staff to the building and hope to welcome you to the new building at 2900 West Euclid on April 5th. Our current office at 23 South Vail WILL REMAIN OPEN to serve you until the new building opens. (We plan to remodel our existing office and reopen by the end of the year.) We will notify you of our move to the new building to assure you a smooth transition as well.
What about the current office at 23 South Vail? We plan to "close" this location temporarily, most likely until the end of 2018. While our team is serving you at the new building, we plan is to remodel and freshen up the current office. We believe that bringing our existing team of dentists and staff to our new building will make the transition smooth and will allow us to serve you at our best. Plus, we look forward to giving all our team members some much deserved elbow room in the new facility!
With change and growth can come trepidation: will the new building still feel like your dental home? Will we still offer the same level of care and service? Will we still know your name and interesting things about you? Will we do those small things that make a difference, that show we value and appreciate you? ABSOLUTELY! Our motto is "We bring the WOW factor to dentistry!" Our dentists and team will continue to stand behind this motto in our dental care and service to you, as this is the core of Westgate Dental Care. We may need to make a slight change to our motto though…. "We bring the WOW factor to dentistry in a  one-of-a-kind-knock-your-socks-off-beautiful- inviting-brand-spanking-new-dental-facility!" We can't wait to welcome you to your new dental home
-Your Westgate Dental Care Team