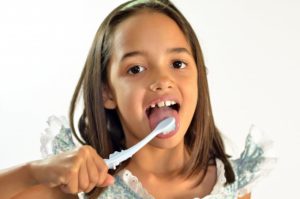 When it comes to dental health, it's important to get your kids to build habits early. Not only will they need it to keep their primary and permanent teeth healthy, but also to avoid cavities. Children are more vulnerable to cavities than any other group, which is why your children's dentist in Arlington Heights is adamant about celebrating Children's Dental Health Month. In February, family dentists across the country are doing their part to help parents make brushing a positive and fun experience.
To get you started, here's a few tips to make your next oral care routine fun for your child.
The ADA Says, 'Defeat Monster Mouth' This Month
If you're child needs to be encouraged to brush more, give them the tools they need to defeat the big, bad cavities that can appear in their mouth. While grocery shopping, find a toothbrush that they'll enjoy using and a toothpaste with flavors they'll enjoy tasting. Brushes with their favorite cartoon characters or colors on it and fruity toothpaste will make brushing more enticing to them.
While at the office, ask if your dentist is interested in appearing at your child's school to teach their classmates about the importance of brushing and oral care. Get in touch with your child's teacher to see if they'd be willing to accommodate your dentist beforehand.
Sing a Song Before and During Brushing
One of the most common mistakes that children make (even into adulthood) when brushing is not brushing for long enough. The American Dental Association recommends patients brush for at least two minutes to remove plaque and prevent tooth decay and gum disease. While your child brushes, it's important to make sure they're completing this step.
To make brushing effective and fun, sing a song with your child before it's time to brush so they can prepare for what comes next. Come up with a song or find one that's two minutes long you can both sing together. Use a timer to confirm two minutes has passed or install a mobile app that aids them in brushing. Many of these apps use their favorite characters that brush along with them and help your child stay focused.
Include Another Activity that Coincides with Regular Brushing
When eating throughout the day, it's important to keep track of how much sugar your child consumes. The longer sugar stays on their teeth, the higher their chances are of getting cavities. To combat this, create an activity that ties in with brushing their teeth. For example, as a reward for brushing their teeth, give them a dental-related picture to color afterwards. This provides incentive for them to remove sugar they've collected throughout the day.
If you notice your child drinking a lot of juice boxes or eating snacks high in sugar, try to replace them with healthier alternatives and/or make sure they rinse their mouth after doing so.
Celebrating Children's Dental Health Month with your family dentist in Arlington Heights is a great way to jumpstart your child's oral health. Schedule an appointment with your dentist today to learn more tips!
About the Author
Dr. Pete A. Kics earned his Doctor of Dental Surgery degree from Northwestern University dental school where he graduated with honors. He's so dedicated to caring for your child's oral health, he offers a Cavity Free Club for them to participate in. For every cavity-free checkup, your child gets a free t-shirt and entered to win quarterly prizes they'll love! To learn more about the practice, you can contact your dentist in Arlington Heights at (847) 577-7171 or visit his website.