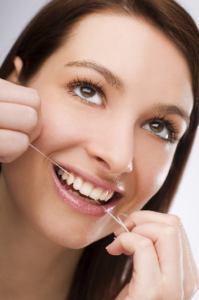 From a very young age, you have been taught to brush your teeth twice a day, floss daily, and to visit your dentist twice a year. However, as time has gone on, your commitment to your oral health has declined. Despite your history of poor oral hygiene, it is never too late to reinvest in your teeth and gums. As the new year approaches, now it the time to take control of your smile. In addition to revamping your habits at home, it is also time to ask yourself, "where is a dentist near me?"

Recommit to Your Smile
As the year comes to an end, now is the time to create a proactive plan to revamp your oral health. By taking action now, you can kick-start your new habits at the beginning of the year to ensure that you and your family maintain bright, healthy smiles.
Make Sure You Have the Right Products
Your home oral hygiene habits are only effective if you have the right products. Take inventory of the ones you currently have in your bathroom. Look to ensure that you have a good supply of soft-bristled toothbrushes to make changing them every three to four months easy.
Also, stock up on fluoride toothpastes that are supported by the American Dental Association to help keep your enamel strong. Do not forget to purchase a high-quality dental floss to clean in between each tooth every night. If you have unique oral health needs, such as tooth sensitivity, consider getting products that cater to your individual requirements.
Practice the Right Techniques
Brushing your teeth may seem self-explanatory; however, most people do not do it correctly. When brushing, hold the toothbrush at a 45-degree angle to clean all surfaces of the teeth for at least two minutes. Do not forget to clean your tongue and inside of the cheeks.
In addition to brushing, it is best to floss every night before going to bed. Gently insert the floss in between two teeth and form a "C" shape around one tooth. Slide it down to the gum line and back up to the crown.
Stop Bad Habits
There is no better time to break bad habits than the start of the new year. If you tend to use your teeth as tools, chew on ice, use tobacco, or have another habit that can damage your oral health, create a plan to stop them. Your family dentist in Arlington Heights can help you.
Visit Your Dentist Regularly
In addition to your home oral hygiene routine, it is best to visit your dentist in Arlington Heights twice a year for a cleaning and checkup. With regular care from your dentist, you will ensure that your smile stays healthy and bright all year.
About Westgate Dental Care
Westgate Dental Care provides state-of-the-art dentistry at our modern dental office. We create personalized solutions to help you achieve a healthy, beautiful smile. If you are ready to recommit to your oral health, contact our office today to schedule an appointment.