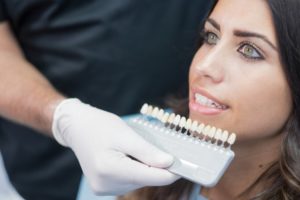 We believe it's safe to say that when you look good, you feel good. When you're comfortable with your smile, you are more than willing to showcase it. It's more important than ever to walk confidently in your smile.  Society's desire to put their best smile forward, has greatly affected the dental industry. In fact, the American Academy of Cosmetic Dentistry has found that there has been an increase in:
The growth of at-home whitening products.
Aging baby boomers wanting to look and feel younger.
The publics fascination with celebrity lifestyles.
With that being said, do you want to improve your smile? Westgate Dental Care can help you put your best smile forward with a confident smile. Let's look at how porcelain veneers in Arlington Heights can help you reach your goals.
Do More than Brighten Your Smile with Porcelain Veneers
Sure, everyone wants a brighter smile—but are there areas you would like to improve? Porcelain veneers are fingernail-thin shells of ceramic that cover the front surfaces of your teeth. They mask your dental flaws to create a new smile. Each set of veneers is custom created to fit your specific needs and mouth structure. After taking a few impressions, your Arlington Heights dentist will send your information to a lab to have them created just for you.
The Perfect Patients for Porcelain Veneers
It's important to have a beautiful smile to feel the best about yourself. Smiles tell a thousand words, so it's great that you share it. Gorgeous teeth give patients the confidence to share their smiles with the world.  If you've ever contemplated if your teeth are preventing you from smiling, porcelain veneers could be the best cosmetic procedure for you. We create one-of-a-kind veneers that will blend with your natural teeth. Porcelain veneers can mask multiple flaws at the same time including:
Discoloration
Misalignments
Unusually shaped teeth
Short/Eroded teeth
Irregularly spaced teeth
Chips
Cracks
Damaged enamel
Every set of veneers is custom made for each patient, designed to help them reach their personal dental goals. The best way to get your custom-tailored treatment plan that is right for you,  meet with one of our dental experts for a hassle free consultation. Only then will we be able to develop a great dental treatment plan for you to reach your smile goals.
A New and Improved Smile is Just a Phone Call Away!
When it comes to cosmetic procedures, it's important to meet with your dental professionals to discuss various aspects of your smile and what you wish to improve.  When you decide to visit Westgate Dental Care for an appointment, our whole team will help you feel welcomed and relaxed, so that you feel comfortable discussing potential improvements for your teeth. Feel free to contact us with any questions you may have or to schedule your next appointment.