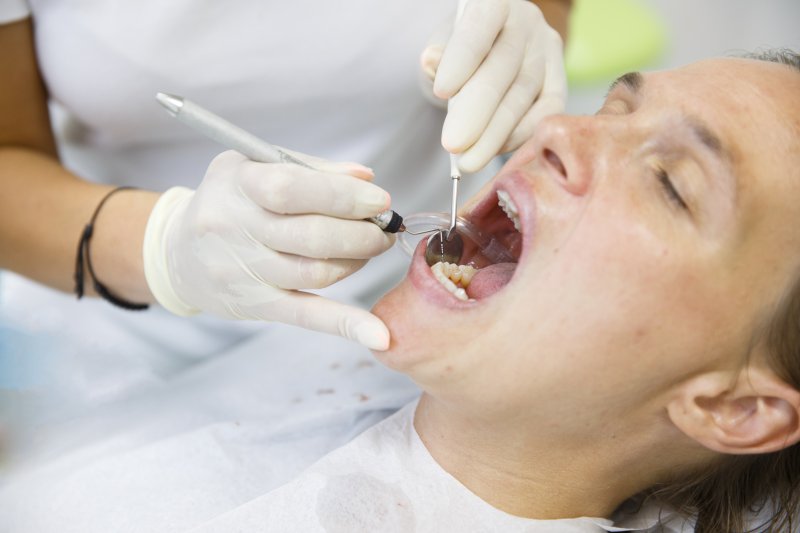 It can be exciting to think about changing your smile's appearance. Getting rid of the stains, chips, and gaps that have marred your aesthetics for years can finally be eliminated with the help of cosmetic dentistry. But before you start treatment, your dentist may discover you need periodontal therapy. Why? Read on to learn the importance of ensuring healthy gums before a cosmetic dentist enhances your pearly whites.
What is Periodontal Disease?
Periodontal (gum) disease occurs when bacteria and plaque accumulate and irritate the soft oral tissues surrounding your teeth, otherwise known as the gingival sulcus. Over time, it attacks your gums and causes redness, inflammation, and bleeding. If caught in its earliest stages (gingivitis), the symptoms can be reversed.
If the infection worsens due to a lack of treatment, mild periodontitis can occur, which results in deep gum pocket formation, bone loss, and the potential for bacteria to enter the bloodstream. This can weaken your immune system and put your overall health at risk.
Should the disease progress to advanced periodontitis, your teeth may become loose, causing them to eventually fall out, and you may notice abscesses forming around your gums.
The Importance of Healthy Gums for Cosmetic Treatment
Cosmetic treatment isn't always cheap, which means you'll want to make sure your investment lasts as long as possible. You can do this by first making sure your gums are healthy. If they're not, and your dentist recommends gum disease therapy, consider it an opportunity to ensure the longevity of your new smile.
Placing veneers or bonding can make it difficult to detect decay or disease that may exist. As a result, you'll not only lose the natural look cosmetic treatment can provide but also your investment because of the necessary care you'll need to address the underlying problem.
Allowing your dentist to get your gums in better shape before starting cosmetic treatment is the most important step you can take. Scaling and root planing or laser periodontal therapy will help to eliminate bad bacteria and ensure the health and future of your smile.
Don't get too far ahead when preparing for cosmetic dental treatment that you disregard the suggestions of your dentist to pursue preliminary care. Making sure your gums are healthy will allow for a more effective and successful transformation.
About the Practice
Our team of dentists at Westgate Dental Care understands the excitement that can come with improving your smile's aesthetics. No longer seeing the imperfections that keep you from engaging with others brings a sense of eagerness and opportunity. However, if your gums are plagued by disease and experiencing the effects of inflammation and infection, we're here to offer periodontal therapy. If you notice your soft oral tissues are red or bleeding, visit our website or call us at (847) 908-3684 to let us help put your gums on the right track.