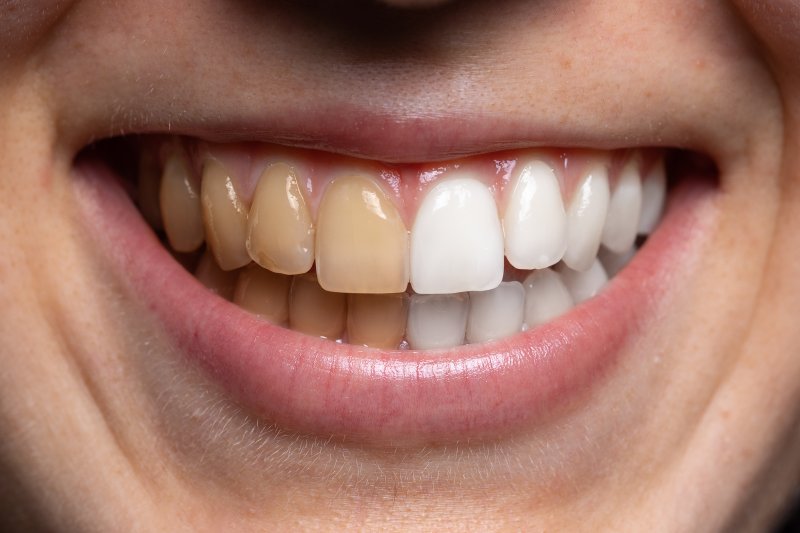 You may not realize it, but there are three types of tooth stains. Most people assume discoloration occurs because of smoking or years of drinking coffee, tea, and soda, but this common problem extends much farther. Of course, just knowing the cause of yellowing, dull teeth isn't enough. In this article, you can expect to learn how to get rid of these stains and start embracing a brighter, more youthful appearance.
What Are the Three Types of Stains?
You may look at your smile and feel defeated because of continual discoloration but before you enter into a stage of doom and gloom, it's important to remember that most can be prevented and treated.
When a dentist examines your teeth, they will typically place the type of staining into one of the following three categories:
Extrinsic Stains: These form on the surface of your teeth and are commonly caused by the foods you eat (i.e., berries, soy sauce, chocolate), beverages you consume (i.e., coffee, tea, red wine, soda), and any tobacco use. Only your tooth enamel is affected.
Intrinsic Stains: These form inside your teeth and can cause them to appear gray over time. Intrinsic stains typically occur because of certain medications you're taking (i.e., blood pressure, chemotherapy, antihistamines), facial trauma, decay, excess fluoride exposure, or genetics.
Aging Stains: As if growing older isn't hard enough, age-causing stains are the result of tooth enamel wearing away over the years.
Say Goodbye to Stains: How to See a Whiter Smile
It might seem as if teeth whitening is the only option for removing stains and discoloration. While it is effective, especially when allowing a cosmetic dentist to oversee the process, other solutions can also have you embracing a whiter, brighter smile.
If you prefer something a bit more permanent, dental veneers can be created to conceal your tooth stains. Made of thin porcelain, these shells are customized to fit over the surface of your teeth and effectively hide your imperfections. Because of the necessary removal of a small bit of tooth enamel, they are considered irreversible. With proper care, they can last 10-15 years before replacement is required.
You can also opt for cosmetic bonding, which is highly affordable and allows you to keep more of your natural tooth structure. With the help of a composite resin that is malleable yet, durable, it is applied directly to the tooth enamel and sculpted into place. Using a curing light, the resin hardens to fully cover the stains. Although not permanent like veneers, bonding can last anywhere from 5-10 years.
Don't settle for a lackluster smile when you can take the necessary steps to embrace a brighter, whiter one! Talk to your cosmetic dentist about your available options and say goodbye to your stains for good.
About the Practice
If you're tired of looking at the stains on your teeth, let our team at Westgate Dental Care take care of your smile. With an array of cosmetic options available, we can brighten your pearly whites with teeth whitening, create customized veneers, or quickly apply bonding to conceal your imperfections and improve your appearance. If you're ready to take the next step toward a more beautiful smile, visit our website or call us at (847) 908-3684.