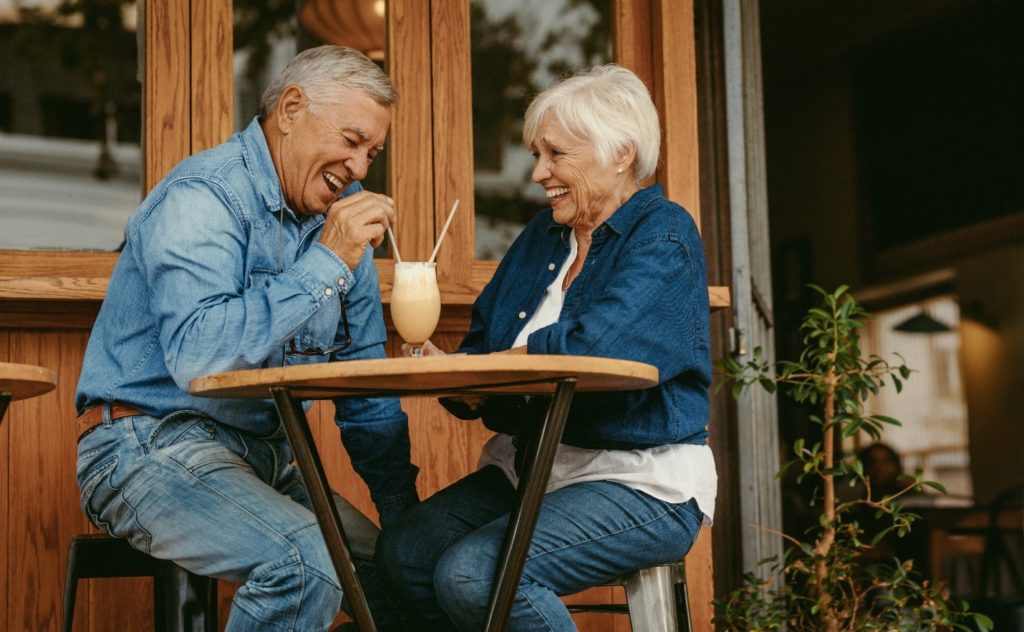 And just like that… Valentine's Day is almost here! Whether you have plans with your long-time love or a new crush, it's natural to have some questions about dating with dentures. After all, you don't want to call unnecessary attention to them or miss out on a romantic moment because of them. With this in mind, keep reading to learn if kissing with dentures is possible, tips for dating with them, and how to keep your breath minty-fresh.
So, Is Kissing with Dentures Possible?
In short, yes! Dentures have come a long way since the obtrusive and bulky ones used decades ago. Now, they are custom-made for each patient with high-quality, lifelike materials for a smile that looks as great as it feels. For all of these reasons, kissing with dentures is certainly possible.
3 Tips for Dating with Dentures
When you're on a date, you want to enjoy the other person's company, not be preoccupied worrying about your dentures. To prevent that from happening, here are three must-know tips for dating with dentures:
Eat the right foods – Going to a restaurant, getting take-out, and making a delicious meal at home are all popular Valentine's Day endeavors. Luckily, you won't have to miss out because of your dentures; just make sure to choose the right foods. Although delicious, chewy, sticky, and crunchy ingredients can tug at your dentures and put excessive pressure on them. Instead, stick to softer foods, like mashed potatoes, cooked veggies, and lean protein.
Use some denture adhesive, if needed – Your dentures should fit snugly. If you find that they sometimes drift out of position when you eat or talk, then apply a little bit of denture adhesive. (Note: don't use more than the recommended amount. If your dentures are ill-fitting, then talk to your denture dentist so they can adjust them as needed).
Practice talking beforehand – It may take some time for your tongue to adjust to the presence of your dentures, slightly changing your speaking patterns in the process. Don't worry – with enough practice this adjustment period will be short-lived. Try reading out loud, talking to a close friend, and repeating any more difficult words you come across several times.
How to Keep Your Breath Minty-Fresh with Dentures
When you lean in for a kiss, you don't want your date to be greeted with a foul-smelling odor. Talk about a mood killer! Luckily, you can keep your breath minty-fresh relatively easily with the right best practices in place, like:
Not eating pungent-tasting foods, like onions and garlic.
Brushing your teeth and your dentures after each meal.
Not smoking.
Rinsing with mouthwash regularly.
Visiting your dentist every six months for a dental checkup and cleaning.
Soaking your dentures nightly in a denture-friendly cleaner.
Dentures have the ability to restore your smile, your bite, and your speech. Luckily, they won't get in the way of your dating life either!
About the Practice
At Westgate Dental Care, our phenomenal team of dentists loves helping patients feel confident in their smiles once more. With our precise digital impression system, we can craft traditional and implant-retained dentures that are lifelike, durable, and high in quality. If you have a question about dating with dentures or would like to schedule an appointment, don't hesitate to visit our website or call (847) 577-7171.