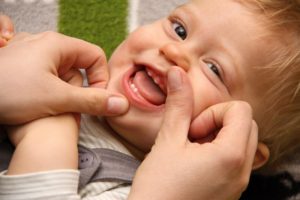 As a parent, you may have already grown accustomed to the fact that your baby is hitting new milestones almost every day! If your child's first birthday is coming up, you're probably getting ready to celebrate. However, this is the time that you should also take your son or daughter in for their first dental checkup. You and your little one may be nervous about this visit, but there's no need to worry. Read on to learn what you can expect during your child's first dental checkup and why this appointment is so important.
Why is the First Dental Visit Significant?
You may be wondering why you should take your child to see the dentist even when most of their teeth haven't even grown in yet. The answer is that good oral health is all about prevention. This visit gives your kid's dentist an opportunity to catch any warning signs and treat them before they become more serious. Additionally, this appointment helps your son or daughter get used to the routine of sitting in a dental chair and letting a "stranger" touch their teeth.
What to Expect During Your Child's First Appointment
What's great about your little one's first trip to the dentist is that there is actually very little treatment involved. Instead, this short visit gives your child a chance to meet their dentist in a friendly environment before they start putting dental instruments in their mouth. It's common for the dentist to ask you to sit in the dental chair and hold your child during the quick exam to help them feel safe and comfortable. This will also help promote a positive view of visiting the dentist in the future.
During the short exam portion of the visit, your child's dentist will check their existing teeth for decay and ensure that their bite, gums, jaw, and oral tissues look healthy. If needed, they may recommend a quick dental cleaning or fluoride treatment.
Important Topics Your Kid's Dentist May Discuss with You
During the first visit, your dentist may talk to you about various factors to keep in mind when maintaining your child's oral health, including:
Good at-home oral hygiene practices
Fluoride needs
Proper nutrition
Potentially harmful habits like thumb sucking
Teething
Developmental milestones
Scheduling biannual dental checkups
If you have any questions during any part of your child's first visit, don't hesitate to ask your dentist. They will ensure that you feel comfortable, at ease, and confident with your loved ones' dental care.
Now that you know what you can expect during your son or daughter's first dental appointment, what are you waiting for? Contact your dentist to get started!
About the Practice
At Westgate Dental Care, we have a team of 5 experts who combine their extensive education and training to treat patients of all ages! They can't wait to meet your little one and help them smile. If you're ready to schedule an appointment, they can be reached through their website or by phone at (847) 577-7171.