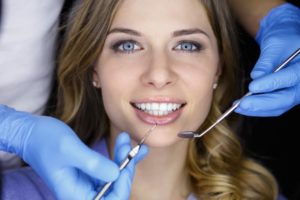 During this uncertain time, you may be wondering, "Should I go to the dentist?" Afterall, being in a medical setting while the Coronavirus is going on may not sound like the best idea. However, your dentist in Arlington Heights has advanced safety procedures, taking extra steps to keep patients healthy and unaffected by the virus. One of the ways they are protecting patients is by social distancing in the practice. Keep reading to learn how this is possible and why your dentist's office is one of the safest places to go!
Why Social Distancing Matters
COVID-19 is a highly contagious virus that is easily spread through respiratory droplets from coughing and sneezing. These droplets can travel up to 6 feet, which is why it's vital that you distance yourself from others as much as you can. While there is still a lot of uncertainty surrounding the virus, studies prove that staying 6 feet away from other people will dramatically decrease your risk of being affected.
How Your Dentist is Social Distancing
Your dentist knows that remaining 6 feet apart while providing treatment is simply unrealistic, however they have taken some significant safety steps in order to limit your contact with other patients and office personnel! Primarily, your dentist has established social distancing requirements in our large reception area, where guests are asked to wear masks, use hand sanitizer before sitting, and sit at least six feet apart from others. Additionally, your dentist is using scheduling to help patients limit exposure to others by spacing out appointments.
One of the most important steps your dentist is taking is having what they call a "Safety champion!" This member of their staff is essentially a hall monitor who ensures that no patients will come in contact if they need to move around or go to the bathroom. This key team member will also be checking off all the boxes when it comes to specific safety protocols throughout the day such as disinfecting treatment stations, cleaning surfaces, and more.
Additional Safety Steps
As you grow used to this new normal, your dentist is here for you in any way possible. Dental care is important, and you shouldn't let your oral health fall by the wayside during this time. Thankfully, in addition to social distancing measures, your dentist has taken other safety precautions, including:
Daily health exams for staff members with no contact temperature checks
No handshakes or hugs (even though your dentist loves their patients)
No watches, jewelry, or fingernails for heightened personal hygiene
Quick and easy health prescreening for every patient
Family-friendly scheduling (up to 6 family members)
Get your dental care with peace-of-mind in knowing that you're choosing a dentist who is staying safe, healthy, and of course, socially distanced!
About the Practice
At Westgate Dental Care, we have a team of 5 experienced dentists who are doing all they can to keep their patients healthy and safe. In addition to their normal sanitation procedures, they have taken an extra 25 steps to ensure their patients can have access to quality care in a clean environment. For any questions, they can be reached through their website or by phone at (847) 577-7171.