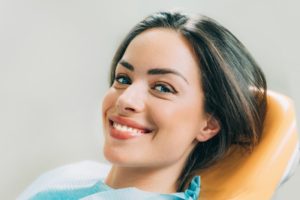 During this uncertain time, you're probably taking various precautions to keep you and your loved ones safe. There is a lot of misinformation out about the Coronavirus, but one thing is for sure, it's highly contagious. This virus spreads through respiratory droplets that come from coughing and sneezing. These particles can rest on surfaces, but they can also live in the air and get inhaled. Your dentist in Arlington Heights is well-aware of this risk, which is why they have added UV air filtration to their office. Keep reading to learn more about this important piece of technology as well as some other ways your dentist is ensuring the safety of their patients.
The Importance of Air Filtration
Dentists are already aware of harmful airborne particles, however the Coronavirus has turned air filtration into something a lot more important than it once was. When respiratory droplets get in the air, they can circulate through the different AC/heating units and cause exposure to those in the area. Thankfully, your dentist has employed the use of an air filtration system to eliminate the risk of this problem.
How Your Dentist is Fighting the Coronavirus
COVID-19 is invisible and contagious, so how can you feel safe when you leave your house? Well, your dentist's office is one of the safest places you can go because of their air filtration. Your dentist in Arlington Heights has added MERV-13 grade filters to their HVAC system with in-system UV sterilization. MERV stands for Minimum Efficiency Reporting Values, and it's essentially a grading system for filtration strength. MERV-13 grade filters are in the top tier of air filtration, so you can take a deep breath, relax, and feel confident that you have a safe way to receive high quality dental care.
Other Ways Your Dentist is Staying Safe
Air filtration is a key part of safety in the dental office, but your dentist has taken 25 additional precautions to help everyone remain healthy and comfortable. Here are some of the most significant ways your dentist is minimizing risk of the Coronavirus:
A designated safety champion who directs patients and staff through the practice to avoid contact with each other
No contact temperature and health checks for the dental team
Temporarily closing office tours
Our large reception area allows for social distancing for our guests, who are required to wear masks
A quick prescreening for every patient
Expanded patient appointments for more spread out scheduling
Are you ready to see your safe dentist in Arlington Heights? Your smile will thank you. Just remember that they are taking all the necessary steps to ensure your health.
About the Practice
At Westgate Dental Care, our team of 5 dentists are committed to high quality dentistry in an incredibly safe environment. They know that this time is uncertain, which is why they want you to understand some of the steps they're taking to help you care for your smile. If you have any questions, they can be contacted through their website or by phone at (847) 577-7171.