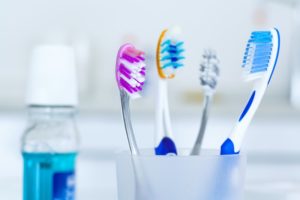 Well, it's that time of year again! Yes, of course the holidays are here, but it's also the season of sickness. Cold and flu germs are everywhere, and especially if you have kids, your household may be affected. After you get over your bug, you may be wondering whether or not you should replace your toothbrush—could you get infected again with germs from when you were sick? Keep reading to learn the answer from an expert dentist in Arlington Heights.
To Replace or Not to Replace? No is the Answer
While it is very true that your toothbrush can harbor germs, it's incredibly unlikely that they'll infect you after a sickness if you haven't replaced your brush. Because you're constantly exposed to bacteria, germs, and other viruses just like the rest of the population, your immune system is able to prevent you from being sick constantly.
What's even more important to understand is that your immune system responds to cold or flu by creating antibodies that fight against the invading virus, which keeps you from catching the same illness twice. That's why you can rest assured that the chances are slim for getting sick once more if you don't replace your toothbrush. The best news is that you'll be saving yourself some money!
What You Should Do Instead
Instead of throwing your toothbrushes away every time you or a family member gets the sneezes, follow these American Dental Association recommendations:
Replace your toothbrushes every 3 to 4 months or when the bristles become frayed. Kids may need more frequent replacements because they brush a little harder.
If you have an electric toothbrush, replace the head every 3 to 4 months.
Those with compromised or weakened immune systems should change out their toothbrushes more frequently.
Let your toothbrush airdry after each use—don't store it in an enclosed container.
Rinse your brush with tap water after using it and store it in an upright position.
Don't share toothbrushes.
Notably, the ADA does not recommend using any disinfecting or sanitizing products for toothbrushes because they are ineffective and even sometimes dangerous. However, if you want to soak your toothbrush in antibacterial mouthwash after using it, you can. Although it's not proven to reduce germs, it won't hurt your smile. The best step you can take to ensure that you're getting all of the benefits of your toothbrush is to monitor your bristles. When they start to fray, it's time for a replacement!
Now that you know the truth about toothbrushes, are you ready to brush your teeth with confidence? Keep this useful information in mind to help stay healthy while saving money!
About the Practice
At Westgate Dental Care, we have a team of 5 specialists who treat patients of all ages. They understand the importance of a good at-home oral healthcare routine, which is why they want you to know these pro toothbrush maintenance tips. For any questions, they can be reached through their website or by phone at (847) 577-7171.