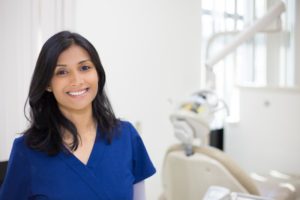 Are you wondering what National Dental Hygiene Month is all about? For our team at Westgate Dental Care, October is the best month to honor and recognize all of the hard work our team of dental hygienists and professionals accomplishes. From warding off cavities to treating and reversing gum disease, our staff helps save our patients thousands of dollars in costly dental treatments by providing high quality preventive care. Read on to learn why we celebrate Nation Dental Hygiene Month and more about our team.
What's So Important About Dental Hygiene and Preventive Care?
There's no better month than October to learn about the importance of preventive dental care. Every six months, when you visit your dentist in Arlington Heights for a checkup and cleaning, they thoroughly examine and clean your mouth to tackle the small problems before they become a big deal. They also:
Detect oral cancer early by screening your semi-annually.
Control plaque and tartar buildup to prevent cavities from developing.
Diagnose and treat gum disease before it's too late.
Keep bad oral habits in check, like teeth grinding and smoking.
Find hidden problems with digital X-rays.
You only get one set of beautiful pearly whites, and our team at Westgate Dental Care does everything we can to keep them looking healthy and happy for the rest of your life.
Meet Our Dental Professionals
We have eight highly trained and knowledgeable dental hygienists that focus on giving you the tools and knowledge you need to maintain a beautifully bright smile. We also have eight dental assistants who go out of their way to allow you to feel comfortable and well cared for. Our skilled and passionate team of dental professionals always greets you with a friendly smile because they're genuinely glad that you're in our office getting necessary care. No matter what you need, we'll be there to help you along every step of the way including, assisting you with paperwork, answering questions about treatments you need, and even giving you a welcome tour of the office!
How Can You Take Care of Your Pearly Whites At Home?
This National Dental Hygiene Month, take the time to reevaluate your at-home routine and make any unnecessary adjustments to make sure your oral health is in tip-top shape. Be sure to:
Brush twice each day for two minutes using fluoride toothpaste.
Floss at least once a day.
Rinse with antibacterial mouthwash.
Visit Westgate Dental Care every six months for your checkup and cleaning.
You'll feel great about tackling your everyday responsibilities after you get your clean bill of health from our dental professionals! With the proper at-home and in-office preventive care, you can improve your overall health and quality of life.
About the Practice
At Westgate Dental Care, we offer the knowledge and expertise of five highly trained dentists. Each of our skilled dentists has advanced training and experience, allowing our practice to offer custom-tailored comprehensive care that tackles each patient's unique problems. Since patient comfort is our priority, we also offer in-office amenities and services such as massage chairs, warm towels, noise reducing headphones, and sedation dentistry techniques so you can remain relaxed throughout your entire visit. For questions or to schedule a checkup and cleaning, visit our website or call 847-908-3684.