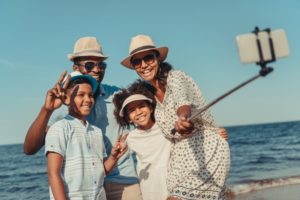 You've been planning your family vacation for nearly a year, and you're finally getting ready to leave! You're looking forward to a stress-free week vegging on the beach watching your little ones build sandcastles. Unfortunately, accidents happen, and they're not always preventable, which is why knowing how to handle them can be a huge help. Instead of being panicked, be prepared with these 4 tips from your emergency dentist in Arlington Heights. Read on to find out how you can salvage your family vacation after a dental dilemma.
Chipped Or Broken Tooth
If your little ones had a collision playing in the sand and chipped or broke a tooth, rinse their mouth with lukewarm salt water to clean and sanitize the area. If you notice their face swelling, apply a compress for 15 minutes on and 15 minutes off to help reduce it. For bleeding, apply gauze until the blood clots and get to a local emergency dentist as soon as you're able to.
Knocked-Out Tooth
Anything can happen when you least expect it, even accidentally knocking out a tooth. After a stray spike while you're playing sand volleyball, you look down and your tooth falls into your hand. There's nothing to worry about if you act fast and don't panic. Try to get the tooth back in its socket. If you're not able to, be sure to keep it moist by placing it in some milk, or between your gums and cheek. Your dentist in Arlington Heights may be able to save it if you get to them quickly.
Missing Filling
According to the CDC's National Center for Health Statistics, about 91% of adults in the United States aged 20 to 64 have cavities. That means, most people also have fillings. When you lose a filling, it can leave your damaged tooth susceptible to further decay, which is why it's important to immediately get it replaced. When it isn't, you may experience a severe toothache. If you're out on vacation and aren't able to get to your dentist as soon as possible, you can use sugarless gum to temporarily replace your filling.
Lost Crown
If you have a restoration like a dental crown, it serves to protect a damaged tooth from harmful oral bacteria and infection. If you lose your restoration while you're on vacation, you can temporarily replace it using toothpaste, over-the-counter dental cement, or even denture adhesive. Remember that these aren't long-term solutions, and it's important to contact your dentist immediately to prevent further damage.
While you're handling immediate concerns, keep in mind that you must find an emergency dentist as soon as possible. Before your trip, try searching for local professionals in the area you're vacationing to and write their name and number on a card so you have it in case something happens. Reacting quickly and effectively can be the difference between losing and saving a tooth. Just because you're on vacation, doesn't guarantee that everything will be peachy. Being prepared for anything can make the situation less stressful and allow you to still enjoy the rest of your trip!
About the Practice
At Westgate Dental Care, we offer the services of five highly qualified and trained dentists. Whether you're looking for a new provider to see for your routine checkups and cleanings, or you need emergency dental work, our professionals have you covered! They pride themselves on providing reliable and trustworthy treatment to everyone that walks through their doors. For questions or to schedule an appointment, visit our website or contact 847-577-7171.