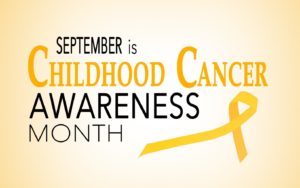 September is Childhood Cancer Awareness Month, and your dentist in Arlington Heights wants to get into the spirit of this important event! That's why we're donating $2 to UC Comer Children's Hospital for every new Facebook Like we get this month. We carried out a similar campaign last year and were able to donate $1,000 to the hospital! If you would like to help our efforts to fight childhood cancer, head to our Facebook page and give us a Like. Thank you in advance for your support!
The Prevalence of Childhood Cancer
Childhood cancer is a cause that is close to our hearts. We can't say how proud we are of Theo Yianas, one of our dear patients who was helped by the team at Comer's to beat his cancer. Unfortunately, there are still countless kids out there who haven't yet won the battle against this devastating disease.
Cancer is the leading cause of death from disease among children and adolescents in the United States.
About 12 percent of children who are diagnosed with cancer will not survive.
43 children are diagnosed with cancer each day — that's over 15,000 each year.
Even children who do survive are likely to experience long-term effects from the cancer or its treatment.
The Need for More Cancer Research
Clearly, we cannot stop fighting until childhood cancer is nothing but a distant memory — but we have a long way to go. Although the overall survival rate for childhood cancer has improved to almost 90 percent in recent decades, there are still some types of this disease with a much lower survival rate.
Doctors also know very little about the causes of childhood cancer. While some cases are due to genetic factors, the cause often remains a mystery. If researchers are able to learn more about why this disease happens, it may be possible to reduce the number of children who develop it.
General cancer research helps in some respects in the fight against childhood forms of this disease, but it isn't enough. The types of cancers that children develop, and the makeup of their cancers, is often quite different from what adults experience. And, sadly, some of the drugs that are used to fight adult cancer are not safe to use on children because they can interfere with a child's development.
We're Proud to Fight Childhood Cancer
We're more than just your family dentist in Arlington Heights; we're caring members of the community who have a special place in our hearts for kids. We hope that our efforts to support childhood cancer research and increase awareness of this disease will contribute in some small way to defeating it once and for all.
If you would like to support our fundraising efforts or want to learn more about our community involvement, don't hesitate to contact us. We would love to work with you to make our world a better, healthier place!
About the Author
Dr. Peter Kics' favorite thing about dentistry is that it gives him the opportunity to improve his patients' lives. He founded Westgate Dental Care on the idea that everyone should feel welcomed, respected, and confident that they're receiving top-quality service from people who truly care about them.